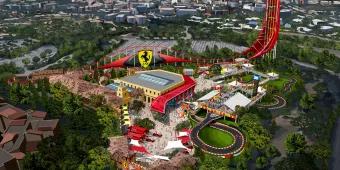 Start your engines!
The brand new Ferrari Land opens at PortAventura World on the 7th April.
1) Red Force
Red Force is the highest and fastest vertical accelerator in Europe, accelerating from 0 (yep, a complete dead stop) to 150mph in just 5 seconds and reaching a maximum height of 112 metres…guaranteed to make even the bravest of theme-park lovers shake in their boots. Once at the top of the dizzying ride, you'll be plummeted back down to earth at a maximum angle of 90⁰...that's face first to you and me. There's nowhere better to experience the stomach-churning sensation of a Formula 1 race (and 1.35 G's of force!) than hurtling at high speeds up a vertical climb and back down to earth in the blink of an eye!  
Don't believe us? Watch the video below to see more...
2) Bounce-back tower
If you've ever wanted to experience the feeling of genuine Ferrari pistons underneath your feet, make sure you head to the Bounce-Back Tower. Reaching a whopping height of 180 feet, the pistons allow you to descend at full speed before travelling back in the opposite direction as if controlled by a piston gear.
3) Free-fall tower
If the thought of going up and down on the Bounce-Back Tower makes your stomach flip, you might want to try the Free-Fall Tower instead…not that it's for the faint hearted either! Customers will climb 180-feet in the air before being dropped back to earth in a thrilling free-fall.
4) Circuit
Race the whole family on a 570m race track which will provide a healthy dose of competition that everyone can get involved in. If you've ever secretly suspected that you're a Lewis Hamilton in the making, you'll get your chance to show off your F1 skills in front of the whole family and maybe even bring home the trophy!
5) Pit-stop simulator
If you love F1 and Ferrari, no doubt you'll want to experience the full thrill of an F1 race, including all the efforts that go on behind the scenes to keep these incredible cars on the track. Feel the intense pressure and frantic pace of the pit lane as you adjust the tyres on an F1 vehicle. Will you be the quickest member of the team and prove yourself as a real race mechanic? *This attraction requires a seperate ticket purchase.
Tickets for Ferrari Land at PortAventura World are now on sale, with an opening date set for 7th April, 2017. To buy tickets for this and PortAventura park, as well as PortAventura's Caribe Aquatica Park, click here. 
Liked this post? You may also like...