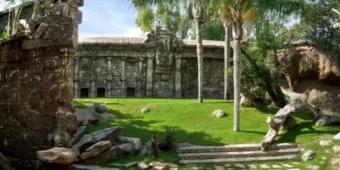 Regarded as being one of the Costa del Sol's major family attractions the Bioparc Fuengirola champions the idea that animals and nature can live side by side outside of their natural environment.
Your visit to Bioparc Fuengirola will enable you to discover the African savannah without even leaving Malaga!
In today's world of environmental enlightenment keeping animals in captivity seems no longer acceptable except in cases where breeding programs are important to protect a species from extinction.
Having already established itself in Europe as a flagship attraction, the Bioparc Fuengirola comprises a  living zoo where animals are allowed to roam freely rather than being kept in cages.
Instead of the usual zoo experience where you see animals pacing up and down in enclosed spaces, Bioparc Fuengirola allows you to wander around a simulated tropical forest complete with rivers and waterfalls.
For visitors, it is like stepping inside a David Attenborough documentary getting close up to crocodiles and Sumatra tigers while monkeys swing through the canopy above.
If you are really brave you can even visit an abandoned mine full of bats just waiting for nightfall to go out hunting for food.
During the peak summer months of July and August, the park stays open until 12.00am with artificial lighting so that visitors can experience nocturnal creatures out hunting for food.
Altogether the park is home to more than 200 species, including many that are on the endangered list.
The objective of the park is not only to allow visitors to witness what it would be like to see the animals in their natural environment, but to promote an understanding of how important it is for a species survival and how we can make sure that the mistakes of the past are not repeated in the future.
If the animal adventure was not enough Fuengirola Bioparc also has a dedicated children's play area complete with a miniature farm.
The park is also designed to be disability friendly with no steps or barriers to prevent people in wheelchairs from enjoying the experience.
To round off your visit or take a break during the day you can get something to eat & drink in one of the parks themed restaurants.
Location & Getting To Bioparc Fuengirola
The Fuengirola Bioparc is located in the centre of Fuengirola close to the seafront, just about 700 metres from the local train station and bus stations.
The nearest airport to the Bioparc is Malaga airport. To get to Fuengirola for your holiday, one option is Malaga airport taxi transfer. If you're planning things to do in Fuengirola, you will want to book your tickets to the zoo in advance to check for the best discounts.
By Train & Bus
The journey by train from Malaga airport to Fuengirola is 35 minutes and from Malaga train station just 30 minutes & is only €2.70. The zoo is just 5 minutes from Fuengirola bus station and train station.
By Car: On the motorway take the exit 208 in Fuengirola and follow the signposts to the park. Plenty of parking is available adjacent to the park.        GPS coordinates: W 04º 37' 38'' / N 36º 32' 13
Taxi
Taxi from Malaga to Fuengirola is just a 25 minutes trip.
Tickets
Book your tickets here and save on your entry fee to Bioparc Fuengirola.