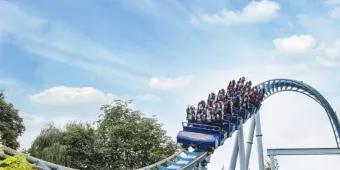 Going for a holiday with your little one is never easy.
The things that you love to do might not seem to be appealing for your children or the places you love to visit may not be exciting for your kids.
But, if you want to dedicate the next holiday to your beloved kids, Europe has a lot to surprise you. With a myriad of enticing theme parks which are full of fun, your children will have a great experience!
Check out our list of famous theme parks suitable for toddlers across Europe?
Let's dive in:
You just have to drive three and a half hours from Eurotunnel Le Shuttle Calais Terminal and there you are! Disneyland Paris is one of the most famous theme parks in Europe which is packed with 56 attractions.
They are located in Disneyland Park which comprises of Walt Disney Studios, seven hotel complexes, a golf course, a ranch, a composite and stunning gardens.
The opening times for Disneyland in Paris is 10 am – 7 pm but the park stays open up to 11 pm during it's peak periods.
The ticket prices for children between the ages of 3-11 years starts from £42 – check out our latest offers here!
This is one of the best theme parks in Europe which can offer a wonderful climate for your kids to enjoy.
There are various fun attraction for all ages present in this theme park which are Shambhala, Dragon Khan, Furius Baco, Stampida, Tutuki Splash and Sesame Street.
Your little one can have a really great time over there. Book your PortAventura visit here.
It is one of the largest amusement parks in Europe which is located in Rust, Germany.
This is an amazing one situated near the Black Forest which has sixteen roller coasters and around 100 attractions for all age groups of children.
Europa Park is divided into fifteen different areas whose names are based on the names of the main European countries.
The overall ambience of this park is so vibrant that your children can definitely have a wonderful time there.
Is your little one a fan of Lego?
This is the ultimate destination to visit in Denmark then. While being located in Billund, close to the first Lego factory, it is an extraordinary theme park.
Lego is a close imitation of buildings and emblematic cities which are located in various parts of the world.
The attractive attractions of Legoland which your kids can't stop falling in love with are small roller coasters, carousels, ghost house etc.
There are also some other Lego parks located in the UK, Germany, and the USA.
This theme park for toddlers is located around 30 km to the north of the capital. In fact, it is one of the most famous amusement parks in France.
The supremely exciting fact about this theme park for toddlers is that it brings the most loved and well-known comics of France to life.
Yes! It is nothing but The Adventures of Asterix.
It comes with a wide array of attractions, shows, restaurants and even a hotel.
This amusement park seems to be especially appealing for children as it has incorporated the historical cultures in a fun, enticing, and quirky way.
Your kid will get a chance to explore five different worlds there: Gaul, The Roman Empire, Greece, The Vikings and an exciting area called 'Travel through time'.
This amusement park is actually a small one when compared to the aforementioned ones.
But, it is certainly a very vibrant and interesting one.
Having been located on the south side of Caen, Norway, this amusement park has 30 major attractions like the medieval castle and two cinemas.
When it comes to the ride Erectic, it seems to be the most amazing attraction of Festyland Parc.
In this, the visitors are generally spun around on a circular platform which is swinging 25 meters into the air. Moreover, another thing which you can't miss in Festyland is the Drakkar Express.
It is an astounding rollercoaster where children are supposed to sit in cars which have been designed as Viking ships.
This theme park open from 10 am to 7 pm. The ticket prices for getting an entry to this theme park is €12 for adults and €10 for children who are under 10.
Tivoli Gardens in Denmark
The classic and stunning Tivoli Gardens existing in Copenhagen is one of the oldest attractions for children. This theme park is also a home to the oldest rollercoasters where your kids can really have a great time.
It is a laid back and picturesque park which is having multiple rides for various tastes and thrill that your kid can never forget.
The inception of Tivoli Gardens goes back to 1843.
It is believed that this theme park is said to be among Walt Disney's inspiration for Disneyland.
Tivoli Gardens is not only a centre of fun for your children.
Rather, it can upgrade your child's knowledge background up to a great extent.
If you are staying in Copenhagen or near to that then Tivoli Gardens is the perfect place to plan a holiday with your children.
The opening time starts from 11 am and the park remains open up to 11 pm. The tickets prices for children starts at just € 20.
Wrapping Up
Aren't these theme parks seem to be totally perfect for your kid's next vacation?
Don't wait anymore! Plan one soon and take them to any one of these aforementioned magic lands.
Your children will definitely have one of the greatest times of their lives. And these theme parks will be possibly pretty entertaining to you too.
There are enough thrilling aspects out there in these theme parks which you will definitely fall in love with!
Author Bio:
Lyla Morris is a Founder & Editor at Lylamorris.com. She loves to write about Parenting and Health Care tips also.