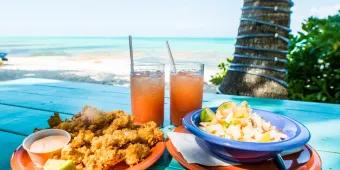 Everything you need to know about dining in the Sunshine State
Get ready to discover Florida's unique cuisine...
From alligator bites to conch fritters, Key lime pie to croquetas, Florida has a unique cuisine all of its own. While everyone associates white sand beaches and Orlando theme parks with the Sunshine State, we're here to tell you that food should also be at the top of your list.
History of Florida cuisine
Nicknamed the Sunshine State due to its warm climate and seemingly endless days of sun, Florida is the go-to beach holiday destination. Although many flock to the state with their Orlando tickets in-hand ready to visit the likes of Disneyland and SeaWorld, Florida also has a remarkably diverse culture just waiting to be discovered.
Florida was first under Spanish rule from 1513 to 1763, when Spanish conqueror and explorer Juan Ponce de Leon arrived. He is said to have given the state its name, which means 'full of flowers'.
Many years later in 1763, Spain traded Florida to the Kingdom of Great Britain for control of Havana, Cuba, which had been captured by the British during the Seven Years' War. The state was returned to the Spanish in 1783 and its tumultuous history continued, with the land changing hands and struggling through World War II, before eventually stabilising when the Interstate highway system connected Florida to the north.
During the Cuban Revolution of 1959, Florida experienced a large wave of Cuban immigration, transforming Miami into a centre of commerce, finance and transportation for all of Latin America. The cultural influence from Cuba can be found in much of today's Floridian cuisine.
Key lime pie
Perhaps one of the most iconic desserts in the United States, Key lime pie is made of Key lime juice, egg yolks and sweetened, condensed milk in a crumbly pie crust. The traditional version uses the egg whites to make a tasty meringue topping.
Key lime pie can be traced back to the early 20th century in Key West, Florida, although it has never been established who was the first to create it. In the 1930s the first pie recipes were written down. It's said that prior to the official documentation of the Key lime pie, everyone 'just knew' how to make it. No fresh milk, no refrigeration and no ice was available in Florida Keys until the arrival of tank trucks with the opening of the Overseas Highway in 1930. Due to this lack of milk, local chefs relied on sweetened condensed milk.
Key limes are a celebrated part of Floridian cuisine. It's estimated that the Key lime tree, which is actually native to Malaysia, arrived in Florida Keys in the 1500s with the Spanish. What's Cooking America affectionately describes the fruit: "Key limes look like confused lemons, as they are smaller than a golf ball with yellow-green skin that is sometimes splotched with brown."
In 1965, Florida State Representative Bernie Papy Jr introduced legislation calling for a $100 fine to be levied against anyone advertising Key lime pie which was not made with authentic Key limes. The bill did not pass, however in 1994, Florida State Legislature officially recognised Key lime pie as an important symbol of Florida.
Kermit's Key West Key Lime Shoppe
Run by Kermit Carpenter and his family, Kermit's Key West Key Lime Shoppe is undoubtedly the place to go for a perfect Key lime pie. With two locations in Key West, there's really no excuse not to stop by for a slice! You can also visit the shop for breakfast or lunch, featuring unique Key lime creations. 
Karen Haught, sales and marketing director at Kermit's Key West Key Lime Shoppe, said: "What makes our pie special compared to others is that it is made with our double-strength juice, which reduces the amount of liquid in the recipe, resulting in a firmer, denser pie.
"Also, our Key lime pie on a stock dipped in Belgian chocolate is another of our signature items that has a huge following. In fact, the Minnesota State Fair, known for its 'food on a stick' generally moves about 10,000 bars (all hand-dipped by our marvellous kitchen staff) in the 10 days of the fair."
Icebox Café
With its flagship location on South Beach, Icebox Café is famous for its desserts, particularly Key lime pie. We spoke to the cafe to find out more:
"Icebox Café offers a modern American menu with global inspiration, serving breakfast, lunch, brunch and dinner, with a focus on healthy and all-natural ingredients. A chef-driven experience features a diverse selection of dishes, along with an expansive wine and cocktail list, organic juices and award-winning desserts.
"The use of fresh ingredients and signature crust is key. Simple is best, bringing out the best flavours that are the true star of the show. A touch of whip cream adds to the creamy texture. At Icebox, we make everything from scratch. It's all homemade and our Key lime pie is no different. We like to serve ours with a side of fresh blueberries for an added element and top each slice with fresh lime for squeezing on top."
Icebox Café has a second location in Doral, near Miami, and will be opening cafes in The Falls, Aventura and Hallandale in 2017, featuring a culinary centre with a greenhouse, cooking classes, café and commissary.
Fritas
A frita is a traditional Cuban dish, made with a seasoned ground beef and pork patty (sometimes with chorizo) on Cuban bread topped with shoestring fries. Florida's unique history with Cuba means dishes such as the frita are now firmly rooted in the local cuisine. Fritas cubanas are considered to be Miami's iconic dish.
El Mago de las Fritas
In West Miami, El Mago de las Fritas is somewhat of an institution. Ortelio Cardenas (known to most as El Mago), a Cuban immigrant, opened his shop in 1984, close to Miami International Airport. Since then, El Mago de las Fritas has welcomed famous chefs, celebrities, and even former U.S President Barack Obama. Today, El Mago continues to create his famous fritas with the help of his daughter, Martha and her partner, Barry.
Barry of El Mago de las Fritas told us: "El Mago de las Fritas was founded in 1984 by Eva and Ortelio Cardenas along with their two children, Martha and Frank. Martha has now taken the helm of El Mago focusing on continuing the family tradition in a modern age with an expectation that all that came through the doors are family.
"Authentic frita must include a seasoned meat which takes on the flavours of chorizo, fresh fine julienne potatoes on an airy Cuban bun.
"We believe what separates a food from others is the love and passion that goes into making it. If there is doubt, go and sit at Abuela o Mami's table and tell me otherwise."
Conch
In Key West, Conch Republic Seafood Company - built on what was once the Singleton Fish House and Ice Plant - is one of the best places to try this state cuisine. Casey Arnold, PR manager, told us more about the restaurant's fascinating history: "The ice plant, once boasted as the largest in the world, allowed for more efficient unloading and processing of the Key West Pink Shrimp.
"Each day, at the peak of the shrimp season, dozens of shrimp trawlers unloaded at the docks right in front of the Conch Republic Seafood Company, packed in wooden crates and iced for shipment. In the warehouse, hundreds of workers stood at long tables in what now serves as the main dining room of the restaurant, and deftly removed the inedible heads from the shrimp before packing."
According to Casey, the industry remained lucrative for many years, though in 1990, the property saw some major changes: "Dean Rollings, president of the Florida Straits Conch Company, presented to the City of Key West a plan to create a unique, educational, environmentally correct and entertaining development of this waterfront site," said Casey. "The large warehouse once known as 'Fish House No.4' has been transformed into the present day Conch Republic Seafood Company. The building that housed the ice plant itself is now the 'Reef Relief', an environmentally-focused educational centre."
If you love seafood, you can't visit Florida without sampling some conch. Conch Republic Seafood Company offers traditional conch fritters, cracked conch, conch chowder and conch ceviche, which sometimes features on its specials menu.
Although conch has been a staple of Floridian cuisine for many years, it has sadly been over-fished. Conch Republic Seafood Company said: "Conch has been over-fished in the Florida Keys so now it is protected. We get our conch from the Bahamas and Nicaragua as that's the freshest we can get. Conch is important to the Florida Keys cuisine as this dish helped shape and name the Keys to what they are today."
Where to eat conch in Florida
If you're sticking around the Key West area, you have to visit Sloppy Joe's. Dubbed a Key West tradition, this historic bar welcomed patrons including Ernest Hemingway and the infamous rum runner, Habana Joe. Today, it's an excellent place to get conch fritters, served with tangy Key lime mustard, or Key West conch chowder. Closer to all of the Orlando attractions, High Tide Harry's was voted number 1 in the 2017 Foodie Awards as the best seafood restaurant in Orlando. Try the cracked conch or conch fritters.
Croquetas
Filled with chunks of mouth-watering serrano ham, manchego cheese or a smooth, gooey meat ragout, croquetas are perhaps one of the most addictive foods in Florida. Luckily, they are available throughout Florida, although they may differ slightly depending on the chef's preference.
At 27 Restaurant & Bar in Miami, smoked fish croquetas are what draws the locals in. These iconic, crispy treats are only available at the restaurant's Sunday brunch, so be sure to book a table. For a traditional ham croqueta, Sergio's is the place to go. Made with delicious chunks of ham, peppers and garlic, Sergio's croquetas are deep-fried in extra virgin olive oil. Thankfully there are several branches of Sergio's, so you'll have plenty of opportunities to grab some croquetas. Dolores Lolita's serrano ham croquetas also cause a bit of a stir and are listed on their menu as 'maybe the best you have ever tasted'. Worth a try? We think so.
Grouper sandwich
Grouper fish are commonly found off the coasts of Florida. While some species are found in shallower waters, others require deep-sea fishing, but it's safe to say the grouper is one of Florida's most popular fish. Originating on the gulf beaches, the grouper sandwich is one of the state's best-loved dishes. It usually consists of a delicious, flaky piece of fried or grilled grouper in a fresh roll with tartar sauce, tomato, onion and lettuce but takes many forms across the state.
Enjoy a grouper sandwich at Schooners
Known by locals as 'the last local beach club', Schooners is a relaxed, open-air hangout on the Gulf Coast. Since the 1960s, Floridians have flocked to this cool beach bar and restaurant to play volleyball, take a dip in the sea and, of course, eat one of their famous grouper sandwiches.
Toni Davis, co-owner of Schooners, said: "From the outside, it doesn't look like much, just a little shack sitting on the side of the road. But take a few steps inside and you will understand why people are drawn here.
"The first thing you see is the thing you will always remember about Schooners. The view is spectacular. This is one of the world's most beautiful beaches, or, as the locals like to claim, the best place on the planet.
"Everything tastes better when you eat on the beach and there are a few things on the Schooners menu that rival the best you can find anywhere, including, Schooners Grilled Grouper Sandwich. Grouper is a local fish – harvested by local fisherman. There is nothing else like freshly caught grouper! You have to taste it to understand.
"The professional local men and women who harvest grouper from our Gulf waters make it possible for Schooners to offer the best grouper sandwich in the world. When you have fish this fresh, the best way to serve it is hot off the grill, juicy and simple. A squeeze of lemon, maybe a little touch of tartar sauce, fresh crisp lettuce and tomato on a soft, fresh bun. Nothing fancy is needed for this incredible, flavourful, white flaky fish.
"Schooners is the perfect place to taste what local cooks can do with real local seafood. There are tricks to every trade and Chef Justin Bell and his team know them all when it comes to fresh seafood."
Florida's best grouper sandwiches
As well as Schooners' iconic sandwich with a view, there are many seafood restaurants with a reputation for creating variations of this tasty dish. Frenchy's Original Café on Clearwater Beach, around 30 minutes from Tampa, serves epic Super Grouper Sandwiches, along with five other delicious variations. However you like your sandwich, be it with Cajun seasoning, romano and parmesan cheese, or even as a Grouper Reuben, Frenchy's Café has got you covered.
Big Water Fish Market, a little further south along the coast, is also well worth a visit. Try one of their famous grouper sandwiches, blackened or grilled, with homemade tartar sauce. But be warned, this eatery is far from secret, so you might want to book a table. Nearby, Libby's Café & Bar offers a contemporary twist on the traditional sandwich, with its gulf grouper BLT including Applewood bacon and chipotle aioli. If you've got your Orlando tickets and don't want to stray too far from the city for your grouper sandwich fix, pay a visit to Fish on Fire. Launched by fishing buddies and business partners Jay and John in 2004, Fish on Fire has an impressive menu and also offers a unique alternative to the usual dining experience, with its Cook Your Catch special.  
Craft beer
Since the craft beer movement began sweeping the globe, many breweries have popped up in Florida, using the land's bounty to create refreshing beers and ales. Orlando Brewing, Florida's only certified organic microbrewery, has been creating handcrafted beer for more than 11 years. "We have over 30 of our own brews on draft and distribute a core selection of bottles and kegs throughout the state," said Mary McGinn, publicist at Orlando Brewing. "Our dog and family-friendly taproom is located just south of downtown Orlando and is open seven days a week. Our microbrew can also be found all across Central Florida, from theme parks and resorts to local bars and Publix supermarkets.
"The culture of Orlando is quite diverse – people from all over the world visit or reside in Florida. We offer a large variety of different styles on site and pride ourselves on finding a beer for every palate.
"Local water is also an important aspect of beer and we happen to be in a great place for water. Our source is the Floridian aquifer. Its deep wells provide very pure and clean water that is naturally high in calcium. Beer yeast loves calcium!"
If you're stopping by Orlando Brewing on your visit to Florida, be sure to try their I4 IPA and Right on Red Ale. Mary added: "Both organic beers are well-balanced and easy drinking. In the taproom many of our bigger beers are trending. Papa Midnight (9% coconut vanilla almond imperial stout) and our Grand O' Hopry (10% double IPA) are both very popular."
Other Florida breweries to check out
Swamp Head Brewery has its roots firmly planted in Florida. Aiming to represent the state in all its diversity, the brewery produces beer such as the Stump Knocker pale ale, named after the 'notoriously feisty' local Stumpknocker fish, and Darkwater, a Floridian dark ale inspired by the Suwanee River and its dark, stained waters.
Near Tampa, Green Bench Brewing Co is an excellent producer of craft beer in Florida. Its name has a unique history, as in the early 1900s the city of St Petersburg, Florida was known as the city of green benches, with some 2,500 benches lining the downtown sidewalks. The benches became a gathering place for residents and tourists, representing the area's hospitality.
Other notable breweries include Cigar City Brewing, which produces beer inspired by the Latin culture and tobacco manufacturing history of Tampa Bay. Many of its beers 'reflect the sensibilities and ingredients of Florida', according to the brewery. Due South Brewing in Boynton Beach boasts an impressive range of beer, from IPAs to pale ales, stouts to wheat beers. Its Honey Vanilla Wheat beer features fresh Florida honey and the Hopicana IPA uses Florida's state fruit, oranges.
Cuban sandwiches
The Cuban sandwich was created to cater to Cuban immigrant workers in Tampa and Key West and over the years has spread across the state. This delicious sandwich traditionally featuring roast pork, Swiss cheese, salami, mustard and pickles on Cuban bread, should be at the top of your list when visiting Florida. When the state's cigar industry moved to Tampa in the 1880s, thousands of Cuban workers moved to the area. Although it's difficult to pinpoint exact dates, the Cuban sandwich certainly hails from Tampa and was developed in Key West.
With locations in Tampa, St Augustine, Sarasota, Clearwater Beach and Orlando, Columbia Restaurant knows a thing or two about Cuban sandwiches. Its original eatery in the historic Ybor City in Tampa is Florida's oldest restaurant and was founded by 1905 by Cuban immigrant Casimiro Hernandez Sr. We caught up with Columbia Restaurant to find out more:
"The sandwiches underwent changes as immigrants from different countries came to Ybor City. The City of Tampa was like the sandwich, a mixture of cultures and food. The Spanish brought the fine ham, the Sicilians, the Genoa salami, the Cubans, the mojo-marinated roast pork, the Germans and Jews, the Swiss cheese, pickle and mustard. Put it all together between sliced, freshly baked Tampa Cuban bread from La Segunda Central Bakery, and life is great."
Today, the restaurant uses its original 1915 recipe created by founder Casimiro Hernandez Sr. The restaurant added: "The Columbian's Cuban sandwich's popularity stems from the quality of the ingredients used, and the way they are layered and pressed together with a hot press, melding the tastes of the ingredients together.
"First is the ham, which the Columbia's kitchen now gets fresh and whole, not pre-prepared or sliced. A special mixture of spices was created to rub over the whole ham, and then it is caramelised. Next comes the pork. The Columbia uses a whole roast pork that is marinated in-house with garlic and sour orange, giving it a unique flavour. Then comes the salami. It has to be Genoa salami with peppercorns. The Columbia imports its salami from Italy. Next is the Swiss cheese, which is also imported. For the pickles, dill sandwich pickles sliced to a certain thickness are used.
"Le Segunda Central Bakery, also in Tampa's Ybor City, bakes our Cuban bread. This Cuban bread is also part of the key to the sandwich. It's the best Cuban bread. The same family has been supplying Cuban bread to the Columbia for more than 100 years."
More delicious Cuban sandwiches in Florida
Luckily, Florida is full of amazing Cuban restaurants, each serving their own take on the classic Cuban sandwich. Fernandez The Bull, a Cuban café in the city of Naples in the north, has been serving its original sandwich since 1985. It's filled with slow roasted, shredded pork, sliced ham, white American cheese, pickles and mustard. The café also serves variations including the Naples Cuban sandwich with smoky bacon. El Meson de Pepe offers diners a Key West version with sugar glazed ham, roast pork, Swiss cheese, pickles, lettuce, mustard, tomatoes and mayonnaise. 
Gator bites
Alligators have become synonymous with Florida. Its unique landscape of coast and swamps, including the unforgiving Everglades, make it the perfect habitat for these toothy creatures. Something you might not have expected, however, is that these fearsome creatures regularly end up on the menu. You can enjoy gator bites at many Florida restaurants. The Snook Inn on Marco Island can be found right on the water and often includes gator bites as an appetizer. Harry and the Natives, north of West Palm Beach, takes it to the next level with its gator hash and poached eggs breakfast, while Café Tu Tu Tango in Orlando serves spiced alligator bites with key lime mustard. Tibby's New Orleans Kitchen offers a twist on the classic dish with its alligator street tacos. Tuck into soft tortillas with spicy fried alligator, topped with lettuce and Cajun pico.
Apalachicola Oysters
In the north of Florida, just over an hour from the capital, Tallahassee, the city of Apalachicola is home to world-famous seafood. According to Franklin County Tourist Development Council, Apalachicola Bay is 'one of the most productive estuarine systems in the world', and produces exquisite oysters. The council added: "Shellfish aficionados worldwide concur that the Apalachicola Bay oyster is like no other – often described as 'sweet' and 'non-gritty'. And, during cooler water months of fall and winter, Franklin County offers up this nature's bounty in an unparalleled harvest."
Apalachicola Bay is the last place in the United States where by law, wild oysters are still harvested by tongs from small boats. They are considered to be one of the most delicious oysters on the planet. "Apalachicola Bay oysters have been heralded by chefs and food writers as some of the purest and best tasting oysters in the world," said Franklin County Tourist Development Council. "Visitors to Franklin County will have a first-hand opportunity to slurp their fill of the famous Apalachicola Bay oyster as the bi-valve takes centre stage during the state's oldest maritime event – The Florida Seafood Festival."
If you're not in the state between November 3rd and 4th when the festival takes place, there are other opportunities to sample this world-class oyster in the area. Boss Oyster, set on the picturesque Apalachicola River, is one such place. With their own team of oyster-men harvesting, handling and preparing the oysters so that they are fresh each day, you're guaranteed the highest quality. Another excellent restaurant to try is Papa Joe's, which serves Apalachicola oysters in many variations, including with butter and garlic or topped with crab. Wash it down with a refreshing local beer from Oyster City Brewing Co.
Whether you're planning on heading to the beach for some fresh seafood or picking up some crispy croquetas to enjoy while you're exploring Orlando's attractions, we're sure you'll find a tasty Floridian dish to suit your taste. 
Image credits: Kermit's Key West Key Lime Shoppe, Icebox Café, El Mago de las Fritas, Orlando Brewing, Sam Howzit, Conch Republic Seafood Company, Larry Hoffman, Haydn Blackey, Mandy, Andrew Turner, Columbia Restaurant, Franklin County Tourist Development Council
Click here, to view our range of Orlando attraction tickets.
For more blog posts like this try...
Find out all the latest news from Orlando in our BLOG