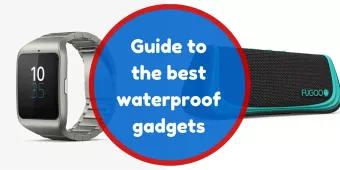 Waterproof High Tech gadgets that will blow your mind
Waterproof gadgets have come a long way over the years. Here is a list of some of the best waterproof items currently on the market.
Waterproof gadgets have come a long way over the years since those plastic throwaway cameras. Now we have accessories that aren't afraid to get a little wet!
So if you are planning on zooming down one of the slides at Wild Wadi Dubai Water Park, or relaxing close to a pool during your holiday, we have compiled a list of waterproof gear that you should take with you for the ride.
Fugoo Sport
Fugoo's Bluetooth wireless speaker, Fugoo Sport, was made with music lovers in mind and incredibly it is waterproof, mud-proof, dust-proof and shock-proof.
The speaker offers 360 degree sound, is easily portable and has a staggering 40 hours of battery life.
The Fugoo speakers, unlike most other Bluetooth wireless speakers, keep the signal entirely digital through the amplifier, meaning that mobile phones and other radio sources do not interfere with your music. The speakers are full-duplex capable and can also be used as speakerphones.
Not only can you take these speakers with you to a water park and to the pool, but you can take it with you mountain biking, paddle boarding and hiking. ExpertReviews describes them as "easily the most rugged Bluetooth speaker available", and at prices starting from £150, the Fugoo Sport is priced very reasonably too.
Sony SW3 SmartWatch 3
A waterproof watch is now an essential item to take with you on a holiday, especially if you are heading to any water parks and whilst old waterproof watches looked a bit tacky, the Sony SW3 SmartWatch 3 blows the old ones out of the water.
Following its launch this past autumn, the Sony SmartWatch, which was built in partnership with Google, has a new stainless steel version of the watch that rolled out across the globe.
As well as being waterproof, the watch features a 1.6" 320×320 TFT LCD Transflective display for visibility in bright sunlight, and is easily chargeable via a standard microUSB port.
Even without your Android smartphone users can benefit from a number of great applications such as music playback, a unique inbuilt GPS sensor and intelligent sensor technology.
The strap for the watch can be bought in a number of different colours for a personal touch, from black to yellow or brown.
Canon PowerShot D30
If you said that you could take your camera underwater several years ago, people would laugh and think you are joking. Today, there are a whole range of waterproof cameras available and one of the best on the market is the Canon PowerShot D30. Who's laughing now?!
Regarded by experts as one of the toughest underwater cameras available, you can take the camera down to an impressive 25 metres, ideal should you be heading to the likes of Siam Park in Tenerife or another water park.
At just £199.99, the camera is great value. And being so compact means that you can easily take the Canon PowerShot D30 with you on an excursion.
OtterBox Resurgence Waterproof iPhone 6 Battery Case
iPhones are unfortunately not waterproof, but to help fight this you can buy an OtterBox Resurgence Waterproof iPhone 6 Battery Case, which is made of waterproof materials to help protect your phone from being damaged.
The battery case also gives your phone additional battery life as it boasts a 2,600 mAh battery, which is estimated to more than double the iPhone 6's battery life.
The resurgence power case is currently priced at £89.99.
GoPro Hero4 Session
 
The GoPro Hero4 Session is a great waterproof gadget to take with you to a water park or whilst surfing, kayaking or canoeing.
Instead of having to tell your family about some of the rides or what the surf was like, you can literally show them with the GoPro Hero4 Session.
The Hero4 Session is the smallest and lightest GoPro on the market, and its waterproof design and easy one-button control make it a great gadget to take with you on holiday.
The Hero4 Session is available for £249.99 on the GoPro official website.
Image Credit: Fugoo Sport, Sony.