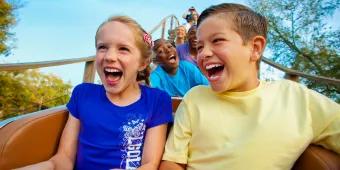 5 fun rides at LEGOLAND!
From thrilling races to action-packed adventures, check out our top pick of the best rides at LEGOLAND Florida…
1. The Great LEGO Race
The Great LEGO Race is the newest ride at LEGOLAND Florida and a visit wouldn't be complete until you've tried it. This exciting ride combines roller coaster thrills and impressive virtual reality technology, to immerse riders into the colourful and exciting world of LEGO. Get ready for a wacky race as you speed past quirky LEGO characters like a pirate, a wizard, a surfer and even a pharaoh!
2. LEGO NINJAGO- The Ride
LEGO NINJAGO- The Ride invites you to "become the ninja"! Get ready to embark on an exciting adventure where you'll have to defeat the LEGO villains by launching blazing fireballs, shards of ice and lightning bolts at them. The amazing ride technology puts the power in your hands, so once you learn the moves you'll be a pro ninja! Compete against your friends and family for the highest score to see who will be crowned the winner.
3. The Dragon
This is one of the most popular rides at LEGOLAND Florida, so make sure you give it a try. This is a great attraction for little ones who are looking for an introduction into the exciting world of roller coasters. Brave the Dragon and prepare for an exhilarating race around the track with plenty of dips and dives along the way. We'd recommend riding this one early in the day to avoid the queues.
4. Flying School
Flying School is a suspended roller coaster that sends you racing through the park. It's one of the biggest coasters at LEGOLAND Florida, so if you're looking for thrills, this is the ride for you. You'll feel like you really are flying as you sit with your legs suspended and speed around the track. You'll climb five-storeys before facing twists, turns and drops on the way back down.
5. Mia's Riding Adventure
This attraction can be found in the Heartlake City area of the park and is of course inspired by the LEGO Friends gang. Mia is hosting a riding camp and wants you to join her, so choose a horse and saddle up for a ride on this fun-filled coaster. Mia's Riding Adventure will send you spinning around and around and is definitely one that the big kids will enjoy too.
Ready to start planning your visit? Click here, to view our great value LEGOLAND Florida tickets.
For more blog posts like this try…
Find out all the latest news from Orlando in our BLOG