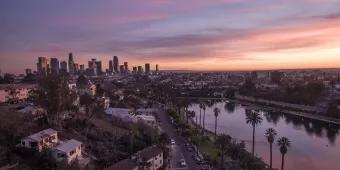 The secret and unique places in Los Angeles
These are some of the secret, unique, and hidden gems of Los Angeles that must be visited during your holiday.
From hidden bars and rooftop hideaways, to underground tunnels and truly one of a kind museums, Los Angeles is a verified hub for the unique and wonderful. In this guide, we will walk you through our top secret places in LA, including hidden gems and eccentric attractions.
Galco's Soda Pop Stop
Thirsty? Well, you're in luck. Galco's Soda Pop Stop is a sanctuary for refreshing beverages, selling 600 flavours of soda to suit the needs and tastes of all that enter. Considering all that most of us drink these days is Coca-Cola, Pepsi, or maybe a Dr Pepper, Galco's Soda Pop Stop is a unique offering and a special find for all those that happen upon its location.
Image Credit: Martha Benedict
Galco's spoke to us about the store's history, clearly illustrating what makes the location such a secret treasure for visitors to Los Angeles.
"Galco's has a long history; it's been around for almost 100 years. It originally was an Italian grocery store located near downtown Los Angeles but moved into the Highland Park neighbourhood in the 1950s. It thrived for many years, but with the advent of large chain grocery stores, things needed to change.
"John Nese inherited the store from his father and mother and realized that he needed to offer customers an alternative and hit upon the idea of stocking small soda bottlers that needed exposure and support. He wanted to provide 'Freedom of Choice' so customers had more than 3 or 4 sodas to choose from.
"He first devoted a few aisles to these regional favourites; once customers discovered that someone was selling these old time and unusual sodas, word spread quickly. Today, Galco's still sells Italian deli sandwiches, aka Blockbusters, as a continuation of its history."
Image Credit: Martha Benedict
In terms of what visitors can expect upon heading to Galco's, the store told us about their sodas and what else can be found inside:
"Along with 600 different types of sodas, Galco's also stocks a wide variety of small craft beers, meads, ciders, sakes, French wines and other items you can't find in regular stores. 'If you can find it easily somewhere else, I won't stock it,' says John about his carefully curated inventory. Customers love to browse the aisles discovering new soda flavours -- cucumber, mint, birch beers and more -- as well as the old time favourites like Moxie soda, Lemmy, Double Cola and others.
"Additionally, there is a wide selection of old time candies and small toys which make a trip to Galco's a family affair. Lively 50s music welcomes customers who can also pick up a Blockbuster sandwich and enjoy the comfy vibe at tables in the store or out on the patio. Customers are also encouraged to craft their own soda flavor at Galco's Soda Creation Station where a million possibilities exist. John is always at the store and is ready to answer questions, offer suggestions and chat with everyone. He believes that people should do what they love and so everyday John sees his store as a place 'to play not work.'"
Idle hour
If unique is what you're after, just take a look at Idle Hour, a beautiful bar in the shape of a whiskey barrel that will be impossible to forget. Located in North Hollywood, Idle Hour is a must-visit destination serving a variety of drinks and cocktails, and has a kitchen on hand to further enhance your time there.
When asked what sets Idle Hour apart from the pack, the bar told us:
"The barrel! The barrel has been here since 1941, and started as a Taproom, became a Flamenco Bar, and is now Idle Hour. It is a historic landmark and serves as a craft cocktail bar with a kitchen that serves smoked BBQ. We have an amazing patio out back and have live music for Sunday brunches."
Need a little more convincing? Idle Hour help describe their menu and what visitors can hope to enjoy when stopping by:
"Anybody visiting Idle Hour should expect beautifully smoked sausage, pork, brisket, and chicken with a fantastic 'Old Fashioned' brownie for dessert. As far as the bar goes, we have over 20 beers on tap covering every possible style you could want, along with craft cocktails designed by our very own Stephanie Neal." 
Fire Pits at Dockweiler State Beach
One of the first things that spring to mind when people think of LA is the delightful weather and picture perfect beaches. For many, fun in the sun is the name of the game for any trip to Los Angeles – aside from making use of tickets to Universal Studios, that is. But for a truly unique day by the sea, Dockweiler State Beach is a must-visit location. This particular spot sets itself apart from the rest by allowing the public to enjoy a fire on the sand. This beautiful three-mile stretch of beach has fire pits available to those that visit (open to 10pm), and as long as you bring your own firewood and leave the area how you found it, this is the perfect way to enjoy the ocean view, gathering with friends and family around a Californian beach fire.
Valley Relics Museum
From San Fernando Valley local Tommy Gelinas, Valley Relics Museum hosts a wonderful collection of carefully curated items, including neon signs and other marvellous gems, which tell the stories of those that helped shape this area of California. A non-profit, everywhere you look at Valley Relics Museum more glorious relics present themselves, hanging from walls, the ceiling, and literally everywhere else.
We asked founder and curator Tommy Gelinas to tell us a little more about this treasure trove of a museum:
"We invite you to join us and take a look back at the Valley's unique history. Whether it's historic neon signage from the Palomino or Henry's Tacos, authentic Nudie cars and outfits, hand written letters and artefacts from our cities founders, or one of the largest collections of Valley-made BMX bikes, the Valley Relics pop-culture museum is where yesterday meets today.
"We are open every Saturday from 10am to 3pm. Admission and parking is free."
Time Travel Mart
Photo courtesy of 826LA
Fancy a trip back in time during your stay in Los Angeles? Well, a visit to Time Travel Mart at one of its two locations (Echo Park and Mar Vista) should surely be on your agenda. This truly unique store – where all proceeds go towards the non-profit 826LA – is a certified treat for all those interested in the past and that are in search for one-of-a-kind gifts to bring back home.
To help paint the scene, Time Travel Mart further describe just what is on offer:
"Our motto is 'Whenever you are, we're already then.' Whether you're an android visiting from 3017, a cave person in search of fresh mammoth chunks, or a tourist taking in the sights, the Time Travel Mart is one-stop shopping for all your time travel needs. Impress people back at home (or in your home century) with souvenirs like Mad Scientist Goggles, Industrial Revolution Pollution, and Emergency Mummy Kits."
Time Travel Mart were also able to tell us what else visitors can expect to find upon their arrival:
"Both Time Travel Mart locations (in Mar Vista on the Westside and Echo Park to the east) are attached to 826LA's writing and tutoring centers, where students from 6 to 18 participate in creative writing programs and get homework help. Be prepared to see students from the 21st century having a lot of fun! You can purchase books they've published (sample title: No Traffic in Space), plus weird tote bags and T-shirts, and the usual time travel supplies: dinosaur eggs, dodo chow, portable wormholes."
Spoke Bicycle cafe
Thinking about exploring LA on a bicycle during your trip? It's certainly a good idea with many wonderful trails available, and the hidden gem known as Spoke Bicycle Cafe is perfectly designed for such a desire. If you want to rent your ride for the day while simultaneously chowing down on some fantastic grub, this is the place for you.
Spoke Bicycle Cafe describe the unique and charming nature of their establishment:
"We are the first business along the LA River bike path and one of the very few destinations in the city that is more accessible by bicycle than by car. We are a bike shop and a cafe. We rent bikes, repair bikes, sell accessories, serve delicious breakfast, lunch, and dinner, locally roasted coffee, draft local beers and California wines. We have live music, outdoor movie showings, and we play and sell records."
As you can already see, it's all happening at Spoke Bicycle Cafe, and to help paint the picture further, here is more from the cafe:
"All of our seating is outside on our spacious, partially covered riverfront patio. The space is perfect for large groups, is dog friendly, kid friendly, and a great place to work or meet friends. Our menu can be described as classic California with many locally-made products and ingredients and many vegetarian options. Some favourites include the Spoke burger, breakfast bun, and cauliflower farro bowl. Our coffee is roasted right here in LA and is top notch. Our beers are carefully selected and rotate often. We have a small, but quality selection of wines."
Museum of Death
For something truly out of the ordinary, and for a slice of Californian macabre, the world's largest collection of killer artwork and exhibits at the aptly named Museum of Death is well worth a look.
Originally founded in 1995 in San Diego, the museum moved to its present location in Los Angeles in the year 2000. Today, the museum boasts some rather chilling but no less enthralling items amongst its collection. The Museum of Death spoke to us about their one-of-a-kind attraction:
"What makes the Museum of Death such an interesting and great location to visit while in LA is that it's an entirely unique collection of materials that normally most people would never have the chance to experience or see in person (and without any of the un-pleasantness that this subject matter usually entails!) With a collection that has been curated and maintained for almost 30 years the Museum Of Death has grown over the years in popularity, and has now become one of Hollywood's most talked about destinations for visitors from all over the United States and abroad. People looking for something a little different are typically very excited to visit and spend as much time as they would like to viewing and reading the items within."
The Museum of Death went into some specifics about what visitors can look forward to seeing:
 "What visitors can expect to see include all authentic materials such as actual artworks and documents on and from infamous serial killers, antiques from the funerary industry dating back hundreds of years, a re-creation of the Heaven's Gate crime scene (largest mass suicide on American soil) materials detailing the people and stories of crimes that took place in California (Charles Manson, Elizabeth Short aka: The Black Dahlia, OJ Simpson etc.), a collection of actual shrunken human heads, exhibits on executions, cannibalism, celebrity deaths, and so much more! Every room is jam packed with materials guaranteed to hold your attention and serve as a reminder that we are lucky to be alive!"
Perhaps not for the faint of heart, or the younger members of your troop, but for those seeking something different, The Museum of Death is certainly among LA's best kept secrets.
Papilles Bistro
Named after the French word for 'tastebuds', Papilles Bistro is an elegant offering that provides a relaxed atmosphere for diners to enjoy their seasonal menu. Their food is sourced entirely from local farms.
Papilles Bistro spoke to us about what makes them one of LA's hidden gems:
"Opened in 2012, Papilles is a modern yet casual French-inspired bistro in Hollywood's Franklin Village. The quaint restaurant has been named one of Los Angeles' hidden gems by many outlets. Owner Santos Uy and Michelin-starred chef Claudio Dell'Anno strive to provide personable service to each and every guest in the open kitchen restaurant."
We asked Papilles Bistro to break-down their menu for us and highlight a few of their excellent dishes:
"The market-driven menu changes daily and features a prix fixe menu where guests can choose a starter, main and dessert for $38. The menu features classic French techniques with Claudio's modern spin. Although the menu changes frequently guests can experience dishes such as:
·         Oysters with lemon, olive oil, spinach, champagne foam
·         Bavette steak with marrow bordelaise
·         Lamb chop with salsa Verde, sumac yogurt
·         Caña de Cabra with Bleu des Basques, marcona almonds, honey
"Dishes are also available a la carte."
Bob Baker Marionette Theater
Image credit: Bob Baker Marionette Theater
Entertaining the Los Angeles community for more than 50 years, the Bob Baker Marionette Theater delivers hundreds of performances with handcrafted puppets, and caters to a number of social events and gatherings. This truly unique experience is not one to pass up and to tell you a little more, who better to ask than the theatre itself:
"The Bob Baker Marionette Theater has a very unique and longstanding role in our community. We have been doing shows at our theater since 1963, and Bob Baker had a travelling road show company that went all across Los Angeles long before that.
"At nearly every show we have grandparents who brought their children, who are now bringing their grandchildren to see our marionette show as a piece of timeless entertainment that generations have enjoyed in its relatively unchanged and completely charming form.
"We are proud to offer events for kids of all ages – everything from evening film screenings, to pumpkin carvings, to a monthly vaudeville show... and always with a few numbers from our gorgeous antique marionettes!"
Image credit: Ian Byers-Gamber, 2017
And for a little more about the shows themselves, including special evening events, and what visitors to Bob Baker's Marionette Theater can look forward to, they told us:
"At our regular puppet shows, our audience watches the performance in our 'theater in the round,' which means they get to interact and observe our marionettes up-close. Following each show we have ice cream in our historic party room, and introduce our guests to puppets they just saw perform in the theater. Each show features a unique mix of music hand-picked by Bob over the years, anywhere from 80-100 marionettes, and a full theater setup with drops, lights, curtains, and much more.
"Our special evening events usually focus on an element of the city of Los Angeles, or the theater, that we want to explore in a deeper way. From movie screenings to rock music shows, we want the theater to be a place for kids of all ages, and to continue to serve our community for 50 more years to come. We are excited to announce that the Bob Baker Marionette Theater is in LA to stay as we continue our performances, workshops, tours, birthday parties, and more!"
Wayfarers Chapel
Perhaps not what most think of when the name Los Angeles is uttered, this beautiful chapel personifies the phrase 'hidden gem' and should be visited for all those in search of peace and tranquillity during their trip. Those that are religiously inclined will find the stunning surroundings of Wayfarers Chapel in Rancho Palos Verdes a true highlight of their LA stay, and all that visit will remark how different it feels compared to the Los Angeles cityscape.
Wayfarers Chapel kindly spoke to us about this truly serene getaway:
"The Wayfarers Chapel is a unique, one of kind chapel due to the fact that it's built of glass and wood. Being inside the chapel makes you feel like you are surrounded by nature. Lloyd Wright planted redwood trees around the perimeter of the chapel, and with live plants that would normally grow on the floor of the woods planted in the interior Palos Verdes stone walls, it's like being in a little enchanted forest. Sitting on a hilltop above the ocean, Wayfarers Chapel is a place for people to find true serenity and for visitors (wayfarers) to come and find rest and peace with God. For more info and the full story, please click here."
The Spa Cafe at Terranea 
Image credit: Terranea Resort
Staying within the picture-perfect confines of Rancho Palos Verdes, you will find Terranea Resort, A Destination Hotel, home to many fine dining establishments perfect for romantic dinners, business meetings, and just great food in the sun with dramatic views you won't want to miss out on. A particular highlight is The Spa Café where visitors can relax and enjoy some spa-themed cuisine after a relaxing treatment or workout session at the Palos Verdes day spa. A wonderful combination of rejuvenation and replenishment, The Spa Café serves its delights right by the pool, fire pit, or in the cabana should you choose.
LA might not get any more tranquil than right here, and Terranea's Spa Director, Sharon Holtz, helps to further illustrate why:
"Imagine exploring the oceanfront cliffs and nature trails of Terranea Resort's 102 acres, then retreating to The Spa Café, which offers an intimate and tranquil setting. With service both indoors and outdoors, The Spa Café features lighter fare for both breakfast and lunch. Culinary delights include Sprouted Avocado Toast, Spiced Cauliflower, and our ever-popular Green Crunch Salad. Much of our menu is easily adapted for special dietary requests.
"Wellness-focused enhancements to complement your meal include refreshing smoothies and fresh pressed juices, as well as ginger and wheatgrass shots. Take in the natural beauty and serenity, as well as the negative ions from being near the sea. Terranea's Spa Café is a special gem that should not wait to be discovered."
No Vacancy 
Image credit: Andy Keilen
One of LA's many virtues is the wonderful climate but of course that can make exploring the area thirsty work and heading to No Vacancy in Hollywood might be the most secretive spot to enjoy a drink anywhere in the city. A prohibition themed establishment hidden away inside the last Victorian residence in Hollywood, No Vacancy requires a bit of investigative work to get inside. Behind a hotel, up a flight of stairs, past a flickering sign and you will find the secret entrance and a remarkably cool cocktail bar inside. Once within its confines, visitors will enjoy fire-breathing dancers, antique bookshelves, live music, and, of course, delicious drinks. It goes without saying that No Vacancy is pretty exclusive so make sure to reserve a table with them on their website. 
Underground Tunnels of Los Angeles
As is already demonstrable, Los Angeles isn't all movie stars and modern day celebrity hangouts - the city also contains a fascinating history. During the prohibition era, corrupt LA officials used the bowels of the city to run drinking dens, and now under the streets of downtown Los Angeles, visitors can explore the 11 miles of service tunnels which are officially closed to the public. These mysterious tunnels can be accessed, however, via an easy-to-miss elevator behind the Hall of Record on Temple Street. Once on the other side, explorers will find passages filled with interesting street art, old machinery, and iron gates to stop you from getting lost.
Bronson Canyon
If you are in the mood for a little more adventure during your trip to LA, Bronson Canyon forms a rather mysterious excursion for those that prefer to stray far from the regular hustle and bustle of the city streets. Located in Griffith Park, the former rock quarry there that a hundred years ago supplied the raw materials for LA's streets is now often used as a film and TV shooting location, including playing the part of the Bat Cave in the original Batman series. There is public parking available at the Bronson Canyon entrance of the park, and for those that venture inside the caves, there's plenty to explore and numerous opportunities to spot the local wildlife – deer, coyote, and ravens included.
Dapper Cadaver
Scary costumes and horror paraphernalia aren't just for Halloween, and this is certainly the mantra promoted by Dapper Cadaver, a year-round store for all things Halloween and morbid curiosities. At their San Fernando store you can find human organs, chicken skeletons, and something referred to as a mummified fairy… Yeah, things get weird at Dapper Cadaver but it really is a remarkable shop, not one you are likely to find in local tourism guides, and for fans of the bizarre and the occult, you will most certainly find yourself right at home. And if you happen to be heading to a LA Halloween party, the store is replete with freaky looking props available for rental.
Frogtown Brewery
After enjoying the lovely and quiet trail known as the LA River Greenway Trail, you are likely to find yourself in the neighbourhood of Frogtown, a truly fascinating spot with plenty of interesting shops and business to pay patronage to. One such location is Frogtown Brewery on Gilroy Street. Run by Adam and Mike, these home brewers achieved their dream and opened up their own establishment, and today have eight different styles of beer on draft for visitors to enjoy. With a number of events also hosted on site (such as Kelly's BBQ), Frogtown Brewery is the ideal spot to soak in the local atmosphere and sit back with a nice cool pint after exploring the LA scene.
Elysian
For a delicious bite to eat while in the neighbourhood, Elysian on Clearwater Street (15 minutes from Hollywood) offers some delightful food, presented in a rather beautiful package. Reservations are required but if you know in advance that you would like to stop by, visitors will set themselves up for quite a treat. Their current menu includes olives, duck liver mousse, various cheeses, monkfish, lamb ribs and much more. Elysian really is a hidden gem and with its 4,800 sq. feet garden, wine list and full bar, you will certainly want to check it out during your next LA holiday.
No matter which way you choose to spend your holiday in Los Angles, we're sure you'll love discovering some of the city's secret places and hidden gems. Click here to browse Los Angeles attraction tickets. 
Liked this post? You may also like...
Image Credit: Adoramassey  Courtney "Coco" Mault   Dmitry Kotov