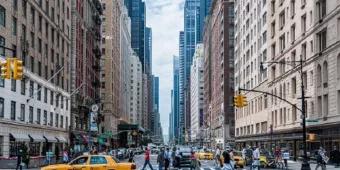 A guide to the craziest eating challenges in New York
In this article, we will take you through five of the best eating challenges that can be enjoyed in New York, including where you can find the restaurants.
One of the very best things about going on holiday is taking the chance to indulge in some great food, and there are few better places on the planet to do this than in New York.
NYC and the surrounding state is home to countless high quality restaurants specialising in a wide variety of cuisine from around the world.
Sometimes, however, we look for a little more from our holiday dining experiences. You will no doubt have heard of some of the crazy eating challenges which can be found throughout New York, but have you ever considered taking one of them on?
In this article, we will take you through five of the best challenges that can be enjoyed in New York, including the details of what they involve and where you can find the restaurants. We hope you're feeling hungry!
Dobbs Dawg House – 'The Challenge'
Where to find it: 25 Cedar Street, Dobbs Ferry, NY 10522
Found in Dobbs Ferry, Westchester County, Dobbs Dawg House is the ultimate destination for hot dog lovers, building up a reputation over the years as the number one place to go for those looking for both high quality and quantity of this favourite US dish.
Dining at Dobbs Dawg House is enough of an experience on its own but, if you feel brave enough, you could arrange to take on the 'Dawg House Challenge'. Be warned, though – this will prove to be perhaps the strongest test of your eating abilities that you have ever encountered!
The folks at Dobbs sent us through some more information about the nature of the challenge, as well as a picture which gives potential competitors an idea of the mammoth task which awaits them:
"Above is a picture of the contest for when Casey from Man v. Food attempted the challenge. 12 hot dawgs in 30 minutes - as of now only 4 people out of 44 have finished the challenge. It's not the amount of hot dawgs that beat the competitors, it's the vast amount of toppings that usually do people in. Most average people get around 6/8 dawgs finished before throwing in the towel."
Swingbellys BBQ – 'The Swingbelly Challenge'
Where to find it: 909 West Beech Street, Long Beach, NY 11561
Nothing says 'USA' like a classic barbeque joint, and this is exactly what you'll find at Swingbellys BBQ in Long Beach. Swingbellys is the perfect choice for those who want the real BBQ experience; the menu is packed with smokehouse specialties such as baby back ribs, pulled pork and 12-hour cooked brisket to ensure the whole family goes home full!
For the truly adventurous, however, there is no better test of your eating skills than the notorious 'Swingbelly Challenge'. The rules of the challenge are simple – everything that is presented to you on your plate must be consumed within one hour, without any comfort breaks allowed.
It's a daunting ask but there is an incentive available to winners: those who successfully complete the Swingbelly Challenge will find a place on the restaurant's Wall of Fame, be awarded an 'Official Porker' t-shirt and, most importantly, have their entire meal paid for!
Lunchbox – three challenges
Where to find it: 1612 Forest Avenue, Staten Island, NY 10302
Just going by its name, Lunchbox in Staten Island may sound like a simple little street food outlet, selling sandwiches and perhaps the occasional burger to busy New York commuters.
Don't be fooled, however – this unique restaurant is actually home to some of the city's most gut-busting dishes, with the menu including signatures with appropriate names like 'Terminator', 'The Punisher' and 'Ironman'.
Most intriguing of all, however, are the challenges that are available. Unlike the other restaurants listed here, diners at Lunchbox can benefit (if that's the right word) from trying out not one, not two, but three extraordinary competitive eating feats – although you really would be crazy to try completing more than one on the same day!
The most infamous of the Lunchbox challenges is the 'Motherload', which requires the competitor to pile away eight pounds of that most American of dishes – the Sloppy Joe. To give you an idea of how much that is, it is (barely) contained within a 16 inch roll and is topped with one pound of melted cheddar cheese.
The other Lunchbox challenges are the '151' – an ultra-thick milkshake which, appropriately enough, comes to 151 ounces – and the worryingly-named 'Death Wish', which consists of six buffalo wings mixed with chipotle chillies and the restaurant's own Hellraiser Habanero Ghost Chilli Extract (a word of warning: the ghost chilli is officially the hottest in the world).
The near-impossibility of successfully completing these challenges is illustrated by the fact that diners have to sign a waiver before they take any of them on which includes the following lines: "I understand this challenge is insane, stupid, and ridiculous. I insist on trying it anyway! Lunchbox is not responsible in case I explode, catch fire or die in attempt of this idiotic challenge". Happy eating!
Brick Lane Curry House – 'P'hall of Fame'
Where to find it: 99 Second Avenue, Manhattan, NY 10003
No matter how much you are enjoying your holiday, of course, you may still be feeling a little homesick and pining for some old-fashioned British cuisine.
It may sound surprising, but one of the most authentic UK restaurants to be found in New York is the Brick Lane Curry House in Manhattan, which models itself on the many fine Indian restaurants which can be found on the famous London road.
You will find all your takeaway favourites on the menu here, such as tikka masala, korma and jalfrezi. It will come as no surprise, however, for you to learn that its challenge is what the Brick Lane Curry House is most famous for, and what a challenge it is!
The 'P'hall of Fame' (which even has its own website) invites diners to polish off a generous helping of phaal which, as any curry lover will know, is an excruciatingly hot dish. A certificate and place in the 'P'hall of Fame' awaits the successful competitors but, just to put the difficulty of the challenge into context, here's one testimonial from a former participant: "Totally worth the temporary blindness".
Sticky Lips Pit BBQ – 'The Atomic Bomb'
Where to find it: 625 Culver Road, Rochester, NY 14609
For our final choice, we head back to another favourite barbeque spot, the long-established and highly regarded Sticky Lips Pit BBQ.
Featuring a huge menu which showcases all of your barbeque favourites, Sticky Lips is also a great music venue, regularly hosting some of New York's finest up-and-coming talent spanning a range of genres.
However, it's the restaurant's amazing 'Atomic Bomb' challenge which we are most interested in. Another challenge which requires would-be participants to sign a waiver indemnifying the restaurant from any harm that may befall the ambitious eater, it offers successful diners a special t-shirt and proudly displays their name 'in lights' on the electric sign outside the restaurant.
So far, however, a mere handful of people have completed the challenge. A quick look at the ingredients list explains why:
·         1 oversized bun
·         1lb of Hamburger
·         1lb of pulled pork
·         1lb of French fries
·         1/2lb of hot meat sauce
·         1/4lb of cheese
·         Eight strips of bacon
Good luck!
As you can see, there is much more to New York's gastronomic scene than your standard restaurant fare.
Whether or not you plan on being one of the brave souls to take on any of the challenges described here, you should be sure to stop by at least one of these unique restaurants in between enjoying the many NYC attractions that can also be enjoyed in the city.
Image Credit: Dobbs Dawg House, Frank Kohntopp, Erik Junberger, Jeffreyw, Hildgrim, Gary Brownell, Aaron Burson