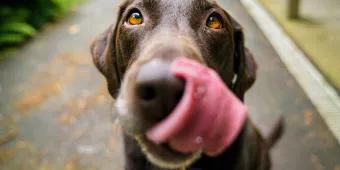 ..or wished you'd bought it.
From just £10pp extra, you can protect your tickets from a whole host of disasters!
Here are just a couple of scenarios where you might thank your lucky stars you bought that ticket protection...
1. "The dog ate the tickets"
Once our tickets are safely posted through your door or put into your hands, it's your responsibility to protect them from Barney, whether Barney's a 120lb Rottweiler or just an over-exuberant chihuahua. If your tickets are shredded, chewed and or just dribbled on by the family pet (or any member of the family really) you are covered for replacements if you have our FLEX or FLEX-PLUS cover. Crisis averted, and no one ends up in the dog house…not even Barney.
2. "Yes Karen, I do know where the tickets are, they're…on the table at home"
Your stomach drops. In the stress of packing passports, sun cream to smother an army, sunglasses, flip flops and who knows what else, you've left one of the most crucial elements of your holiday on the kitchen table. Nooooo! Believe it or not, this happens more than you might think. If it happens to you, you're covered for replacements if you have our FLEX or FLEX-PLUS protection. We'll arrange for replacement tickets to be collected by you in resort, quick as a flash, so you don't even need to worry about missing out on any days of theme park fun. Cancel the divorce!  
3. "Muuuuum, the sun cream exploded in the suitcase"
That pesky sun cream gets us every time. Whether it's sun cream in your suitcase, tickets in your pocket on Summit Plummet, or that bottle of water you were sure you screwed the cap on in your rucksack that damages your tickets, our FLEX and FLEX-PLUS protection is here to save the day again. New tickets will be arranged for you  to collect in resort so you can continue your holiday (maybe keep the tickets dry this time though?).
4. "You know we've booked this holiday over Aunty Gill's wedding, right?"
Ahhh, you've booked tickets for your holiday over a family wedding/your child's graduation/your first day at your new job. That's annoying.  Luckily, you took out FLEX or FLEX-PLUS ticket protection when you made your booking, so we can sort this out for you. Changes to your itinerary are unlimited and free of charge up to the day of departure, so there's no need to panic.
5. "Yep, that's broken"
Are you or one of your family members prone to accidents? Cancelling your holiday is never fun, but when life gives you lemons or you break your leg the day before you're due to fly, you can at least be grateful you took out FLEX-PLUS protection when you purchased your tickets.  We'll waive all cancellation fees and allow you to cancel with a full refund (minus the cost of the protection) any time up to the day of departure. If any of your tickets remain unused at the end of the holiday, we'll even give you a refund on those too! And, hopefully, when the time comes to re-book your adventure, we'll be on hand to send you on your way to Florida. 
Find out more about our Flex Ticket Protection here.