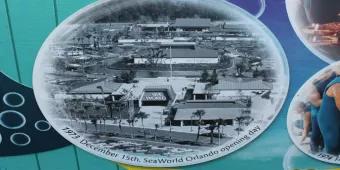 By Simon Veness
It was 8.53am on the 16th of February, 1993, when I first walked through the gates of SeaWorld. I know, because my park map, safely stored away in a scrapbook from the time, tells me so.
That's right, 21 years ago, the park map had a time and date stamp, as well as a Recommended Show Schedule that listed the optimum time to see all seven live shows in order. Pretty neat, huh?
In many ways, SeaWorld was ahead of the curve way back then, and, as it celebrates the 50th anniversary of its original park in San Diego, California, in 2014, its Sea of Surprises celebration here in Orlando brings back more than a few memories for me.
I was completely new to Orlando back then, a first-time visitor on a Cosmos holiday package staying at the Quality Inn Plaza on International Drive—now the Rosen Inn at Pointe Orlando—which was very much Brit Central and at the heart of this amazing tourist wonderland.
I was just walking distance from the Mercado Mediterranean Village, with its great food court and nightly live entertainment, and I had evenings out at Church Street Station in downtown Orlando  and Wild Bill's Wild West Show on Highway 192 in Kissimmee – none of which exist any more.
We could still have an evening out at the clubs of Pleasure Island at Downtown Disney and dine at the Portobello Yacht Club, while the animated film 'Aladdin' was brand new at the AMC multiplex cinema.  
There were only three Disney parks and one at Universal, and it cost just $4 to park at any of them, unlike the $16 it costs today!
But SeaWorld had a special appeal back then, and it still does today, especially for British visitors. It is slower, more relaxed, wonderfully scenic and is the perfect introduction to the Orlando Experience of fun, rides, shows - and standing in line!
Back in 1993, I couldn't have been more impressed as everything was so organized and easy to enjoy. There were no rides back then – no fast-turning Kraken, the swooping Manta or water-coaster Journey to Atlantis – but there was still plenty to enjoy.
I had done my homework and arrived early enough to book one of the special back-stage tours that afforded a fascinating glimpse of the animal care areas and the great work SeaWorld does in marine conservation and rehabilitation of rescued animals like turtles and manatees.
These are still on offer today – and I heartily recommend giving them a try, as they add a lot to your appreciation of the park – but, back in my little time-warp tour, there were quite a few differences.
Shamu's Happy Harbor, the children's play area, was brand new but consisted mainly of the big adventure play structure and a water-play area around a small boat. The seven kid-sized rides were all added in recent years.
Also new was Mission: Bermuda Triangle, an exciting undersea simulator ride that explored the mysteries of the deep. Today it is Wild Arctic, a more up-to-date simulator experience, but it was just as impressive 21 years ago.
The Waterfront area didn't exist either, but in its place was the setting for the Hawaiian Rhythms outdoor stage show, while nearby was the Sea World Theatre (now the Seaport Theater and incorporated into The Waterfront). Also here was the park's full-service dining outlet, the lovely Bimini Bay Café, but, if there is one area that SeaWorld has improved significantly since then, it is the general food offerings.
Nowadays, there is the superb Sharks Underwater Grill & Bar, the Terrace Garden Buffet (which has replaced the Anheuser-Busch Hospitality Center and no longer offers free samples – boo!), Spice Mill Café, Voyagers Smokehouse and the Seafire Inn, as well as the new Expedition Café, which opened with the fabulous Antarctica: Empire of the Penguin area last year.
While there were no coasters to enjoy, the live shows were still first class, and you could sit back and enjoy all seven in a row, if you were in from 10am to 6.15pm. 
There was the Whale & Dolphin Show (now the remarkable Blue Horizons, which really has kicked things up several notches); Shamu: New Visions, the trademark killer whale show; The Gold Rush Ski Show, which was performed at the Bayside Stadium (back then, the Atlantis Water Ski Stadium), and the Sea World Theatre Show, which was a 20-minute film called Window To The Sea on SeaWorld's research, conservation and education efforts –a major feature even then.
A second show at the SeaWorld Theatre, Water Fantasy, was a musical water-and-light performance featuring spectacular fountains all set to a memorable soundtrack. I think parts of this show actually turned up a few years later at Silver Springs in Ocala, but where it is now is a mystery. The Nautilus Showplace (now the Nautilus Theater and home to the superb A'Lure show) was the stage for the Chinese Golden Acrobats, who performed three times a day.
Finally, SeaWorld brought the day to a memorable close with Shamu Night Magic, a second chance to see the killer whales as they performed a more freestyle show to a grand lighting backdrop – not hugely dissimilar to the Shamu Rocks show they now do during Summer Nights.
When I wanted to slow down and enjoy the scenery, the Tropical Reef was the place to go, while the Penguin Encounter was still a big draw, and there was also Terrors of the Deep (now the extremely similar Shark Encounter).
Sadly, the Sea Lion & Otter Stadium was closed that month as SeaWorld prepared for the all-new show Hotel Clyde & Seamore – which has since transformed into Clyde & Seamore Take Pirate Island. Also under construction then was  Manatees: The Last Generation and Pacific Point Preserve, two more excellent animal exhibits, the former of which has since become part of the new Turtle Trek attraction.
It was definitely enough for a full day out – and it was part of the spark for the Brit Guide to Orlando, which I started writing pretty much on my return from that trip! The book is now 19 years old but SeaWorld is substantially older. It is still every bit as enjoyable – and getting better every year.
Happy 50th Birthday SeaWorld!