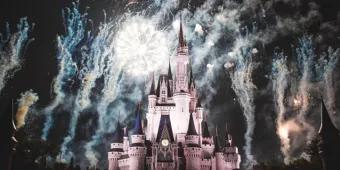 Discover the Disney hotels' best-kept secrets in our guide
Read on to discover lots that you didn't know about some of Disney World's very best accommodation options and their enchanting hidden extras.
Many of us, particularly families with children, dream of taking a holiday to Walt Disney World in Orlando. Everyone knows that the 'Happiest Place on Earth' is filled with so many wonderful things to see and do that it would take years to discover everything – and, believe it or not, this is even true of the range of hotels which are scattered around the huge resort.
It can be a little overwhelming deciding which Disney hotel to choose, especially if you have not visited the area before. In this article, we will attempt to make things a little easier for you by picking out a few which have some very special secret features to enjoy. Read on to discover lots that you didn't know about some of Disney World's very best accommodation options and the enchanting hidden extras which make them well worth booking a stay at.
All-Star Resorts
Top secret feature
·  At the Movies resort, head to the World Premiere Food Court and then to the ROXY counter. Once there, ask to see the Secret Menu - you will be amazed at what happens next! All we'll say is that it involves being handed a briefcase…
One expert we spoke with – Amy Marie from Cocktails in Teacups, a blogger who has a particular passion for all things Disney – was able to share with us all kinds of insights from the various Walt Disney World resorts she has visited over the years. One of these was the All-Star suite of resorts – three different areas catering to lovers of Movies, Music and Sports:
"If you have children, the All-Star Resorts are a must. They're the cheapest, making them the most affordable for families, but they're also the most Disney themed with each building area themed with fantastic photo opportunities and three story tall Disney character statues. My daughter LOVED playing in the Toy Story area when we stayed there in September 2015.
"The All-Star Resorts are also small in comparison to some of the others which is great for tired legs after a long day. They still have a lot of the benefits of the big resorts, with a food court (yes, you can get Mickey waffles), a cocktail bar by the pool, and they show movies most nights under the stars. If swimming is your bag they offer fun and games by the pool, and if you visit on a holiday, you may even see a special guest! All-Star Sports had Minnie come to play in Easter 2016!"
Port Orleans
Amy's next tips concerned Disney's two Port Orleans resorts, French Quarter and Riverside. These imaginative areas are designed to reflect the appearance and atmosphere of New Orleans' historic French quarter and the 'Old South' of the US respectively.
French Quarter
Top secret feature
·  Paying a visit to the unique Sassagoula Floatworks and Food Factory restaurant will allow you to sample the beautiful dish called 'beignets'. Based on the sweet made famous at the Café du Monde in New Orleans, we can confidently say that these fried pieces of dough covered in powdered sugar are the most delicious dessert you will try on holiday. As you will see below, Amy is also a fan!
"Maybe it's the theming of this hotel - inspired by New Orleans, it just omits southern charm and Mardi Gras. In Sassagoula Floatworks you can pick up some of Tiana's man catching beignets. This is one of the only places on the site you can buy them, and they're delicious. You can take a boat out on the river or enjoy the peaceful running trail and the pool has a fantastic water slide. When we stayed in 2016, my daughter loved the new splash park which was great to cool off in and is for small children only.
"Here, you can watch movies under the stars in the most beautifully picturesque area of the resort, down by the river. It's a small resort so you can walk everywhere, including just up the road to Port Orleans Riverside, where as a guest at French Quarter you can use all their facilities."
Riverside
Top secret feature
· Discreetly tucked away behind the popular Ol' Man Island swimming area is the Fishin' Hole which, as its name suggests, allows guests to fish in the old-fashioned way. You can rent a rod and line right by the lake and try your hand at catching bass, catfish and more!
"Like with French Quarter, Riverside is inspired by Louisiana, but this time it's the big stately homes, which is perfect given the luxurious Royal Rooms they have to offer. The Royal Rooms are truly fit for a princess (or prince) with touches from all Disney movies like the lamp from Aladdin as the taps, and the dog foot stool from Beauty and the Beast. The headboard lights up and there are canopies over the bed.
"If you're looking for a more luxurious but still Disney-fied resort in comparison to All-Star, pay a little bit more and opt for a Royal Room at Riverside. The resort itself leans slightly more towards the deluxe side of moderate with a beautiful reception including chandeliers hanging from the ceiling and a table service restaurant. As well as taking a trip by boat you can opt for a horse and carriage ride around the resort, which again is an extra touch I love."
Old Key West Resort
Top secret feature
·  Even if you are not staying at Old Key West, you should try to squeeze in a visit to Olivia's Café. It is not one of the most famous places to eat at Walt Disney World, but it is certainly one of the best, serving up fantastically hearty and traditional dishes.
The final resort on Amy's list is Old Key West, one of the more tranquil Disney resorts which has an interesting concept – it is simply designed to reflect the charm and beauty of the real Key West, an island off the coast of Florida:
"Old Key West is a deluxe villa and Vacation Club resort, and it tells. They like to feel like Disney is welcoming you to a holiday home in Key West. I adore the pastel colour building and the comfort food you can find in Olivia's Café. Off reception they have a lobby you can sit in with a TV to entertain the kids. There is a great pool with a sandcastle slide too. I love that in the evening they have pit fires where you can roast marshmallows and there is even a barbeque pavilion! As this is a deluxe villas resort there is an onsite fitness centre. Something that came in handy for us was the boat that takes you to Disney Springs - saves you waiting on a bus back in the evening, as these run until 11pm!"
Caribbean Beach Resort
Top secret feature
· The Caribbean Beach Resort is surely one of the only places anywhere where you can stay in a pirate-themed bedroom! Fans of Pirates of the Caribbean will love the ship-shaped beds, skull and crossbones curtains and rustic wooden furniture.
Amy's suggestions, however, only scratch the surface of the amazing range of accommodation which can be enjoyed in and around the huge Walt Disney World Resort. Another option, and one of the most popular, is the wonderful Caribbean Beach Resort.
This fun-filled area is, as you would expect from the name, intended to conjure up the effect of being based in a tropical paradise, all the while being just a stone's throw away from your favourite Disney characters and rides.
Catherine Parker - who runs the Carful of Kids blog – notes that, despite being classed as one of Disney's 'Moderate' accommodation areas, Caribbean Beach is actually home to one of the very best swimming areas in the whole resort, the Spanish colonial-themed Fuentes del Morro pool. And, as Catherine explains, "the top destination for the kids spending a day at the resorts will always be the pool".
Coronado Springs Resort
Top secret feature
· There is a very discreet 'Hidden Mickey' carved into one of the walls by the entrance of the resort's Dig Site swimming area.
Catherine believes that the Coronado Springs Resort, also classed as 'Moderate', is another great place for families who are keen on exciting water adventure. The Dig Site is yet another example of Disney's hugely imaginative approach to providing areas for kids and adults alike to enjoy swimming.
Where in the UK, for example, would you be able to dive into a pool called the Lost City of Cibola, featuring a 50-foot pyramid, a 123-foot waterslide or, on dry land, a volleyball court filled with white sand?
Some general tips
Finally, we thought it might be helpful to provide a couple of general tips for those who are planning to stay at the World Disney World resort for the first time soon. Here's what Catherine of Carful of Kids had to say:
· "If it's your first visit, stay at a Walt Disney World Resort that provides complimentary transportation to and from the airport which can save the average family over $50 each way. The complimentary transportation shuttles guests to and from all the resorts and Disney Springs. Distances are farther than expected. 
· "Next tip, look at your family and decide how much time you will spend in the parks. Families with younger children will need a comfortable room to take breaks for naps. Families with tweens and teens will never see their rooms during the daylight, choosing to spend all their time chasing rides."
Image Credits: Park Troopers, Brian Marshall, Paul Hudson, Flickr mjurn, Chad Sparkes