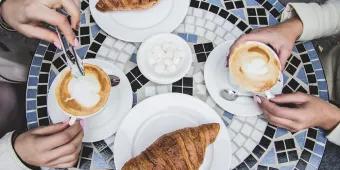 Read on to find out some of the best wallet-friendly eateries in Paris...
While Paris is renowned for its exquisite cuisine, dining out doesn't have to cost a fortune. If you've already booked your Disneyland tickets and are looking for budget-friendly restaurants in Paris, read our guide below to the best eateries...
It is a myth that you can't enjoy delicious French food on a budget. If you've already booked your Disneyland tickets but are determined to stick to wallet-friendly restaurants when you're in the city, this guide is for you.
"If you're travelling on a budget, you can still enjoy some of the best flavours Paris has to offer"
Sarah, a freelance writer, three-time expat and founder of The Wanderblogger writes about frugal family travels, providing tips for destinations worldwide, including Paris. "Eating is one of our favourite parts of travelling," said Sarah, "not only because we need the calories to fuel all of the walking we usually do, but also because we enjoy trying new foods just as much as seeing new sights!
"Having heard what a culinary dream Paris is, we were excited to experience the food scene in the city for ourselves, and we were not disappointed. While it's true that you'll need deep pockets to experience Michelin-star quality dining in Paris, if you're travelling on a budget, you can still enjoy some of the best flavours Paris has to offer."
"One of our favourite family-friendly places to grab a bite to eat in Paris is Pizza Vesuvio. The Italian comfort food served inside is both delicious and fairly-priced, which is surprising considering its location on the Champs-Elysees close to several of the city's top attractions. If it's casual dining with a view you're after, we can also recommend Corso along the Canal de la Villette. While Corso's dinner menu can be somewhat pricey, lunch is far easier on the budget. Plus, lunchtime is the perfect time to sit on the outdoor terrace overlooking the canal while enjoying your meal."
Budget-friendly restaurants in Paris
Le Grenier à Pain
When you're travelling on a budget, opting for a good-sized lunch is a wallet-friendly option in Paris. Seek out a quality boulangerie like Le Grenier a Pain (a chain with more than 30 bakeries) and pick up a delicious, authentic French baguette. The chain has been awarded the title of 'best baguette in Paris' numerous times and serves an exceptional range of traditional pastries. You can expect to pay around £7-8 for a lunchtime deal for a baguette, drink and pastry.
Le Coquelicot
Another excellent choice for lunch or a takeaway baguette is Le Coquelicot. In the heart of Montmartre, this bakery is also very well regarded among locals. For something different, try the croque monsieur, a French speciality, which should only set you back around £5. 
Breizh Café
Indulging in a crepe or two is a must when visiting Paris. And fortunately, this is one French treat that won't break the bank. If you're dying to try one of the best crepes in Paris, don't miss out on a visit to Breizh Café. To find out more about the creperie, we spoke to communications and marketing manager Hélène Quentin: "The history of this Breton institution begins 20 years ago in Japan, when Bertrand Larcher, a Breton married to a local, created the country's first creperie – La Bretagne – in the Kagurazaka neighbourhood of Tokyo. Since then, several restaurants have opened in Japan and France (Cancale, Saint-Malo, Paris). In Paris, having conquered Le Marais in 2007, a second restaurant opened in Odeon in the Saint-Germain-des-Pre neighbourhood (2017), a third one has recently opened in Montorgueil.
"The Breizh Café values are still of creating top quality and local ingredients for galettes (buckwheat crepes), crepes and toppings, a large range of gluten-free dishes and a friendly atmosphere."
We asked Helene which crepes are the most popular at Breizh Café:
"'La Galette Classique' – Handmade Breton cooked ham, organic egg sunny-side up, Comte cheese, raw milk butter from Bordier, and the butter of your choice: semi-salted butter or seaweed butter or Espelette chilli pepper butter.
The traditional 'butter from Bordier and brown sugar crepe' with the butter of your choice: semi-salted butter or yuzu (citrus from Japan) or vanilla.
"Each of our restaurants has its own specialities for the toppings of salted buckwheat galettes and sweet crepes. In addition to that, we are only working with seasonal ingredients, so our galettes and crepes are changing frequently. Ripe veggies and fruits at that time will give us inspiration.
"And we can also feel the Japanese influences on the menu, for example, our buckwheat crepe with seaweed butter, crepe with Kurumitsu sugar and matcha ice cream, and our Totally Ginger crepe with caramel and ice cream."
Most crepes at Breizh Café cost between 7-10 euros.
Bistrot Victoires
For traditional French fare in a classic setting, check out Bistrot Victoires. This charming restaurant serves all the country's classics like duck confit and roast chicken for around 10 euros. If you're not too full and can stretch the budget, order a dessert for just 5 euros.
La Bouillon Chartier
Serving guests for more than a century, La Bouillon Chartier is a firm favourite among Parisians. The restaurant started with a simple aim – to deliver quality French food at a reasonable price. And it's still doing so today. More than 50 million meals and just four owners later, you can still sit down to a classic meal at La Bouillon Chartier, including steak or chicken with fries, for 8-13 euros and decadent desserts from just 2 euros.
Chez Gladines
Chez Gladines is another exceptional French restaurant serving quality dishes at low prices. If you're seeking out a hearty, traditional meal, this eatery is a great choice. Opt for classics like duck confit and steak for around 15 euros each.
Café De L'Industrie
With plenty of space for groups, but intimate tables for couples, Café De L'Industrie is a charming French bistro. For those travelling in Paris on a budget, the restaurant offers very competitive prices, with most main dishes priced at around 13 euros. Choose from dishes including beef carpaccio with gratin dauphinoise, duck confit with spicy honey and steak tartare.
Kodawari Ramen
If you're tired of traditional French cuisine, fear not. Paris is bursting with restaurants serving cuisines from all over the world. For a taste of Japan, head to Kodawari Ramen. This laid-back restaurant is cosy, cool and always buzzing. Try a classic bowl of ramen for just 12 euros with a blend of three Japanese soy beans, dashi of Breton shells and basque pork chashu. Other types of ramen include fish, chicken and a vegetarian version with aubergine, with the most expensive being 13 euros.
Tien Hiang
Vegetarians and vegans will be well catered for at Tien Hiang, a popular Asian restaurant in the city. Most of the main dishes cost between 8-10 euros, but you can also order a selection of smaller plates for less. Choose from a selection of delicious dishes such as Thai curry soup, vegetable and 'chicken' skewers with satay sauce, steamed dumplings, Vietnamese salad and more.
Pizza Rossi
Looking for quality pizza in Paris? Look no further than Pizza Rossi. The restaurant serves authentic Neapolitan pizza with exquisite vegetarian options. Their classic Margherita is just 9 euros and many of the items on the menu cost less than 12 euros.
There are lots of budget-friendly restaurants in Paris to suit all tastes. If you have any great tips, please share them with your fellow travellers!
Image Credits: Breizh Café