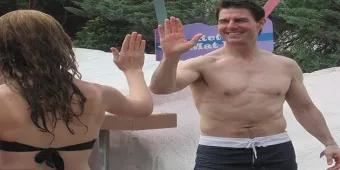 The planet's hottest actor hangs out at the coolest water park!
Yesterday Tom Cruise and his daughter Suri were spotted splashing around at Disney World's Blizzard Beach water park!
Although Tom Cruise has been dominating the tabloids about the breakup of his marriage to Katie Holmes, we thought we'd share with you some far nicer Tom Cruise news. Yesterday the award winning actor famous for his roles in box office hits like Jerry Maguire, Mission Impossible and The Last Samurai took his daughter Suri to Disney World's Blizzard Beach.
Although Tom spent the day splashing about with his daughter, he happily greeted those with their Disney tickets that were hanging out at the park and treated them to a glimpse of his perfectly toned body.
We can't always promise celebrity eye candy at Disney World, but if Disney World's Blizzard Beach is cool enough for Tom, surely it's cool enough for you too! If you're headed to Orlando this summer be sure to get your
Disney tickets
and cool down at Blizzard Beach!