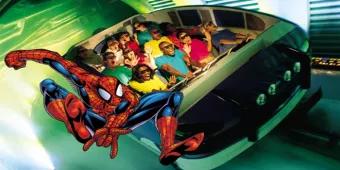 With just two days till the NEW Amazing Adventures of Spider-Man reopens, things are getting pretty spidery at ATD this week!
On Thursday 8th March the new and enhanced Amazing Adventures of Spider-Man will open, wowing those with their Universal tickets for the second time over!
It's not very often that we celebrate spiders...particularly for those of us suffering from arachnophobia, like some of us at ATD! But how could we not, with Universal's Amazing Adventures of Spider-Man opening in just a matter of days? For those of you with your Universal tickets about to experience this pioneering attraction for the first time, we thought we'd give you a Spider-Man back story –  just for the fun of it! It's time to get Spidey-mode!
Spider-Man is a fictional character created by comic writer Stan Lee.  Stan Lee is also the author of many favourite Marvel comics including Fantastic Four, Iron Man, Hulk, Doctor Strange and Daredevil.
Spider-Man has accumulated a number of alias', including Spidey, Webslinger, Wall-crawler and Web-head.
We don't need to tell you that Spider-Man is one of the most loved, most known and most commercially successful superhero. Spider-Man stands in third place on IGN Entertainment's Top 100 Comic Book of Heroes of All Time list.
Due to having more published title comics in his name than most other superheroes, barring Batman and Superman, Spider-Man has an immense number of villains that he has faced over the years. Popular Spider-Man titles include Amazing Spider-Man, Spectacular Spider-Man, Marvel Team-Up, Web of Spider-Man, Friendly Neighborhood Spider-Man.
Out of the endless list of villains Spider-Man has battled, only a handful were women. Spider-Man's venomous villainesses are:
Delilah
Miss Arrow, Queen AKA Adriana Soria
Scream AKA Donna Diego
Scorpia
Screwball
Shathra
Stunner AKA Angela Brancale
White Rabbit AKA Lorina Dodson 
And last but by no means least, The Femme Fatales!
Spider-Man has been adapted for TV, cartoons, films, novels, records, computer games and musicals. Spider-Man became a world famous simulator attraction in 1999 at Universal Orlando.
With Universal gearing up for its 100th anniversary in April, 2012 is going to be huge for the theme park, but Thursday the 8th February is a day that's going to go down in history for comic lovers, Spidey fans, for Marvel Comics and its fans the world over. We salute those of you that make it to the launch!