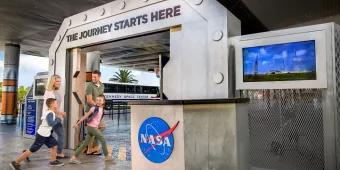 Blast off to Kennedy Space Center this year!
Kennedy Space Center is a great place for space-lovers to immerse themselves in space exploration. Here's five interesting facts about the Florida attraction.
There's so much more than first meets the eye to the Kennedy Space Center. Fantastic exhibits, fascinating shows and exciting activities easily make this attraction well-worthy of a place on your Florida holiday itinerary. Curious? Here's five fun facts about the Center to tempt you…


Aside from being an important place of space exploration, the area also serves as a wildlife sanctuary. Most of the installations are actually a restricted area, and only nine percent of the land is developed, making it a great place for local wildlife to develop and thrive. Mosquito Lagoon Indian River, Merritt Island National Wildlife Refuge and Canaveral National Seashore are other vital features of the area. 
 
One of the most notable areas of Kennedy Space Center - the Vehicle Assembly Building (VAB) - is actually the fourth-largest structure in the world by volume! You'll get to discover more about this fascinating and vital building during one of the amazing tours of the attraction, including the complimentary Kennedy Space Center Bus Tour which is included with your admission ticket. 
 
2020 marks the 50th anniversary of the Apollo 13 mission, the seventh crewed mission of the Apollo space programme, intended to be the third to land on the moon. However, the lunar landing was aborted after an oxygen tank failed. The launch took off from Kennedy Space Center in April 1970, and thankfully all crew members returned safely back to Earth. You can find out more about the Apollo missions in the Apollo/Saturn V center at Kennedy Space Center, which pays homage to the people and machines that embarked on these daring adventures.
 
The Kennedy Space Center is named after American President John F. Kennedy, however that was not its original name. It was initially called the Launch Operations Directorate (LOD). It then changed to Launch Operations Center in 1962, and was finally given its current name on November 29, 1963, just one week after John F. Kennedy was assassinated. The former President famously declared in 1961 that the USA would put a man on the moon and return them safely back to Earth before the the end of the decade, and was a huge advocate for space exploration. 
 
You can buy astronaut food to bring home with you! If you've ever wondered what astronauts eat when they're thousands of miles above the Earth, Kennedy Space Center is the place for you. You'll be able to bring home a taste of these intriguing treats, including freeze-dried ice-cream and strawberries. Yum!
 
There's never been a better time to visit Kennedy Space Center, as our Adults at Kids' Prices Sale is currently running! This means you'll be able to get a one day ticket for just £34. Our tickets are also fully flexible and open-dated, meaning you can use them anytime during your Florida holiday. This fantastic offer is valid for all admission ticket bookings visiting Kennedy Space Center in 2020, so book now to secure this great price!