Make your Disneyland Paris visit as typically French as possible...
Brand new attraction 'Ratatouille The Adventure' arrives at Disneyland Paris on the 10th July! Inspired by Disney Pixar's foodie film masterpiece Ratatouille, this new attraction will celebrate all things French, including the iconic french dish the food is named after! So, in spirit of all things French, take a look at some of our French characters to be met at Disneyland Paris!
Characters from Disney's Hunchback of Notre Dame
Quasimodo
Quasimodo, although not available for regular character meet and greets at Disneyland Paris, can be seen performing in the Disneyland Paris nighttime spectacular Disney Dreams, which takes place in front of the Sleeping Beauty Castle each night. If you're headed to Disneyland Paris you won't want to miss out on this iconic Disney experience! 
Esmerelda
Another Parisienne Disney character hailing from Disney's Hunchback of Notre Dame is Esmerelda, dear friend to Quasimodo. Esmerelda isn't featured in the Disney Dreams show and in fact, only makes very rare appearances at Disneyland Paris. So if you're lucky enough to pass her by, be sure to have a meet and greet and have your camera and autograph book at the ready.
Claude Frollo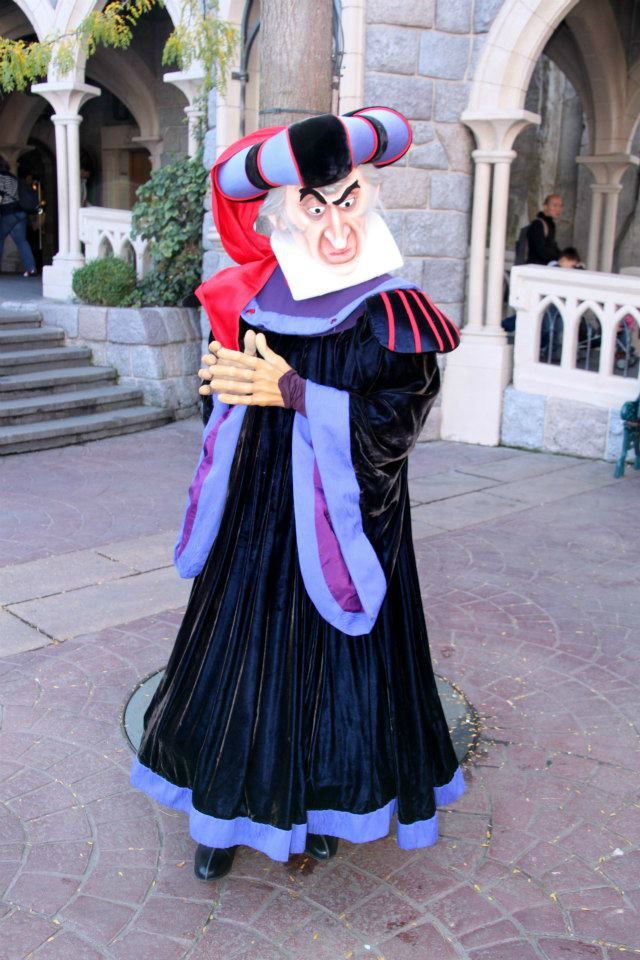 Understandably so, Claude Frollo, Quasimodo's evil master, does not have a slot in the Disney Dreams nighttime spectacular. However, he does club together with his fellow Disney Villains to make an appearance at Disney's Halloween Festival at Disneyland Paris.    
Characters from Beauty and the Beast
Gaston
From Disney's Beauty and the Beast, the vain and narcisstic Gaston can be seen flexing his muscles and kissing his biceps at Disneyland Paris' Fantasyland, where he'll be carrying out character meet and greets.  Gaston also joins Disney villains in parades and performances from for Halloween in Disneyland Paris.
You might not remember the Bimbettes from Beauty and the Beast, they are the three girls Claudia, Laura and Paula, that swoon over Gaston in the film. Disneyland Paris introduced the Bimbettes to the park in 2002 and they were available for character meet and greets till 2007. Although you can't meet the girls at Disneyland Paris any longer, we thought it would be nice to give the Bimbettes some recognition.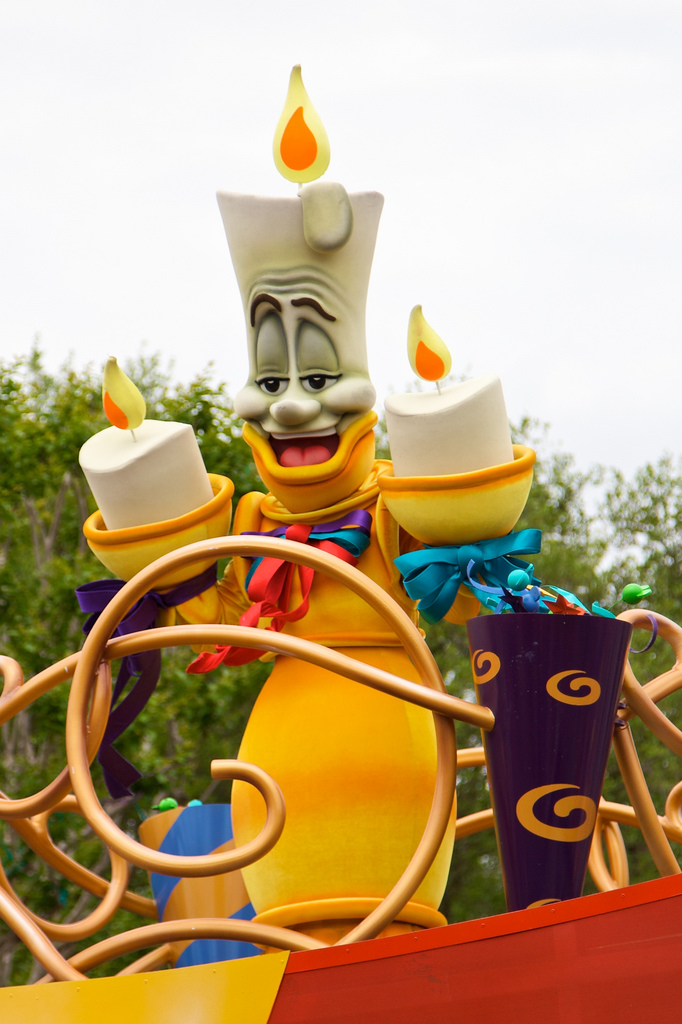 One of our favourite characters from Disney's Beauty and the Beast is Lumiere, the candelabra with the thick French accent that sings the much loved Be Our Guest song in the film. You'll be delighted to know that this French cassanova is just as hispitable at Disneyland Paris, performinng Be Our Guest in the nighttime spectacular Disney Dreams. 
Characters from 101 Dalmations
Despite the name, strictly speaking Cruella De Vil is not French, in fact she's English. However, because she is a fashion designer she seems to make more regular appearances in the park that resides in the Fashion capital of the world more frequently than she does  in any other Disney park. 
Characters from Ratatouille
The Ratatouile themed area in Disneyland Paris called Le Place de Remy,  will make home to the new characters coming to the park to represent this new Parisian adventure. Although not all Ratatouille characters have been confirmed as yet, we can promise you on the new Ratatouille Adventure you'll be acquainted with Remy, Linguini,  Gusteau's ghost and Chef Skinner. We're yet to see how Chef Skinner and Gusteau's ghost will be brought to life at the parks, but we look forward to seeing them in life form. 
Chef Linguini
And if  you wish to immerse yourself even further into the French culture then be sure to follow your Ratatouille Adventure with a visit to its adjoining restaurant, Le Bistrot Chez Remy, where you'll be able to indulge on typical French cuisine and of course the very dish itself, Ratatouille.
Ratatouille the Adventure opens at Disneyland Paris on the 10th July, so if you're popping over to Paris for this amazing new attraction be sure to make the most of your Disneyland Paris tickets and meet as many of these amazing French Disney characters as possible!