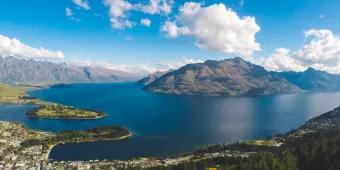 Visiting a safari in Kenya is on most people's bucket lists. Another frequent item on that list is flying in a hot air balloon. Those two things paired up – well, that's just an adventurer's dream. However, it's not an unrealistic one, since these trips are available all-year round these days in the popular tourist …
New Zealand is renowned for being one of the most idyllic countries in the world to embark on a road trip. It's home to imposing mountainous landscapes, sprawling stretches of valleys and lakes, as well as an abundance of intriguing wildlife unlike anywhere else in the world.
It's not surprising that thousands of people flock to the country every single year to hire a campervan and make their way around the North and South Island. New Zealand is so unique and has something for everyone, so it's not hard to see why it's a destination that's at the top of many people's bucket lists.
We've put together the ultimate guide on how to plan an epic road trip around New Zealand that's sure to fill you with wanderlust!
Determine your desired route; North Island, South Island, or both?
New Zealand is split into two main islands; aptly named the North Island and the South Island (as well as Stewart Island at the bottom of the South Island).
While both islands have plenty of similarities; epic road trip-worthy routes, rolling hills and mountains as well as stunning scenery for miles, they're also remarkably different in some ways and their differences may sway you between which one you'd like to enjoy on your road trip around New Zealand.
The North Island is typically warmer throughout the year and while it does drop to single digit temperatures in the winter, it's usually more tolerable than the South Island. It's also home to an abundance of kiwi fruit and avocado orchards so if you're a fan of the typical 'Instagram breakfast', you won't struggle to find it!
On the contrary, the South Island is much more mountainous and snowy in the winter and offers an environment more suited to the growth of vineyards and apple orchards. It also feels much more remote in a lot of places compared to the North Island and is usually cited as the more 'striking' of the two islands.
If you're planning an epic road trip around New Zealand, we'd highly recommend considering driving around both islands; they offer so much on their own, but when enjoyed as part of one trip, it's sure to be one of the most spectacularly surreal experiences of your life!
How long do you want to spend in the Country?
Depending on where you're from in the world, will depend on your visa allowances and how long you're permitted to stay in New Zealand for.
Once you know how long you can legally stay in the country for, you can then consider how long you want your trip to last. If you're planning to traverse across both islands, we'd recommend spending at least a month in the country, but you can easily spend a lot longer just on one island alone.
One of the best things about New Zealand is that it's so flexible and diverse in terms of what it can offer travellers so you can really spend as little or as long as you want exploring. If you want to hit as many of the bucket list-worthy spots as possible (see the list below), then two months in the country should be the perfect amount of time.
Do your Research on Freedom Camping
New Zealand is a country that's designed for campervan travel so you'll find ample free and paid campsites throughout the country.
It's important to do your research surrounding freedom camping before you go so that you're fully prepared on the legal requirements when it comes to parking up anywhere and setting up camp for the night.
You really shouldn't struggle to find free campsites throughout the country so there's really not much need to just park up anywhere; if you're unsure, just don't do it. There's a hefty $200NZD fine waiting for you if you camp somewhere that's prohibited so it's not worth the risk!
Be Flexible and don't be Afraid to get off the Beaten Path
Some of New Zealand's most iconic landscape gems reside off the beaten track and while it can be tricky to navigate getting there, it's well worth it once you see the likes of Milford Sound and Mount Cook stretched out in front of you.
We recommend having a list of places you want to see and a detailed itinerary planned out so you don't miss out on anything, but we also suggest not sticking to your plan too rigorously and be prepared to wander off the beaten path when you can.
Top tip: there's a spot along the East Coast of the South Island, which is home to swarms of penguins that very few people know about!
Be aware of New Zealand's Weather and Road Conditions
Speaking of getting off the beaten track, it's imperative to be prepared for the road conditions that you can expect to experience on your epic road trip.
Particularly during the winter in the South Island, there will be many road closures and landslides that will close off the road for weeks at a time (Kaikoura, Arthur's Pass and Mount Cook are renowned for closing a lot during the winter). 
Even if the roads aren't closed, you're still advised to take precautions when driving in New Zealand as while they're much quieter than many other places in the world, they can still be incredibly dangerous.
Tips to bear in mind when driving in New Zealand
Ensure you have fully comprehensive insurance on your vehicle

Consider packing snow chains during the winter

Be aware of road closures and slips

Stick to the speed limits (they fluctuate a lot)

Petrol prices fluctuate so much throughout the country; use the

Gaspy app

to find the cheapest petrol stations within a 20km radius
Pack your Camera (and plenty of spare batteries!)
New Zealand is one of the most blindingly beautiful countries in the world and until you've been there, it's hard to comprehend just how magical it is. 
The South Island in particular is home to a plethora of glaciers, snow-capped mountains and endless stretches of road surrounded by nothing but sheep, cows and the occasional forest. You're going to take so many pictures on your road trip around New Zealand, so it's best to be fully prepared to use endless amount of battery life on your camera!
Not only will you find snowy scenes and glacial lakes throughout the country, but you'll also find that New Zealand is home to stunning beaches as well, which makes it one of the most diverse landscapes in the world.
Equip Yourself with Plenty of Snacks
Another thing to bear in mind when planning your epic road trip around New Zealand is that you can often go for dozens of kilometres at a time without passing somewhere to eat. 
Motorways in New Zealand aren't like in other countries; they have highways and oftentimes these highways stretch for hundreds of kilometres at a time.
Particularly in the South Island, you'll often find yourself travelling for a long while without passing any service stations or places to eat so you need to remember to equip yourself with plenty of snacks and water whenever you can. 
Top tips for finding snacks in New Zealand
Countdown, Pak N Save and New World are the cheapest supermarkets in New Zealand

You'll find them in most large towns and cities so stock up when you can

Collect points at Countdown by getting a rewards card which will save you money on groceries and petrol
Top things to see on a New Zealand road trip – North Island 
Hot Water Beach 

Cathedral Cove

Auckland Sky Tower

Tongariro National Park

Wellington Harbour

Rotorua
Top things to see on a New Zealand road trip – South Island 
Fox Glacier and Franz Josef Glacier

Abel Tasman National Park

Wanaka Tree

Pancake Rocks and Blowholes
Hopefully this guide will have given you plenty of inspiration for planning an epic road trip around New Zealand!