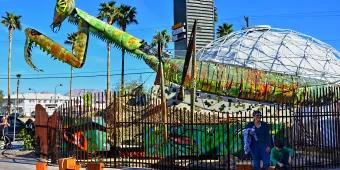 Experience some of Vegas' most unique attractions
From botanical cactus gardens and breweries to mobster restaurants and a nuclear testing museum, take a look at ATD's top hidden gems in Las Vegas.
From botanical cactus gardens to shipping container boutiques, hot springs to historic bars, there's so much more to Las Vegas than just the strip. Away from the hustle and bustle of the casinos and plush hotels, discover ATD's top hidden gems in Las Vegas.
Chocolates and cacti at Ethel M
Ethel M Chocolates is much more than just a chocolate shop. Think Willy Wonka and the Chocolate Factory, but with cacti. On a factory tour, you can visit Ethel M's beautiful botanical cactus garden. It's the largest in Nevada and one of the world's largest collections of its kind. With over 300 species of plants, the gardens are the perfect place to soak up the sun and escape from the chaos of the strip. 
Esther and Jacob of Local Adventurer visited the unique factory for a tour. They said: "The tour is along one hallway where you can see chocolate making in action! There are also videos you can watch to learn the history of Mars and Ethel M. as a bonus, you get a free sample at the end of the tour, but we decided to also pick up a couple extras at the store to taste." But they did have one important tip for visitors: "If you plan on buying chocolate to take home, be sure to check out the garden first so they don't melt while you're walking around. Ours did, so we ate them!"
Secret pizza in The Cosmopolitan
Tucked away in the maze of corridors in one of Vegas' most iconic hotels, The Cosmopolitan, foodies can search for Secret Pizza. Despite the fact that directions have been published online, you can choose to ignore these and hunt for this tasty pizza yourself. We'll give you just one clue – look for the record-lined hallway. The pizza is in true New York style and is highly recommended by locals and tourists. All you need to do is find it.
Original art for $5 at The Art-O-Mat
For those who always dreamed of becoming art collectors, but couldn't win enough money to buy a Picasso, the Art-O-Mat is the answer. Inside The Cosmopolitan Hotel, these refurbished cigarette machines hold tiny pieces of art by Las Vegas creatives. Pop $5 into the machine and receive a small drawing, photograph or sculpture, made by up and coming artists in the state.
The Mob Museum
The Mob Museum (you can get entry to this museum and many other Las Vegas attractions on the Las Vegas Explorer Pass) offers an interactive journey through real-life stories from the birth of the mob, right through to the present day. Its website states: "Whether you like it or not, this is American history", making no apologies for its impressive collection of mob memorabilia. Learn about casino money skimming operations and wiretapping by law enforcement through a collection of images and artefacts. The museum sits in the former Las Vegas Post Office and Courthouse in Downtown Las Vegas.
"There's nothing quite like The Mob Museum anywhere else in Las Vegas, or even the world" said senior director of sales and marketing, Ashley Miller. "It is a can't-miss component for tourists. Ranked as the no. 19 best museum in the United States by TripAdvisor, the museum is a one-of-a-kind experience filled with high-tech theatre presentations, interactive exhibits, immersive storytelling and over 2,000 artefacts.
"Guests looking to visit downtown Las Vegas can delve into the compelling story of how Las Vegas came to be, can actually see a portion of the St. Valentine's Day Massacre from the infamous 1929 massacre, travel back in time to understand the social conditions that led to the rise of the Mob and discover how organised crime continues to fill the headlines today."
For those keen to explore content related to organised crime and law enforcement in advance of their trip, the museum offers an array of free digital resources to the public, including a website, livestream channel and two microsites on the St Valentine's Massacre and Prohibition.
Downtown Container Park
For a change of scenery, head to Vegas' Downtown Container Park. This open-air shopping hub is filled with independent shops, restaurants, an interactive play area, live entertainment and a giant praying mantis. While this isn't one of the most famous Las Vegas attractions, it is well worth a visit.
Kristine Reynolds, general manager of the park, said: "Downtown Container Park is a 1.1-acre, open-air shopping centre and entertainment venue featuring 39 shops, restaurants and bars, located in downtown Las Vegas.
"The innovative centre, which was built from 43 repurposed shipping containers and 41 locally manufactured Xtreme cubes, celebrated its grand opening on December 5, 2013."
According to Kristine, the shops range from boutiques offering clothing, jewellery and accessories to art galleries and home décor. "The park also includes restaurants with indoor and outdoor seating and spots for a quick treat including cupcakes, a candy shop, a gourmet popcorn store and more," said Kristine. "Container Park also includes a stage for live performances, which take place throughout the day, as well as evening concerts."
Las Vegas Springs Preserve
Vegas isn't just a myriad of glittering buildings and casinos, just take a look at the Springs Preserve. Its botanical garden, covering 110 acres, contains more than 1,200 species of native and desert-adapted plants and is home to the largest collection of Mojave Desert cacti. The Las Vegas Springs Preserve received the 2012 Horticulture Magazine Award for Garden Excellence and aims to show people how to make the most of a desert environment.
The preserve is the perfect escape for families or anyone wishing to take a break from the glitz and glamour of Vegas for a few hours. Dawn Barraclough of Las Vegas Springs Preserve said: "Located just three miles from the famed Las Vegas strip, the Springs Preserve is an award-winning 180-acre family destination dedicated to exploring green living, desert life and Las Vegas' vibrant history.
"The 'birthplace' of Las Vegas and location of the original water source for the city, the Springs Preserve is a cultural campus for all ages. Nearly 4 miles of trails offer hiking, biking and train rides providing a unique opportunity to go back in time to see archaeological sites and visit Boomtown1905, a recreated early Las Vegas streetscape."
As well as its spectacular nature trails, the preserve is home to an abundance of wildlife. Dawn added: "Visitors can also experience an 8-acre botanical garden, seasonal butterfly habitat and DesertSol, an internationally acclaimed solar home and beacon of sustainable desert architecture.
"In the Origen museum, hands-on, experimental exhibits tell the story of the geography, and the people and animals who have inhabited the land throughout the ages. Exhibition galleries feature art, nature and science-themed traveling exhibits. Learn about water in the desert in our WaterWorks Museum and experience the power of the elements in the Flash Flood exhibit."
Capo's Restaurant & Speakeasy
Described by the business as a "luxurious mob-style restaurant", Capo's is certainly a unique Las Vegas eatery. This speakeasy was created by Nico Santucci, who grew up with his family's Italian restaurants in Chicago and was inspired by the mobster era. Serving Al Capone's family secret sauce and "the best meatballs on Earth", you'd be a fool to pass up the chance to eat here.
National Atomic Testing Museum
Discover the story behind America's nuclear weapons testing program at the National Atomic Testing Museum (NATM). Arguably one of the more unusual Las Vegas attractions, the museum displays collections of artefacts and interactive features, guiding you through the science and history of nuclear testing. Some of the highlights include a replica of the Control Point where the countdown was conducted before nuclear detonations and a Ground Zero theatre simulation of an above-ground test.
Las Vegas' oldest freestanding bar
Atomic Liquors received the first ever liquor store license in Las Vegas. The original owners Joe and Stella purchased a "liquor pouring license" which allowed them to serve over the counter beer, wine and mixed drinks as well as offer takeout. Follow in the footsteps of celebrities including Clint Eastwood, the Rat Pack and Barbara Streisand, who have all enjoyed a drink here. 
The world's largest golden nugget
At 61 pounds, the golden nugget displayed at Vegas' Golden Nugget complex is the largest in the world still in existence. It was discovered by Kevin Hillier in 1980 in Wedderburn Australia, buried just one foot underground. Known as The Hand of Faith, the nugget is the biggest ever found with a metal detector. Hillier sold it to the Golden Nugget resort for over a million dollars.
A piece of history in a bathroom
This remarkable piece of history can be found…in the men's bathroom. Located just off the main floor of the iconic Main Street Station Casino, this urinal is attached to a chunk of the Berlin Wall. Above the feature there are historic photos and statistics about the Berlin Wall, so you can learn while you use the facilities.
Other unique toilets
The Berlin Wall urinal isn't the only toilet stealing the limelight from the strip. Las Vegas' glittering hotels are full of luxurious bathrooms. Inside Paris Las Vegas, every public bathroom features speakers playing a woman's voice translating French phrases. Another strange yet educational bathroom experience! In the toilets at the Sporting House at the New York New York Hotel, TVs have been installed so that no one has to miss the game.
Lonnie Hammargren's House 
In the suburbs of Las Vegas, surrounded by pristine homes with landscaped lawns, it's easy to spot Lonnie Hammargren's house. The home of the retired neurosurgeon is a dreamscape. A batmobile, mini Mount Rushmore, authentic Saturn rocket capsule and a dragon have found their place here in Hammargren's 12,000 acre estate. An article by Atlas Obscura states: "While many collectors specialize in one kind of object, Hammargren embraces all the objects. Over time, his stockpile of the strange and unusual grew so large that he had to purchase the houses next door to make room for them." His house is open to the public every October on Nevada Day.
Visit a local craft brewery
When roaming the strip, it's easy to forget that Las Vegas has a thriving community including local artists, musicians and brewers. The city is home to some exciting breweries, ready to welcome guests for tours or to enjoy some tasty local beers in their taprooms. One such place is Crafthaus. Owners Wyndee and Dave Forrest worked tirelessly to create their unique brewpub with "a full portfolio of beers ranging from light and refreshing to barrel aged dark and luscious to experimental wild fermentation," according to Wyndee. She added: "Enjoy a comfortable yet stylish taproom where you can duck away from the gaming machines and experience a unique taste of Las Vegas.
"Everything is handmade with quality, care and attention to detail. It was important that we create something we can call our own for our community. Most of all, enjoy a locally made, unique beer and get to know some of the amazing people that make up our community."
CraftHaus offers brewery tours every Saturday for $10, which gives you exclusive behind the scenes access to the brewing process, CraftHaus' history, beer style education, sensory analysis and to top it off, a tasting flight of four beers.
Grab a souvenir at Gamblers General Store
Gamblers General Store is the place to go for souvenirs. It's actually a gambling supply superstore with over 15,000 gambling products including cards, dice and poker chips. It also has a grand selection of casino memorabilia. There are hundreds of types of dice alone, so you're pretty much guaranteed to find something personal to take home for friends or family. Even if you're not in the market for something specific, you shouldn't pass up to the opportunity to visit the world's largest casino supply superstore.
Within an hour of Las Vegas
Visit the rainbow rocks
Just 30 minutes outside the city, these spectacular rainbow rocks are unlike your typical Las Vegas attraction. Named Seven Magic Mountains, the vibrant desert towers were created by artist Ugo Rondinone. "Seven Magic Mountains is a creative expression of human presence in the desert," said Amanda Horn, director of communications at Nevada Museum of Art which co-produced the project with Art Production Fund. "The artwork punctuates the Mojave with a poetic burst of form and colour. It's unexpected, yet so perfectly situated that it feels strangely at home. That's the magic of Ugo's creation.
"For people visiting Las Vegas, they are familiar with the glitz and glamour, but less so with the breathtaking beauty of the desert. Seven Magic Mountains gives people a reason to take a short drive and experience the wide open space, to breathe in an unbelievable landscape while also revelling in artistic wonder."
Take a tour of Eldorado Canyon & Techatticup Mine
Running from 1861 to 1942, Techatticup Mine is the oldest and richest gold mine in Southern Nevada. Just 40 minutes from Las Vegas, Eldorado Canyon is the perfect place to explore some of the area's gold mining heritage. Original structures in this ghost town are adorned with relics from times gone by, so you'll get a good sense of how things used to look and feel. For a different kind of gold rush, it's well worth the short trip outside of the city.
Take a dip at Arizona Hot Springs
Just 40 minutes from the city and 4 miles past the iconic Hoover Dam, discover the ethereal waters of Arizona Hot Springs. Set within Lake Mead National Recreation Area, the springs are only accessible via a relatively easy 3 mile hike. The spring sits below towering canyon walls and forms part of several pools set 1,000 feet from the river and Ringbolt Rapids.
Whether you're delving into the history of the mob, roaming through cactus gardens or living it up on the strip, we're sure you'll love exploring Las Vegas.
Image credit: Kennejima, Tomas Del Coro, Renee, Wilson Hui, Douglas Palmer, Phil Guest, Fuzzy Gerdes, anokarina, Elizabeth K. Joseph, Club Paf, Bryan Allison, Paul K, Brian Whitmarsh, Tomas Del Coro, CraftHaus photo by Amelinda, Images Money, Ethel M images – Local Adventurer, Las Vegas Springs Preserve, The Mob Museum, Downtown Container Park, Seven Magic Mountains photo by Gianfranco Gorgoni, courtesy of Art Production Fund and Nevada Museum of Art.
Liked this post? You may also like...