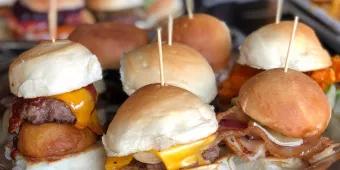 The ultimate food challenges in Las Vegas
Across the city, restaurants have dreamed up the most outrageous eating challenges. Here's our roundup of the ultimate food challenges in Las Vegas.
Whether you've travelled to experience the Grand Canyon, see the glittering lights of the city at night or to try your luck in a casino, there's so much to keep you entertained in and around Las Vegas. But one of the lesser-known Vegas attractions is its food challenges. Across the city, restaurants have dreamed up the most outrageous eating challenges, from giant bowls of pho, to monster burritos.
The ultimate food challenges in Las Vegas
Inferno Curry Challenge
Prize: A spot on the restaurant's Wall of Flame, a $50 gift card.
Mint Indian Bistro, a full-service Indian restaurant, has turned up the heat with its unique Las Vegas food challenge. Using the Carolina Reaper – classed as the world's hottest pepper by the Guinness Book of World Records – and the Trinidad Moruga Scorpion chilli, the owners have created a hotter than ever Inferno Curry Challenge. The Scoville scale measures the heat of chilli peppers and other spicy foods. The new Inferno Curry Challenge has increased by 1 million Scoville units, with the hottest pepper at 2.2 million Scoville units. To put that into perspective, a Madras curry is only around 30,000 units, and a Vindaloo is at 100,000 units.
"The ghost pepper is so hot, our chefs wear a mask when they cook it," said owner Kris Parikh. "With the Carolina Reaper and Trinidad Moruga, the challenge has gone to a totally different level."
Since launching the challenge, more than 2,000 guests have attempted the Inferno Curry challenge, but only 32 guests have succeeded. Kris added: "Our Inferno Curry is not for the faint of heart. It is marinated with the hottest chillies in the world, and this year the heat is up substantially. If you have ever taken our challenge in the past, you know it's insanely hot. Now with the addition of two of the hottest peppers in the world, the challenge is really going to test your spice tolerance at the next level."
Before you attempt the challenge, you must sign a waiver. If you finish the dish, you will receive a coveted place on Mint Indian Bistro's Wall of Flame, and a $50 Mint Indian Bistro gift card as well as an entry into a draw for complimentary dinner entrees for one year (one per month, 12 entrees total). Good luck!
Monster Burrito Challenge
Prize: Free t-shirt, your meal for free, and a spot on the Rockhouse Wall of Fame
Mexican food fanatics won't want to miss out on this gigantic challenge from Rockhouse Bar. The Monster Burrito Challenge, weighing in at 2.78kg, is stuffed with carne asada steak, pico de gallo, sautéed onions, green chilis, cheddar cheese, French fries and lettuce, wrapped lovingly in three 12-inch flour tortillas and smothered in sour cream and guacamole. If this sounds good to you, and you decide to take on the epic burrito, keep in mind that you have just 20 minutes to finish it! If you succeed, you'll go home with a full belly, no bill, a free t-shirt and a coveted place on the Rockhouse wall of fame.
The Bar Gamble
Prize: Free t-shirt and your meal for free
Love burgers? Born and Raised's epic BAR Gamble slider challenge is the one for you. If you can scoff 16 delicious sliders, and a portion of fries smothered in cheddar and jack cheese, buffalo hot sauce and blue cheese dressing in half an hour, you'll earn yourself a free BAR t-shirt.
We spoke to the team at Born and Raised to find out more about them and their epic challenge: "Born and Raised is a service-first hospitality pioneer that was created through the lens of the customer. Every aspect is cared about, starting with our award-winning scratch made menu to our storytelling interior that creates a sense of timelessness as you take in a little of the Vegas old and our interpretation of the Vegas new.
"The BAR Gamble comes with 16 different sliders and a mountain of anchor fries. If you finish within 30 minutes you get all of that for free, as well as a BAR t-shirt, and if you don't finish, it's $75. We believe that in the past 7 years since we opened, over 50 people have successfully completed the BAR Gamble."
Quadruple Bypass Burger Challenge
Prize: A wheelchair-ride to the car park
Judging by its name, the Heart Attack Grill really doesn't do things by halves. This unusual restaurant celebrates artery-clogging, illness-inducing foods, so it's little surprise that they have an epic food challenge on their menu. The Quadruple Bypass Burger Challenge is loaded with four half-pound beef burgers, eight slices of American cheese and bacon. The burger contains more than 8,000 calories and if you succeed, the restaurant's staff (dressed as nurses) will wheel you back to your car in a wheelchair. If you fail, the nurses carry out a public 'spanking'. This is surely one of the most bizarre food challenges in Las Vegas.
Rick's Tasting Game
Prize: Your meal for free
If your eyes are bigger than your stomach and you'd rather a different type of food challenge, try Rick's Tasting Game at RM Seafood. You'll be presented with a selection of 16 small scoops of ice cream and sorbet that you don't have to finish. But you must correctly identify each flavour. The trick is to think outside the box. Chef Rick Moonen won't be serving standard ice cream flavours, so you'll need to be specific. If you correctly guess all 16 flavours, you'll get to enjoy all the ice cream for free. But if you lose, the price is $18. We think that's well worth all the fun you'll have!
Phozilla
Prize: Name on Pho 87's website and your meal for free
Weighing 9 pounds, including a gallon of broth, 2 pounds of noodles and more than 2 pounds of beef or chicken, Phozilla has well and truly earned its name. This gigantic bowl of pho by Pho 87 must be eaten in 33 minutes and 12 seconds (1987 seconds). The components are what you'd expect from a traditional bowl of pho, with all the delicious flavours and ingredients, just on a monster scale. Those who succeed will be rewarded with a free meal and get their name on the Pho 87 website. However, losers must face the $50 bill and having their name added to the restaurants 'Hall of 'Sore Loser' page.
The Sears Tower Challenge
Prize: Free t-shirt, your meal for free, and a spot on the Windy City Beefs N Dogs Wall of Fame
Calling all sandwich lovers! Are you ready for the Sears Tower Challenge? Windy City Beefs-N-Dogs created this Chicago-inspired sandwich made with 7.2lb of beef and sausage, cheese, hot and sweet peppers and a bag of fries. If you can finish it in 30 minutes or less, the $50 sandwich will be free of charge. You'll also leave with a free t-shirt and will be added to the Windy City Beefs-N-Dogs Wall of Fame.
If you're looking for an alternative activity in Las Vegas, any of these monster food challenges will offer guaranteed entertainment!
Image Credits: Born and Raised, Mint Indian Bistro, Rockhouse Bar, Heart Attack Grill, RM Seafood,  @meganguerrero, Windy City Beefs-N-Dogs