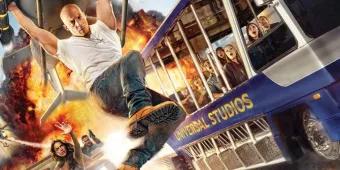 Head to the land of movies this year, with a visit to Universal Studios Hollywood.
Bringing the very best of our film and television screens to life, there's never been a better time to visit Universal Studios Hollywood.
Planning to explore the West Coast of America this year? Then you'll definitely want to add a visit to Universal Studios Hollywood to your itinerary. Here's five reasons why: 
1. Jurassic World - The Ride
This was a huge updated addition to the park in 2019, and the hype is continuing through to the next decade. The attraction is more real and intense than ever before, and allows guests to survive an epic new adventure inspired by the incredible films. 

2. Jurassic World Triceratops Encounter - Juliet
A lot happened in this area of the park last year, including revitalised interactive personal experiences, like the the all-new Triceratops Encounter. Called "Juliet", this fully interactive Triceratops puppet blinks, breathes, and walks around the Jurassic World area. Get some great pictures and be stunned when you see this incredible 'creature' roaming free.

3. Jurassic Cafe Food Revamp and Isla Nu-Bar 
The Jurassic Cafe is now a Latin American-inspired affair, in tune with the major overhaul of the surrounding area. The exotic drinks and dishes help bring the vibe of Jurassic World together, and the addition of the unique Isla Nu-Bar brings a tropical-inspired addition with the refreshments. At the Jurassic Cafe, tuck into dishes like Slow Roasted Mojo Pork with mojo jackfruit, Roasted Mahi Mahi, Chorizo and and Potato Empanadas, and much more. Wash it all done with a beverage from Isla Nu-Bar - try such classics like Pina Colada or Mai Tai, or experiment with a Bird of Paradise or Ti Peach. 

4. Running Universal 
Always a popular event, Running Universal attracts both seasoned runners and novices alike, and makes for a unique and exciting sporting experience. Choose from 1K, 5K, and 10K tracks and stop for photo ops with your favourite DreamWorks characters. This year, the 5K and 10K tracks feature the Trolls characters like Poppy, Branch and Guy Diamond, for a brand new race through the Theme Park and parts of the Universal Backlot. In the 1K race (which kids can also join), you can hug it out with faces from Kung Fu Panda, Madagascar and Shrek. Cross the finish line and receive a fun Trolls-themed medal, which you can treasure forever.

5. Special Offer! 
Of course, the real reason we think you should visit Universal Studios Hollywood this year is to take advantage of our fantastic special offer. You'll be able to buy a day and get a second day free, in this exclusive, limited time deal. It's valid for visits throughout 2021 and 2022. So you've got no excuse to not include Universal Studios Hollywood in your 2022 California travel plans. With this deal, you'll be able to enjoy the Park at a slower pace and even experience your favourite attractions on the second day too! 
Click here to shop our Universal Studios Hollywood Buy a Day Get a 2nd Day Free Special Offer