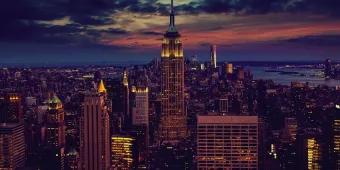 Take a look at New York's unique and unusual bars.
Planning your holiday to New York but want to locate some truly unique and unusual bars while you're in town? Then make sure to take a look at our guide.
New York has a thriving food and drink scene, but besides the usual mix of restaurants and watering holes, New York is also home to an eclectic mix of unique and unusual bars. Some of these establishments have themes, some offer a little more than just a swig of your favourite beverage, but there is no denying that they all have something a little bit different about them. So, during your next holiday to New York, make sure to stop by a few of the below.
Full Circle Bar
Image credit: Full Circle Bar
If you fancy enjoying some drinks at a Skee-Ball themed dive bar during your New York trip, Full Circle Bar in Brooklyn is the place to be. With a bar made from Skee-Ball machine parts, along, of course, with actual machines to play, this is a unique bar setting that you might never have experienced. Full Circle Bar went into further detail with us about what sets them apart from the rest:
"Full Circle Bar is the only Skee-Ball House in New York – 100% dedicated to the classic game of Skee-Ball. Full Circle Bar is home to Brewskee-Ball, the first-ever National Skee-Ball League. The Winter Season of Brewskee-Ball begins February 5.
"At the end of January 2018, Full Circle Bar will be adding the 'Skee-Ball Lanes of Future'. These modern machines were custom designed by the owners, specifically so adults can enjoy Skee-Ball more, both socially and competitively. These new smart lanes work in conjunction with an app and will allow people to challenge each other to original games in person or play against rollers from other bars or cities via a live video feed."
Image credit: Full Circle Bar
Regarding their drinks menu, Full Circle Bar revealed what's on offer to help keep you merry during your visit:
"Full Circle Bar offers 45 delicious beers, focusing on American craft beer. Big tasty frozen drinks in the warmer months and cosy hot cider, hot toddies and classic bourbon and whiskey cocktails in the winter months. However, the house favourites are the 'Beer and a Shot' specials. They pair perfectly while letting the good times roll on the Skee-Ball lanes."
e's BAR
Image credit: e's BAR
e's BAR is not only a wonderful place to be for top food and great drinks, but is replete with fun games to play while listening to tunes that originated purely before the turn of the century. There is so much fun to be had at this unique neighbourhood joint with an atmosphere that is hard to replicate. e's BAR was kind enough to tell us a little bit more about their establishment and what makes them so unique:
"Nestled in the heart of the Upper West Side, e's BAR is perfectly designed with pops of colour, sticker graffiti and even Polaroids of the patrons that add warmth to an already cosy ambiance.  You'll only hear tunes from 1960 to 1999 courtesy of their jukebox and after 6 p.m., plan your date night because no kids are allowed.
"With over 150 board games to borrow, you'll see people playing dirty dare Jenga, Connect Four or Cards Against Humanity. Happily missing is a room full of people basking in the glow of their cell phones. With its addictively casual, yet upscale atmosphere and eclectic mix of patrons all socializing beautifully, e's BAR is the place you want to go to every night of the week."
Image credit: e's BAR
And regarding the normal things you would expect from a bar like drinks and food, e's BAR explained what visitors can look forward to:
"e's BAR is a neighbourhood local. If we don't have something one of our guests likes to drink, we get it. There are eight beers on tap with four lines rotating seasonally and the other four containing our staples: Mother's Milk, Narrgansett, Lagunitas and Harpoon. There are around 20 bottled beers on the menu at all times and the cocktail list is created by our bar team. Cocktail style ranges from the e's Margarita, simple and done right, to fresh infusions like the Blackberry Sour featuring blackberry infused whiskey. The e's Burger is the perfect match to any cocktail!"
The Way Station
Image credit: Gail Heidel
For sci-fi lovers that are visiting New York and are in search of a bar to frequent during their trip, The Way Station on 683 Washington Avenue is the perfect spot. A mixture of a music venue and Doctor Who themed bar, The Way Station serves up cocktails and daily events to guests visiting their "Nerdvana".
Describing what The Way Station is all about, the bar told us: "The Way Station is the only bar in NYC with a life sized replica of the TARDIS from the TV Show Doctor Who. A Nerd bar with a steampunk vibe, The Way Station is a safe haven for nerds and geeks from of all walks of life.
"Proprietor Andy Heidel published The Cocktail Guide to the Galaxy, a compendium of easy to make sci-fi inspired cocktails. The cocktail menu includes not only Doctor Who themed drinks such as The Sonic Screwdriver and Captain Jack, but other sci-fi themed drinks like The Empire (Overholt Rye, Yellow Chartreuse and sweet Vermouth). Depending on the day of the week, The Way Station is host to Karaoke, Comedy, Trivia, Burlesque or live music. Visit TWS.Bar for the complete calendar of events."
Otto's Shrunken Head
If you were deciding between a New York holiday and a trip to Hawaii but found yourself choosing the former, you are in luck as Otto's Shrunken Head in the East Village will allow you to enjoy a slice of the tropical at a New York favourite. With bamboo décor and Hawaiian prints, it's almost as good as being there, and Nell Mellon, one of the owners of Otto's Shrunken Head, further highlighted its unique nature to us:
"You can walk right off the concrete sidewalks of the island of Manhattan and be instantly transported to a tropical vacation with fun bright paper-parasoled drinks in ceramic mugs that you can take home. We also have a backroom with live music, comedy shows and more. And a vintage black and white FILM photo booth that works. It is pretty hard to be in a bad mood in our bar."
Regarding their drinks menu and what else is on offer, Nell told us: "We have a mix of traditional tiki drinks like the Mai Tai and Zombie, and house specialties like the Shrunken Head and Otto's Octane. Or for a group of four you can get a Flaming Volcano bowl to share. All come with paper parasol, plastic cocktail monkeys and flamingo stirrer, and foiled firework straw. Unlike some traditional tiki bars, we are a rock and roll tiki bar, which means the music varies from rockabilly to exotica to indie pop and Motown. Lots of different genres depending on who is bartending and who is DJing. Always a fun time!"
Minus 5 Ice Experience
If you and your party have never been to an ice bar before, there is no better time to do so than during your visit to New York. Minus 5 Ice Experience in Midtown has an interior made entirely of ice, even the glasses from which you drink! Guests are provided with gloves, a coat and then ushered into a winter wonderland full of great drinks and upbeat music.
If you want to enjoy something just a little bit different during your New York holiday, Minus 5 Ice Experience should without question be on your check list.
"Minus 5 Ice Experience is unlike any other attraction in NYC," the bar told us, "we've curated 80 tons of hand carved ice to drive our guest experience. From our large format installations, to our more delicate cups made out of ice, Minus 5 is a fun environment to explore, interact and get lost in. We're the only place your drink gets colder as you enjoy it. Minus 5 – memories frozen in time."
A bar scene to remember
The above are just some of the highlights that New York's bar scene has to offer, and for those in search of some truly unique and unusual attractions in New York during their stay in the area, these bars should certainly be on your to-do list. New York has a little something for everyone and there is no doubt that this is demonstrated by the many wonderfully different bars waiting for your patronage.