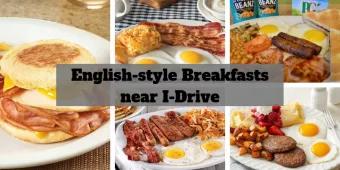 Nothing beats a bit of English grub!
Just because you're in another country, doesn't mean you need to forgo your favourite meal - a full English brekkie, of course!
There's ample options on International Drive, Orlando, to get a range of cuisines, many of them being classically American dishes to give you that sweet taste of the US. But what about if you fancy a proper English breakfast? There's no better feeling that tucking into sausages, bacon and toast (plus all the extras, obviously) before a day of hitting Florida's best theme parks. 
Thanks to some suggestions from the lovely community on the ATD Travellers Facebook group, we've managed to pull together a list of all the places on I-Drive that serve a cracking English-style breakfast. Enjoy! 


Golden Corral Buffet - 8032 International Drive
This was recommended by a few of our members, as they serve a breakfast buffet from 7:30am until around 11am. We couldn't find a specific breakfast menu as such, but some digging did reveal that they have a huge menu, with loads of favourite breakfast foods like bacon, eggs, onion rings, and tomatoes on offer. You can basically build your own English-style breakfast to suit your individual taste.  

World Cafe - 6582 International Drive 
The World Cafe's Facebook header is literally an image of a full English breakfast, complete with the iconic tins of Heinz Baked Beans and PG Tips in the background. So, while they don't have a website and/or menu, we're going to take a stab and say that they'll be able to meet your breakfast cravings. Their photos online from a couple of years do show a menu, where they serve a 'British Breakfast' consisting of fried or scrambled eggs, British bacon, British sausages, Heinz Baked Beans, toast, and a choice of fried mushroom and/or tomato. Perfect, and certainly does the job. 

Perkins Restaurant and Bakery - 6813 Sand Lake Rd (just off I-Drive)
Perkins are a typical American-style eatery, however in their 'cracked classics' section of their menu they do offer some ideal English-style breakfast options. Various dishes mix a combination of eggs, Applewood smoked bacon strips, sausage links, smoked sausage, hash browns (the American kind) and toast. While it could never be classed as a traditional English breakfast, it's certainly not far off. And who knows, maybe you'll prefer the way they create their hash browns? 

Cracker Barrel - 5400 W. Irlo Bronson Memorial 
Cracker Barrel offer traditional-style American dishes, and their breakfasts are heavily influenced by British cuisine. The Old Timer's Breakfast is the closest you'll get to a full-English fry-up; enjoy two fresh eggs with grits (boiled cornmeal) and your choice of turkey sausage, bacon, or smoked sausage patties plus fried apples or hashbrown casserole. Also comes with buttermilk biscuits, sawmill gravy and jams and preserves. A slightly different, but nonetheless tasty, breakfast. 

Bob Evans - 7411 W. Irlo Bronson Memorial
Bob Evans dishes are very similar to that of Cracker Barrel, in that they are hearty, simple, and traditionally American. They do a wide range of breakfast options, and quite a few of them resemble the great British breakfast you're most likely craving. The Big Egg Breakfast comes with three eggs, your choice of breakfast meat (you can order bacon), hash browns, fries or fruit and freshly baked biscuits. The Original Farmer's Choice meal has us feeling hungry too - breakfast meat, two eggs, hash browns, fries or fruit, one crepe, three hotcakes or two slices of French toast. Start the morning right! 

Denny's - multiple locations on/near International Drive
You can't go wrong with Denny's, which offers low-cost, large dishes that will satisfy the whole family. Their value menu actually serves a good range of European-style breakfasts that are sure to leave your taste-buds tingling. The French Toast Slugger comes with french toast, served with eggs, bacon or sausage links, hash browns or bread, and coffee and juice. The Loaded Breakfast Sandwich is also a quick and cheap way to get your breakfast fix too - bacon, ham, American cheese and an egg on a toasted English muffin. Served with hash browns cooked with bacon and Cheddar cheese. Yummy! 


So, while you may need to be a little bit imaginative when it comes to what you class as an 'English breakfast', there's certainly a wide range of places you can dine in that will more than satisfy your British-grub cravings. Undo your belt, open up your mind, and feast on one of the many breakfast offerings available near International Drive, Orlando. 

Ready to book your Florida adventure? Browse all of our Orlando ticket offers here. 

Like this post? You may also like…