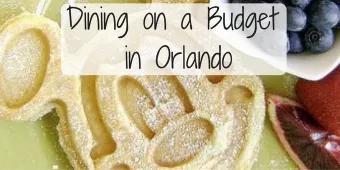 How to save money in Orlando!
Planning a holiday to Orlando? Dining can be one of the most expensive parts of your trip, but our top tips could help you save money…
Don't worry, dining on a budget doesn't mean you have to miss out! Check out our top tips for saving money on dining at the Orlando theme parks.
Eat your biggest meal at breakfast:
Breakfast is the most important meal of the day, so they say, and when it comes to Orlando we agree. The best way to get ready for a long day exploring the incredible theme parks is with a hearty breakfast. Our top tip would be to choose an all-you-can-eat breakfast, so that you're feeling full for longer and won't need to snack when you get to the park.  Plus, we all want an excuse to feast on multiple Mickey waffles!
Bring your own snacks to the parks:
The food inside the theme parks can be quite pricey, and if you're visiting every day the cost of dining can add up quickly. A great way to save money on your meals is by bringing your own snacks to the parks. We'd recommend bringing a few bottles of water, to keep you hydrated in the Floridian heat and some snacks or sandwiches for lunchtime. While we're sure you'll want to try some of the tasty treats the parks have to offer, save on expensive snacks by bringing your own, and treat yourself to things you won't be able to bring in like ice creams- the perfect sunshine snack!
Choose counter service instead of table service:
There are so many places to dine inside the parks, that it can be tempting to want to try somewhere new each day. The fantastic themes seem to make the restaurants all the more appealing (especially to the little ones!), while the thought of sitting down and relaxing for an hour is sure to appeal to the grown ups. If you want to save money though, we suggest choosing counter service over table service, as you'll be able to enjoy delicious food at a much lower price.
Enjoy snacks you can share:
Food portions inside the theme parks are often quite generous, making them perfect for sharing. If you're eating at a restaurant and want to keep the cost down, you could order a selection of appetizers and side dishes to share between you. If you're feeling a bit peckish and just want to grab a quick bite to eat, there are plenty of super-sized snacks to choose from that are ideal for the family to share.
One of our favourite options for a sweet treat is Lard Lad Donuts at Universal Studios Florida. Here you can get a pink iced doughnut covered in rainbow sprinkles that's actually the size of your head!
Enjoy character dining at breakfast:
While a character dining experience can be quite expensive, if enjoying a meal with your favourite characters is something you'd really love to do, there are ways to lower the cost. Our top tip for those on a budget, is to book a breakfast dining experience instead of dinner. This makes the experience more affordable as breakfast packages are usually cheaper and include an all-you-can-eat buffet.
We'd also suggest booking in advance, as character dining is incredibly popular. Another benefit of this, is that you'll be able to spread out the cost of your holiday, instead of dipping in to your spending money when you arrive.
Click here, to view our character dining tickets and enjoy breakfast with Mickey and the gang!
Find the freebies:
You might not think that it's possible, but there are a few freebies to be found inside the Orlando theme parks. For example, you'll never have to pay for water, as you can get iced water for free at any quick service kiosk. You can also get free samples at several places including cookies and cotton candy at Main Street Confectionery in the Magic Kingdom. Our top tip if you're visiting Epcot, is to go to Club Cool, where there are over 100 beverages from around the world. You can enjoy as many samples as you like here, including different flavours of Coca-Cola and Fanta.
Purchase a refillable cup:
Florida is famous for it's sunshine, and when you're spending full days at the theme parks, it's so important to keep hydrated. One way to save money on your drinks, is by purchasing a refillable cup. Different parks have slightly different options, but at both the Walt Disney World Resort and the Universal Orlando Resort, there is an option to refill your cup for FREE as many times as you like during the day.
You can then pay a reduced price if you'd like to be able to refill your cup for any additional days. Choose from tea, coffee and a range of fizzy drinks. You'll also be able to take the cup home as a fun souvenir to remember your holiday. Look out for restaurants that offer free refills too.
Buy a Kids Eat Free Card:
Have you heard of the Kids Eat Free Card? Buy purchasing the card for just £10, you can save money, as you won't have to pay for your children's meals when you arrive in Orlando. The card is for children between the ages of 3-9 years old, and is valid at over 130 Orlando restaurants. With so many restaurants to choose from, there's plenty of variety, including CiCi's Pizza, Sizzlers, Pacino's Italian Restaurant, and even McDonalds. Simply present your card when purchasing an adult meal, and you'll receive a children's meal completely free!
Click here, to view our Orlando attraction tickets and start planning the holiday of a lifetime.
For more blog posts like this try…