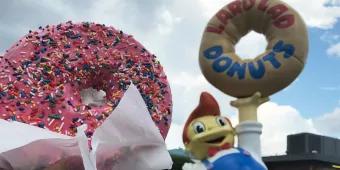 Must-try food and drink!
At Universal Studios Florida, you can step inside Springfield- the world of the Simpsons. Here are the most delicious food and drink items you should try during your visit…
1. Lard Lad Donuts
You can't leave Springfield without trying one of the HUGE Lard Lad Donuts. Be warned, they really are the size of your head! One doughnut is definitely enough to share between a few people, although we'd rather keep the delicious snack all to ourselves. 'The Big Pink' is the most famous here, and is covered with pink creamy frosting and hundreds of rainbow sprinkles.
If you want a real feast, the Brain Freezin' D'oh-nut sundae is made up of a pink doughnut split in half and filled with vanilla or chocolate ice cream, topped with your choice of caramel, hot fudge, chocolate sprinkles, or Oreo cookie crumbles! As Homer would say "mmm".
2. Duff Beer
Fancy trying Homer's favourite drink? Well at Universal Studios Florida you can! At Moe's Tavern, you can get Duff Beer on tap as well as bottles of Duff, or head to the Duff Brewery instead to enjoy an ice-cold glass of beer at the open-air bar. You can watch classic Simpsons clips while you wait on flat screen TVs, before posing for a picture with a huge statue of the Duffman. Once you've given it a try you'll realise that you "can't get enough of that wonderful duff"!
3. Chicken and Waffle Sandwich

Chicken and waffles is a popular American dish that you should add to your 'must-try' list when visiting Springfield. The dish is an extra crispy, double-battered, fried chicken breast, sandwiched between two toasted waffles, filled with lettuce, tomatoes and a dollop of maple syrup mayo! You'll even get a serving of tater tots on the side. If you haven't heard of tater tots before, they're delicious miniature pieces of deep-fried potato. Indulge in this lunchtime snack at Cletus' Chicken Shack.
4. Bumblebee Man's Tacos
You can't miss this colourful taco truck with its bright bumblebee colours. If you want a light snack that you can enjoy whilst exploring Springfield, Bumblebee Man's Tacos is a great place to go for quick, flavoursome food. You can choose between Korean Beef, Chicken and Grilled Steak warm flour tacos. All tacos are served in a pair with a side of chips, so are great for sharing. If you want a little extra, the Mucho Macho Nachos, loaded with beef or chicken, guacamole, cheese sauce, sour cream, salsa, jalapenos and green onions are definitely worth a try!
5. Krusty Burger
If you're a fan of the Simpsons, you'll know all about Krusty Burger. The popular fast food chain was mentioned several times on the TV show, and was run by the eccentric Krusty the Clown. If you've always wondered what these famous burgers taste like, now is your chance to try one for yourself. The 1/3 lb juicy burger is topped with cheddar cheese, a giant slice of tomato and iceberg lettuce. What makes it so good? The answer is the secret special sauce! If you upgrade to a combo meal, you'll get Kurly Fries on the side and a milkshake of your choice.
6. Flaming Moe
As soon as you enter Springfield you'll feel like you're walking into the world of the Simpsons, but if you want to act like a local, Moe's Tavern (aka Homer's favourite hangout) is the place to go. Here, you can try the Flaming Moe- Springfield's signature drink. The mysterious bubbling concoction is non-alcoholic, which means the whole family can try it. Make sure you've got your camera handy, because when the citrusy flavoured drink arrives in a smoky mist, you'll want to take plenty of pictures. There's also a Flaming Moe's counter where you can pick up the drink on the go.
Want to explore Springfield for yourself? Click here, to view our Universal Orlando Resort tickets.
For more blog posts like this try…