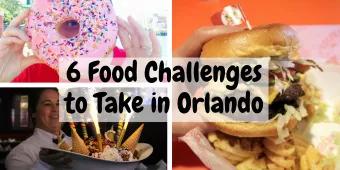 Better start practising now...
Don't worry, you won't go hungry on your holiday to Florida...just check out some of these extreme eats you might encounter...
We all know that Americans love big portions, and at the Orlando theme parks this is certainly true! Check out these epic snacks and meals that could defeat even those with seemingly endless appetites...
1. Turkey leg
Although this could be considered a 'snack', we'd be pretty impressed if you managed one of these gigantic Disney snacks and then a full meal straight after! These turkey legs are epic in size and are covered in a smoky barbecue flavour which is sure to satisfy any meat cravings you might have. The turkey legs have become one of the iconic snacks of the Disney parks, joining the Dole Whip and Mickey ice creams in the Disney food hall of fame and you'll spot quite a few guests walking round eating them, so you'll be in good company.
Where can I find a turkey leg at Walt Disney World? Magic Kingdom, Epcot and Disney's Hollywood Studios.
2. Lard Lad Donut
Over at Universal, their jumbo snack is of the sweeter variety…the MUCH sweeter variety in fact. Lard Lad doughnuts, which you'll find in the Springfield area of the park, are giant doughnuts which would feed one hungry park guest for a day or work as a snack for a few hungry family members.  Our favourite is the bright pink ring doughnut covered in sprinkles – it's heaven! We do recommend sharing it though, especially if you're heading on the Simpsons ride after!
Where can I find one? The Springfield area of Universal Studios Florida
3. Sugar Factory
If you're impressed with the Lard Lad Donut but think you could do better, why not check out the Sugar Factory on I-Drive? The King Kong Sundae there takes 15 minutes to assemble and consists of 24 scoops of ice cream and gelato in 12 different flavours, 4 waffle cones, pretzels, sprinkles, gummy bears, whipped cream and, if that wasn't enough, it's garnished with 2 huge sparklers to really draw attention to it. It's a whopping $99, so you might want to get a few friends to chip in and share!
Where can I find one? At I-Drive 360
4. 'The Kitchen'
The brand Hard Rock is synonymous with over-indulging, so it's hardly surprising that one of Orlando's best food challenges can be found at The Kitchen in the Hard Rock Hotel at Universal Orlando Resort. The Kitchen Sink Challenge consists of The Kitchen Burger (Fresh Black Angus beef, bacon, cheddar, onion rings, lettuce, tomato and Chipotle Horseradish Aioli), 1lb of chips, a fried pickle and the 7-layer Kitchen Sink Cake and must be finished, plates licked clean in 30 minutes or less. If you manage it, the meal (feast!) is free and you'll get ultimate bragging rights.
Where can I find one? At the Hard Rock Hotel, Universal Orlando Resort
5. Mickey's Kitchen Sink Sundae
For a different type of kitchen sink meal, head to Disney for an epic sundae served in a Mickey Mouse sink. At $14.99 it's more affordable than the King Kong sundae above, and you get to keep the adorable cup as a souvenir so it's win-win. Inside the sundae cup you'll find scoops of chocolate, vanilla and strawberry ice cream drizzled with hot fudge, caramel and strawberry sauce and covered in chocolate and peanut butter chips, whipped cream and cherries – yum!
Where can I find one? At Plaza Ice Cream Parlor and Plaza Restaurant on Main Street, U.S.A
6. The Clogger Burger
Back in the Springfield area of Universal Studios Florida, don't miss the burgers at Krusty Burger. Despite the name, they really are delicious – we promise! And there's one in particular that will appeal to food-challenge lovers out there – the Clogger Burger: a burger so big you can barely hold it in one hand! It's 2 six-ounce patties topped with bacon and accompanied by American cheese, lettuce, tomatoes, pickles and 'secret sauce' and served in a brioche-style bun. Eat it with a side of fries and you'll definitely need to give it at least an hour to digest before you head to Lard Lad Donuts next door.
Where can I find one? The Springfield area of Universal Studios Florida
Got your meals planned out now but not your tickets? Make sure to pre-book your tickets to secure the best prices and the most flexibility from your tickets. Click here to read more.  
Liked this post? You may also like...