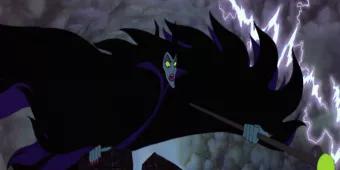 ATD's Terrifying Tuesday...
This week Attraction Tickets Direct's Terrifying Tuesday takes a look at the most demonic and evil Disney villains horrific enough to star in their own horror movie!
In terms of villainous and demonic movie characters,  the Disney Villains get the best deal by far. No matter how hellish and evil a character Disney manages to conjure up, no matter how deathly their powers might be and no matter how malevolent their endeavours, as long as they are considered a 'Disney' villain and their home remains in the happiest place on earth, the truth of the matter is, we are far more likely to fear an encounter with the zombies from The Walking Dead, Jigsaw from Saw and other such evil doers featured at Universal Studios HHN, than we would an encounter with the Disney villains featured at Disney World's Mickey's Not So Scary Halloween Party. 
It's hard to think of the demonic Disney villains as particularly deadly beyond the age of eight or nine, because, let's face it, they are still a product of Disney - of magic and fantasy, dreams and all things sweet and nice. But there are many Disney villains that aren't to be underestimated, that, if we took a moment to consider them outside of the Disney context, we'd realise that their minds are just as corrupt and their doings just as sick and twisted, if not even more so, than some of  the most manacing characters featured in some of the most chilling horrors and thrilliers. 
Take a look at our list of Disney characters you wouldn't want to see in a horror film...
Beast
Funny that Beast makes it onto this list, as he isn't technically considered a Disney villain. However, he's big enough and scary enough and with teeth like knives, he could easily tear heads from their necks in one very swift maneuver. With his roaring temper, and his looming size Beast most certainly wouldn't be a creature we would want to run into in the dark of the night, with a full moon in the sky! We imagine Beast could make a helliish werewolf type character! 
Hook
This needs little explanation -  his name says it all. Even if Hook were the last man on the planet after a zombie appocalypse, we'd be far more likely to go it alone than team up with a potential hook handed killer! We could see Hook in the likes of Scream and other such slasher films.
Jafar
Jafar is just pure evil, in every sense of the word. He's amoral, he's deceitful and will have no one stand in the way of his pursuit for power, no matter what. Not only that, but he is by far one of the greatest Disney villains to have ever been created, with a climax scene that is possibly one of the scariest films featured in a Walt Disney Classic - you know the scene where Jafar shows us, 'just how snake like' he can be, revealing his forked tongue and hissing, before transforming into a giant cobra. We could see Jafar being ghastly in a biblical horror.
Maleficent
And of course, last but by no means least Maleficent, notorious for being the most deadly and demonic Disney villain of them all, the self titled 'Mistress of Evil'. It is fair to say that to this day she is still the most dangerous and most evil of the Disney villains to ever have been created. Not only is she totally and utterly consumed by dark and malevolent pusuits, but her supernatural powers allow her to see into the future, project lightning, teleportation and above all, transform herself into a fire breathing dragon.  Of course, it's not long now till we see Malefeicent in her very own film, starring Angelina Jolie!
You'll be able to catch these demonic Disney villains at Mickey's No So Scary Halloween party this Halloween.
If you're headed to Orlando for the Halloween season, be sure to check out the Attraction Tickets Direct range of Disney tickets for a Disney themed Halloween!