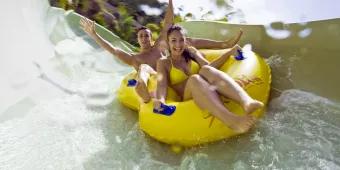 A unique water park full of high-energy thrills.
Despite being located in the idyllic waters of sunny Tenerife, Siam Park offers a great selection of rides for all those self-confessed adrenaline-junkies.
There's something for everyone at this theme park, including those who are looking for a faster-paced experience. These 'Adrenalin' rides at Siam Park are sure to get your heart racing.
Mekong Rapids
Enjoy the aquatic adventure of Indiana Jones with your friends and family, as you descend along this water slide on an inflatable rubber boat. Slip, slide, twist and spin all over the place as you make your way to that final splash, and then ride again if you dare!
Minimum Height: 1,10m   
The Dragon
Looking for that zero gravity sensation? Then head to The Dragon for your next Siam Park adrenaline experience. Holding up to four people in the same float makes this ride a unique experience in Europe. Slip down the huge vertical slide with your bravest friends - but be sure to hold on tight!
Minimum height - 1,25m  
Tower of Power
This massive water slide has a height of 28 metres, and can reach speeds of up to 80km/h. Definitely not something to miss if speed is your thing. What's more, you'll also pass through an aquarium full of sharks and rays, no less. Not for the faint hearted...that's for sure!
Minimum height/age - 1,40m. 14yrs.  
The Vulcano
A water slide completely in the dark? Check. A laser light show? Check. The feeling of being spat out of a volcano? Check. There's not much more to say about Siam Park's Vulcano ride - but will you brave it for yourself? 
Minimum Height - 1,25m  
Singha
Described as a 'water roller coaster' rather than a slide, Singha offers high speed and 14 direction changes to any of its daring participants. Fun and adrenaline combine in this attraction - go from traveling six metres per second to a whopping 18 metres per second as you fall towards the landing pool. Have you ever experienced such speed in a water park before? 
Minimum height 1,25m   
Kinnaree
Discover the secrets of the goddess in Kinnaree at Siam Park. A fast-paced funnel ride which you can enjoy with up to three other people, this attraction is often described as people's favourite at the theme park. It's slightly longer than your usual water slide, and the drops and turns are unrivalled. Hold on for your life!
Minimum height - 1,25m 
As you can see, there's loads to do at Siam Park if you are looking for something high energy from your water park visit. Fast paced rides designed with adrenaline junkies in mind make Siam Park one of Tenerife's best places to go if an action-packed adventure holiday is what you're seeking.
Want more unique adventure experiences in Tenerife?
Then climbing Mount Teide is exactly what you should be doing next
…