Follow in Anna and Elsa's footsteps for Disney domination!
When Disney released 3D animation picture Frozen in 2013, it was very quickly realised that the Walt Disney Company had created a phenomena that would live beyond the screen. A year on and Frozen Princesses Anna and Elsa have been crowned official Disney Princesses and many a Frozen experiences come to the Disney Parks. Take a look at Anna and Elsa's journey to Walt Disney World stardom!
On the 27th November 2013 the Walt Disney Company released the 3D animation Disney Picture Frozen to the masses. It was on this great day that the world made its first ever acquaintance with the Disney Princesses of the moment, Anna and Elsa.
Like Anna, we learned very early on in our acquaintance with Elsa, there was something very special about her.
And although Anna never had any magical powers, along with Elsa, we recognised there was something very special about Anna too. She had a big heart and a love for her sister that was inspiring.   
It became apparent that this was a Disney film unlike any other Disney film the world had ever seen. Not only did the world embrace this change, they welcomed it!
Consequently, Frozen became the highest grossing animated film of all time!  Whilst Elsa remained calm and composed about the film's success, Anna could not hide just how excited this news made her!
Naturally, the success of this film resulted in a gig at Walt Disney World for the two of them! Again, Anna could barely contain her excitement!
And in February they packed their bags and said good-bye to Arendelle and the fantasy of animation in exchange for the Happiest Place on Earth. And for the first time since the release of the film, Disney guests were able to hang out with Anna and Elsa at Walt Disney World's Epcot - in the Norway Pavillion, of course!
A month later, on the 2nd March, Disney's Frozen won not one, but two Oscars at the 86th Accademy Awards. One for Best Animated Feature Film...
And the other Oscar for Best Original Song, 'Let it Go', the much loved and forever imitated song, sung by none other than Queen Elsa herself.
Lo and behold, more Frozen fun was on its way to Walt Disney World after the big Oscar win and  Anna and Elsa were given their very own float to feature in the Magic Kingdom's Festival of Fantasy Parade!
For Easter the pair were invited to the Princess Fairytale Hall, where they hung out with the official Disney Princesses, whom Anna thought were...
She thought that her and her sister might have had more in common with one Princess in particular, considering her icy name...
But unfortunately she was wrong...
Anna suspected that an official Disney Princess crowning for her and her sister wasn't too far in the distance...
...And she was right! However, being so modest, they were both a little taken aback when Walt Disney World finally announced that they would be crowned Disney Princesses on the 5th July and would join the official Disney Princess line- up! 
To thank their fans for helping them achieve Disney stardom, they showed their love in return!
They fitted in with the Princess gang seamlessly.
They had a ball together and even took up 'Royal Twirling'!
They took many photos to document their Disney Princess line-up inauguration and all the fun they were having with their fellow Princesses...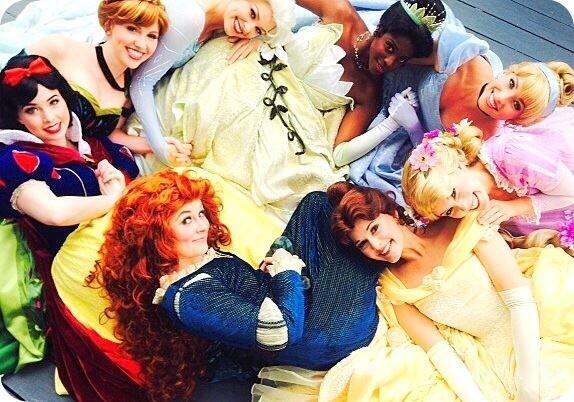 Fans of Elsa had wondered whether she considered her new status a demotion of some sort, from the Snow Queen of Arendelle in Walt Disney's Frozen picture to one of thirteen Disney Princesses at Walt Disney World Florida. However, Elsa wasn't too bothered by this little oversight and was more than happy to just...
And, indeed, she has risen! Her humbleness, and of course her popularity, has resulted in Disney Imagineers creating a Frozen segment titled Frozen Holiday Wishes, in Mickey's Once Upon a Christmastime Parade at Walt Disney World's Magic Kingdom.
Elsa's magical powers are at the heart of this Frozen Holiday Wishes live act, located in the forecourt of the Cinderella Castle. Starring alongside Anna, Kristoff and Olaf, Elsa gives Disney guests a glittering christmas gift, by transforming the iconic castle into a shimmering, twinkling ice encrusted palace.
As we all know, Frozen is famous internationally, so Anna and Elsa have been required to hop across the pond to head up some Enchanted Christmas experiences at Disneyland Paris. A christmas significantly colder than the Florida weather they have become accustomed to...
... but, considering the 'cold never bothered Elsa anyway,' she was more than delighted to meet her Parisian fans...
Till the 7th January the sisters will grace Disneyland Paris' Princess Promenade parade with their royal presence. However, for the ultimate Frozen experience, Disneyland Paris will be hosting the first ever 'An Audience with Anna and Elsa' at the Princess Pavillion! 
As the new official Disney Princesses, they'll also feature in Disneyland Paris' Disney Dreams Night-time Spectacular special christmas edition.
However, we all know, it's not till a Disney Princess gets her own permanent Disney residence at Walt Disney World Florida that she can truly deem her success long-term. So when Disney Imagineers announced they had found a new home for Anna and Elsa at Epcot's Norway Pavillion, and would be closing the Maelstrom attraction to accommodate them, they knew they were onto something pretty amazing...
From Disneyland Paris to Walt Disney World Florida, there's already plenty of ways to get your Frozen fix at the Disney parks, with even more Frozen experiences in the pipeline. If you can't make it to Walt Disney World Florida to see the Princesses in the Frozen Holiday Wishes segment this Christmas, then why not prepare your undying Frozen questions and head over to Disneyland Paris with your tickets for An Audience with Anna and Elsa.
No matter where you plan to make your acquaintance you'll be able to get your Disney tickets with Attraction Tickets Direct!
If you're planning ahead for your Disney visit, remember Anna and Elsa will join the likes of Cinderella, Belle and Ariel with their very own Walt Disney World address in 2016. 
Who knows what's next for Anna and Elsa? At this rate, we have a feeling that it may well be a star on the Hollywood Walk of Fame!