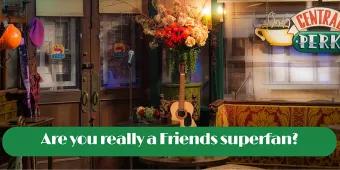 Friends superfan quiz
Think you know all there is to know about Friends? Well, think again, and take our very hard quiz. And we mean it!
In September it will be 21 years since the American sitcom Friends first debuted on our television screens. The majority of us still haven't gotten over the end of the show and are still craving a reunion, continuing to fill the void by watching boxsets and tuning into TV reruns. Or, if you're fed up of reruns, you can visit the places where the show was filmed in real life and prove your credentials as a real FRIENDS fanatic! 
The much-loved program ran for ten series and achieved seriously impressive ratings, as well as 60 awards, making it one of the best TV programs of all time. Over these ten years we all became very familiar with the six BFFs, and felt like we knew everything about them, from their relationship history to their most embarrassing memories.
But, do you really know as much about Friends as you think you do? Take our quiz to find out just how much you've learnt about Chandler, Joey, Monica, Phoebe, Rachel and Ross over the past 21 years.
21 Friends facts for the fanatics
Has our quiz made you feel like you need to brush up on your knowledge? Here, you'll find 21 facts about the show and its cast, which even the truest of superfans may not know.
1. In reality, it would have been very unlikely that coffee maker Rachel and restaurant chef Monica would have been able to afford to live in their apartment located in the upmarket Greenwich Village. (Friends fanatics can see the exact exterior of the real 90 Bedford Street as seen in the opening credits while visiting the many attractions in New York.)
2. The fountain was actually reconstructed in a studio, where most of the filming took place in California, but the Pulitzer Fountain that it was based on can be visited in Central Park.
3. Shiny Happy People by REM was originally going to be the theme tune for Friends, and features in the Friends Like Us pilot, but was later removed when the band refused permission.
4. Central Perk is actually a restaurant called The Little Owl, which is said to have the best cheeseburger in New York. (Those in London during September will be able to visit a temporary reconstruction of the coffee house, which will be popping up in Brick Lane.)
5. Monica's boyfriend Dr Richard Burke was played by the Magnum PI star Tom Selleck, and due to his popularity he would often get a standing ovation from the crowd when he stepped on set. This meant that on many occasions the scenes would have to be shot again without an audience.
6. Bruce Willis features in the episode 'The One Where Ross Meets Elizabeth's Dad', and only appears because he lost a bet with Matthew Perry. They agreed that his cameo would be unpaid, so Bruce Willis donated his fee to charity.
7. Ross is 29 years old for three entire series.
8. Marcel was played by two different monkeys. One was called Katie, and the other was called Monkey.
9. The Greek Orthodox priest that Rachel finds for Chandler and Monica's wedding has just come out of the Anastassakis/Papasifakis wedding. Anastassakis is in fact Jennifer Aniston's family name.
10. At the end of the last series, each of the main cast members was given a section of the sidewalk from outside the front of Central Perk as a keepsake.
11. The theatre where Joey performs in season 3 is in fact a real-life venue in New York, called the MCC Theatre, which was first built as a cinema in 1926, and still looks virtually unchanged today.
12. Of the actors and actresses that have featured in friends, 10 have been Oscar winners.
13. In order to keep the show fair, the six cast members banded together to make sure that no one was paid more than anyone else, with writers also using a pie chart to ensure each actor had the same number of lines.
14. Paul Rudd, who plays Mike Hannigan, was hired by the casting director who wrote just one word during his audition. 'Dreamy'.
15. David Schwimmer directed 10 episodes of Friends.
16. In an interview from 1997 when Courtney Cox was asked who Monica would get together with, she said Chandler, despite the story line not becoming a reality until the finale of season 4.
17. Joey plays Dr Drake Ramoray in the fictional version of Days of Our Lives, but in real life, Jennifer Aniston's father plays Victor Kiriakis on the actual NBC Soap Opera.
18. Jennifer Aniston was the last of the six actors to be cast in the show, with David Schwimmer being the first.
19. All six characters lived in both Monica and Joey's apartments at some point during the ten series.
20. In the episode 'The One with Ross's Wedding' when Monica pops up from under Chandler's bedsheets, the pair had to hold the position for 27 seconds.
21. Matthew Perry and Lisa Kudrow admitted in an interview that they wish they hadn't agreed to end the show in 2004.
Image credit: William Warby(flickr.com)
Remember, if you want to visit where FRIENDS was filmed in New York, you can! Check out our New York Movie and Tv tour to find out more. 
Liked this post? You may also like...