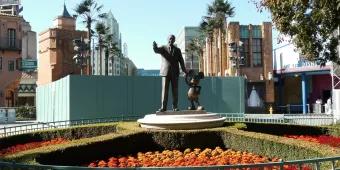 Take a fun quiz to see how well you know Disneyland Paris
Disneyland Paris is one of the world's most iconic theme parks, but how much do you really know about it? Find out by taking our fun trivia quiz.
Are you a Disney super fan? Do you think you know everything there is to know about Disneyland Paris? Put your knowledge to the test by having a go at our fun trivia quiz about this iconic theme park.
No matter whether you've bought Disneyland Paris tickets for the family and have visited the theme park on countless occasions or are just planning to visit for the first time, you should get a few questions correct. Take the quiz to see how well you fare and then read on to find out some other interesting information about Disneyland Paris. 
Quirky facts about Disneyland Paris
The castle
Lisa Mcpartland, a Disney super fan who runs the travel and lifestyle blog It's a Blogs Life, explains how Disneyland Paris is the only park to have a Dragon beneath it.
"Disneyland Paris is the only Disney Park to feature a Dragon beneath the castle. La TanIère Du Dragon rests under Sleeping Beauty Castle. The walkthrough consists of a dimly lit passage where the large dragon sleeps, however she will occasionally 'wake up' puffing green smoke and growl.
The dragon is unique to Disneyland Paris and was the largest animatronic figure ever built when the park opened in 1992. She measures 27 metres (89ft tall). Are you brave enough to visit her on your trip?"
The castle, which is the castle of Sleeping Beauty, is an iconic image of the park and is one of the most photographed sections of Disneyland Paris.
A real barber works on Main Street
Yes, that's right - if you fancy getting your hair trimmed during your day out at Disneyland Paris you can, as there's a real working barber.
Mads Panchoo, the editor at The London Mother, says, "Main Street in Disneyland Paris has a real barber at work, apparently because Walt Disney wanted to pay tribute to his father, who was a barber."
Opening date of Disneyland Paris and launch of its major rides
Disneyland Paris opened on 12 April 1992 and since it has grown into one of the best theme parks in the world. Rides and other attractions have been opening on a regular basis ever since, with the likes of Indiana Jones et le Temple du Péril (Indiana Jones and the Temple of Peril) opening on 30 July, 1993 and Space Mountain in 1995.
Disneyland had a different name
Disneyland Paris was actually called something different when it first opened. In 1992 the park was called Euro Disney, but this would grow to become the theme park you see today.
In 1994 the resort changed its name to Disneyland Paris and the park has recently been celebrating its 25th anniversary.
A famous composer provided the soundtrack for a ride
Michael Giacchino, the American composer of music for films, television and video games, has composed soundtracks for movies such as The Incredibles, Mission impossible III, Jurassic World, Star Trek and the War for the Planet of the Apes.
The renowned composer was also the brainchild behind the soundtrack of Space Mountain: Mission 2 (formerly known as Space Mountain – From the Earth to the Moon).
Two theme parks at the Disneyland Paris Resort
Disneyland Paris is home to two theme parks: Disneyland Paris Park and Walt Disney Studios Park.
Walt Disney Studios Park was opened in 2002 and is dedicated to show business, themed around movies, production and behind-the-scenes looks.
Disneyland Paris Park is the theme park that is full of all the world-class rides and is dedicated to fairy tales and Disney characters.
The Phantom Manor House
The spooky Phantom Manor House in Disneyland Paris features Melanie Ravenswood prominently. She is a ghost of a bride, whose groom never turned up on their wedding day.
The story goes that on Melanie's wedding day a mysterious phantom appeared at the manor she lived at and lured her suitor to the attic, where he hanged him by the neck from the rafters. After he didn't turn up for the wedding the guests left and the legend says that Melanie didn't take off her wedding dress or throw away her bouquet as she aimlessly searched for her loved one.
Annual visitor numbers
Disneyland Paris is hugely popular and the average annual visitor numbers for the resort ranges from 12 to 14 million people. According to Statista, in 2016 13.4 million people visited the park.
Why so many people love Disneyland Paris
The atmosphere
Lisa Mcpartland from Its a Blogs Life loves the atmosphere at Disneyland Paris:
"I absolutely love the atmosphere. There is always something going on around you, music playing, mini parades, and characters popping up in various places. The minute you walk into the park you can just feel the magic, it even smells magical."
You're never too old
One thing that people who have visited Disneyland Paris will say on their return is that there are attractions for all different age ranges, as Lisa explains:
"You are never too old or too young to visit Disneyland Paris. There is something for everyone and any age, from rides to shows. You won't be disappointed and once you go I can guarantee you will get the 'Disney Bug' and will want to visit again and again."
Ratatouille: The Adventure and Toon Studio
The London Mother's Mads Panchoo says visitors will love the Ratatouille: The Adventure and the Toon Studio sections of the park:
"My favourite part is Ratatouille: The Adventure and Toon Studio. Parents and children will love it!"
Want to experience the magic for yourself? Click here, to view our great value Disneyland Paris tickets.
Liked this post? You may also like…
Experience Electroland at Disneyland Paris
Experience the festival of pirates and princesses at Disneyland Paris
Huge expansion announced for Disneyland Paris