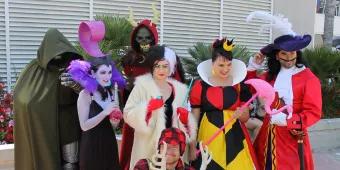 Easy and affordable is the name of the game...
It's getting to that time of year again where panic sets in...no not because Halloween is scary but because we have NO idea what to wear!
Image by Loren Javier, Flikr.
Whether you're planning an outfit for Mickey's not So Scary Halloween Party at Magic Kingdom,  Disneyland Paris Halloween Party or you simply want to rock a Disney outfit for your own Halloween celebration, we've got you covered…
In recent years, Disney cosplay has really taken off and what better time to start dabbling than this Halloween season? The concept behind Cosplay is taking every day items of clothing and creating an outfit which resmbles a character in a subtle way. The looks below mix the art of Cosplay with the dramatics of Halloween to create 4 affordable and easy Disney Halloween costumes for you to try this Autumn. 
So without further ado...
Cruella De Vil
This iconic Disney villain is a popular choice for Halloween because it is a relatively simple costume to pull off! All you really need is a black dress, a fur coat, some red lipstick and a wig (or you could even spray your hair if you're feeling brave!). In the Disney films, Cruella doesn't yet have her famous Dalmatian coat, but you could carry a Dalmatian stuffed toy if you want to make it even more obvious who you are.
Optional extras: Red satin gloves and a cigarette holder.
The Witch from Snow White
This is the easiest Disney villain to recreate as you essentially only need a hooded black cloak (even a black sheet could work!) and a basket full of 'poison' apples. Make sure to darken your eyebrows into the witch's terrifying growl before asking your fellow party-goers if they fancy a juicy ripe red apple.
Queen Ursula
Pulling this Halloween outfit off really requires a good level of make up and face paint skills, so don't skrimp on the face paints if you're going to attempt this look! Ursula's lavender skin tone, arched eyebrows and painted-on make up are key points in this look so you'll want to get them right! For clothes you'll simply need a long black dress and a gold medallion necklace although if you really want to push the boat out, special Ursula dresses with built-in tentacles are available. Back comb your hair and spray it white or invest in an Ursula wig to complete the look.
Optional extra: Cut some sleeves off an old black shirt and stuff them with old tights to create tentacles!
Gaston
Another Disney character we love to hate is Gaston, and his love of simple colour-co-ordination makes his an outfit which is fairly simple to recreate! All you'll need is a pair of black leggings, a dark red tee cut into a V neck and a belt to start off this look. To finish it you'll need a set of 2 accessories, a black ponytail wig and a pair of yellow gloves – simple!
Optional extra: A pack of arrows slung over your shoulders.
Liked this post? You may also like...