Make a splash at everyone's favourite marine-inspired theme park!
If holidaying in Orlando, a visit to SeaWorld is a must do.
Over the years, the park has been transformed into a go-to destination for thrill seekers and ride lovers galore. SeaWorld Orlando now houses some of the best and most ambitious attractions in the area, with exciting plans due in 2021 too. 
Curious about what you can experience during your visit to the park? In this blog post, we'll break down our favourite rides and iconic, can't miss attractions. 

Thrill Rides
Did you know that SeaWorld Orlando actually contains some of the most hair-raising rollercoasters in the whole of the Orlando area? 
In fact, park favourite Kraken is Florida's only floorless coaster! Climb to dizzying heights as your feet dangle in the air, before embarking on a series of twists and turns that will send your pulse racing. This ride is inspired by the legendary mythological creature, as it's unleashed from the dark depths of the ocean, ready to strike fear in brave riders. 
Another attraction unique in the Florida area is Manta, a one-of-a-kind flying roller coaster that lets you experience the life of a giant ray. Sail along one of the smoothest tracks in the world as you dive head-first and face-down into a terrifying inverted nosedive!
Holding the impressive title of Orlando's tallest, fastest AND longest roller coaster is the iconic Mako. This is a hyper coaster well-known for its sharp turns and electrifying speeds, named after one of the oceans fastest known sharks. Mako reaches speeds of up to 73miles per hour, as it soars at over 200 feet high. Fly through a shipwreck and emerge utterly transformed...hopefully ready to experience it all over again!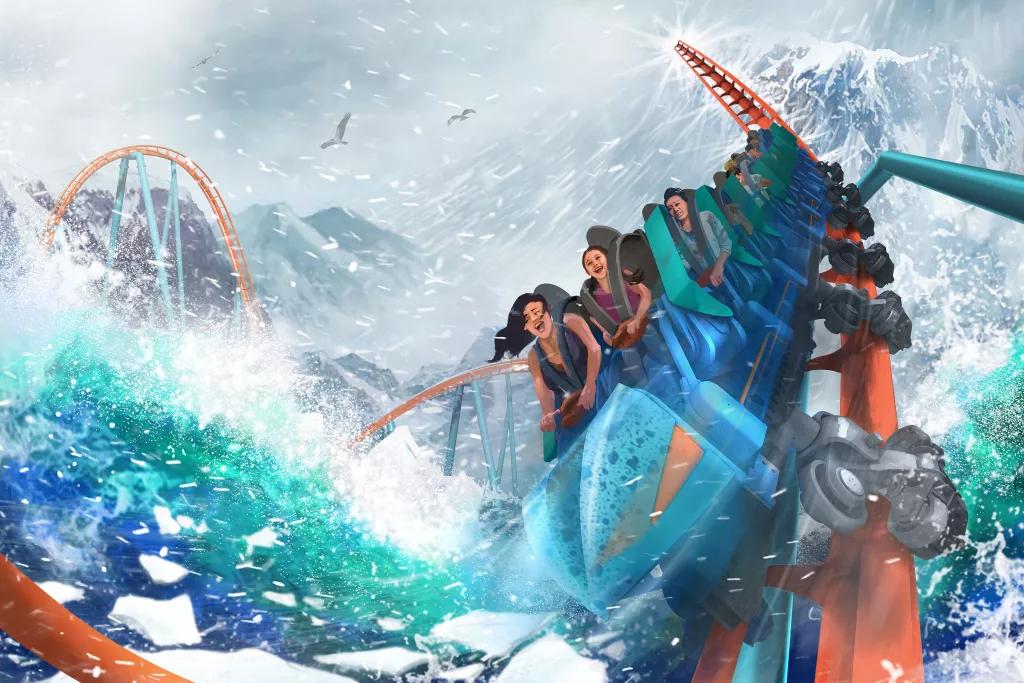 Finally, launching into action in spring 2021 is Ice Breaker, another one-of-a-kind roller coaster experience. When it opens, Ice Breaker will be SeaWorld's first launch coaster, named after the unforgiving arctic wilderness. Containing a steep, beyond vertical drop (the largest of its kind in Florida) the ride will also feature four airtime launches. Just another reason why a visit to the park in 2021 is a must. 
Water Rides
It wouldn't be a visit to SeaWorld Orlando if you don't leave thoroughly soaked. The ultimate way to cool down in the Florida heat, our favourite water rides provide brilliant splashtastic fun. 
The park's most popular water attraction has to be Infinity Falls, legendary among Orlando holiday-goers and theme park lovers. The attraction is a rapids ride with a fast-paced twist, combining the perfect element of water fun and thrills. After winding your way through scenery inspired by tropical rainforests, geysers, and breathtaking waterfalls, you'll plunge into the churning whitewater, down one of the tallest drops of its kind. Don't worry - you can soon dry off under one of the family-sized dryers after exiting the ride, if you wish! 

Journey to Atlantis is our next soak-tastic attraction, an iconic flume/coaster hybrid ride. Explore dark and watery passageways as you journey through this mysterious and mythical location, before plunging into the water and leaving thoroughly soaked.
Family Friendly Attractions
If you're starting to wonder whether or not the kids will enjoy SeaWorld Orlando, don't worry. There are plenty of rides and attractions that your little ones will positively love. From their first coaster experiences to entertaining, educational shows, the park is a brilliant day out for the whole family, kids included. 
The first stop on your SeaWorld itinerary if you're visiting with children is most likely going to be Sesame Street Land. This area is filled with recognisable faces from the famous street, which inspire the rides and attractions within it. 
For their first roller coaster experience, take a ride on Super Grover's Box Car Derby, where there's fun hills and mini dives for your little one to enjoy. 
Have a seat on Cookie Monster's Cookie Drop, as your child experiences their first ever drop ride. Be whisked away in a world full of cookie crumbs...yum!
All aboard Elmo's Choo Choo Train! A fun, interactive ride perfect for your little ones. There's also Slimey's Slider, a gentle swoop and swivel ride, teacup inspired Big Bird's Swirl and Whirl, and the magical Abby's Flower Tower. Plus loads more exciting rides and attractions to keep your kids entertained. 

Everyone's favourite sea lions - Clyde and Seamore - are back at school for another semester at Sea Lion High, and it's time for you to witness the fun. See amazing animal behaviours, including from Opie Otter too, and brilliant audience interaction. Perfect for families and little ones. 
Walk through one of the world's largest underwater viewing tunnels, and take a journey through Shark Encounter. You'll be able to get a closer look at prehistoric predators whose ancestors dominated the sea over 450 million years ago. How's that for old?!

Educational Attractions 
Away from the high thrill experiences, SeaWorld Orlando is also dedicated to the conservation of some of the world's most impressive and vulnerable creatures, in some of the most grueling habitats. 
Many of their family friendly rides and attractions combine entertaining fun with an element of education. The perfect way to immerse yourself in the true intentions of SeaWorld Orlando.

Turtle fans will love Turtle Trek, a 360 degree theatre showcase that allows guests to find out more about how they can be an 'everyday hero', and help preserve the natural habitat of the precious turtle. Learn more about the dangers and hazards they face, as well as their unique life underwater, which in the past has been impossible to show. 
In Antarctica: Empire of the Penguin, riders will be transported to the icy world of the South Pole and experience this environment through the eyes of a penguin named Puck. You can select a 'mild' or 'wild' version of this trackless, motion-based simulator ride, making it suitable for the entire family. Once you exit the ride, you'll be taken through the Antarctica Habitat, learning more about the penguins' unique colony. 
For something a little different, there's Wild Arctic, a riveting flight simulator that will take you across treacherous peaks and icy valleys, discovering more about this unforgiving environment as you make your way towards Base Station Wild Arctic. Spot beautiful beluga whales and stunning walruses, as you virtually traverse the area. 
Discovery Cove 
If you loved learning about the different animal species at SeaWorld Orlando, why not add in a visit to Discovery Cove as well? Tick off a bucket list item and swim with dolphins in this stunning environment, and snorkel with thousands of tropical fish and rays too. The all-inclusive aspect of the resort makes Discovery Cove the ideal addition to your Orlando holiday, ocean-themed adventure. 
AttractionTickets.Com Top Tips For SeaWorld Orlando
Purchase all day dining to make your visit even more relaxing and special, and enjoy tasty treats across the park
Check the park map before you visit and plan out your route to make the most of your experience 
Park hours vary depending on the day and season, so make sure you check these online before you go
For shows and experiences, arrive 15-20 minutes early to grab a good seat!