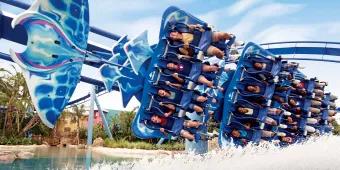 The best rides at SeaWorld!
Thrilling coasters, big splashes and record-breaking rides. SeaWorld Orlando has it all…
1. Mako
Calling all thrill seekers! This is the tallest, fastest and longest ride in all of Orlando, so if you're all about the coasters, you can't leave without ticking this one off your list. Be warned though, with staggering speeds of up to 73mph and a 200-foot drop, this one definitely isn't for the faint-hearted!
This epic coaster is inspired by the Mako shark- the fastest species of shark in the world. There are no shoulder restraints (just lap bars) to maximise upper body movement, giving you the chance to experience what it feels like to be a Mako shark racing through the ocean.
2. Manta
This roller coaster is totally unique because you'll speed around the track face down- just like a Manta ray! This is the only flying coaster of its kind in Florida, so if you're visiting SeaWorld you really won't want to miss it.
Get ready to be tilted forwards into the 'flying position' before facing a head-first, face-down inverted nosedive! You'll reach speeds of up to 56mph, tackle a pretzel loop followed by a corkscrew and even skim the water below.
3. Kraken
Kraken has been one of the most popular rides at SeaWorld ever since it opened in the year 2000 and it is still Orlando's only floorless roller coaster. This ride is inspired by a mythical underwater beast called the Kraken, who has been unleashed from the depths of the ocean. If you're brave enough to climb onboard, prepare for a thrilling journey like no other.
Your feet will dangle as you zoom around the track, reaching speeds of 65mph and terrifying heights of 150-feet!
4. Journey to Atlantis
This ride might be tamer than SeaWorld's big coasters, but it's still just as exciting. This attraction is perfect for the whole family, as long as you're prepared to get wet! Journey to Atlantis is a unique flume ride/ coaster hybrid and is a firm favourite with park guests. As you enter this mythical paradise, you'll glide through dark, watery passageways before a thrilling plunge into the water below. There are lots of surprises on this attraction and it will leave you wanting to ride it again and again.
5. Infinity Falls
Infinity Falls is the tallest river rapid drop ride in the world! The ride will take you on an exciting adventure on an exciting adventure though fountains and rushing waterfalls as you pass through the remains of an ancient civilisation. Hold on tight as the world-class rapids send you speeding through a series of chutes, before you plummet 40-feet into the whitewater below! SeaWorld have given this a splash level rating of "soaked", the question is, are you brave enough to try it for yourself?
Ready to start planning your Florida holiday? Click here, to view our great value SeaWorld Orlando tickets and get access to 3 amazing parks for the price of 2!
For more blog posts like this try…
Find out all the latest news from Orlando in our BLOG