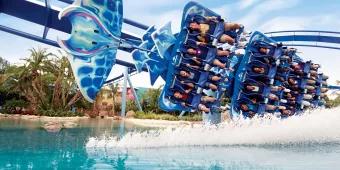 Just how evil are you?
Here we take a look at some of the best merchandise and projects that pay homage to the Disney villains.
Disney is an incredibly successful enterprise, not just for the extensive film franchise or the tickets to Disney World, but also for the huge variety of merchandise that can be purchased by Disney lovers to accessorize their life and really live Disney.
With the recent popularity of the Angelina Jolie-starred Maleficent, the popularity of Disney villains among Disney fans looks to be overtaking that of their 'better' halves. Here we look at the ways in which Disney villains are being celebrated in fashion, music and even cake, and just why so many are thinking it's good to be bad.
Evil fashion
The shoes
Cinderella's glass slipper may be the ultimate in Disney footwear, and this shoe came to life with the help of nine world famous shoe designers after the release of the 2015 Cinderella film, as shown in this Vogue article, but why should Cinderella have all the fun? Shoe designer Kobi Levi has produced three pairs of incredible Disney villain-inspired shoes in his witch-craft collection.
Here he tells us about his devilishly-gorgeous special collection.
"Walt Disney characters represent the ultimate fantasy. I loved them as a child and still do today. Their naivety captures and makes me feel like I'm in a magical world.
The Villains are special because they are iconic and interesting. They are most memorable for me. My choice to work with Ursula, Maleficent and the Evil Queen was an easy one. I always loved them. Although they are all stereotypes, each one has her uniqueness and a distinct character and temperament.
Maleficent is elegant, respectable, impressive and wise.
Ursula is funny, amusing and cunning.
The Evil Queen is cold, distant, majestic and beautiful.
The main guideline for the design work was to stay true to the main features and to the essence of each character. This means that the shoe becomes a canvas on which the silhouette, lines and colors of each character are displayed. The specific last and 'hidden-heel' were chosen because they enable greater room for the features of the character to shine forth. The result is a shoe silhouette which blends into the shape of the feet (if worn) and accentuates them.
As challenging as the work was, so is the reward in seeing these iconic ladies come to life. I hope you will like them too."
See the Kobi Levi Design website to view more of his incredibly creative designs.
The blog
Disney fashion blog Maison Mouse is run by Kiki Levin and features all the best Disney fashion there is. Her Disney villains section is particularly thorough in sourcing and referencing the best Disney villain-inspired fashion items out there. Past posts include features on Disney villains makeup and even one article on Kobi Levi Designs!
Here she tells us a bit about her blog and her favourite Disney villain.
"It's a London-based style blog focusing on the latest Disney-inspired trends and fairytale fashion from around the world. I started it a couple of years ago to indulge my love of all things Disney and fashion and have discovered a wonderful community online and in real life at conventions and, of course, at the parks. My favourite Disney villain has to be Maleficent, if only because she really knows how to style a cloak. Plus who wouldn't want a pet raven called Diablo!"
The clothes
Forget Disney fancy dress, Disney villain fancy dress is just so much better. Black Milk Clothing is a well-known clothing company whose collections include DC Comics, Hogwarts, Game of Thrones and, of course, Disney. Their Disney villains-inspired pieces include the stunning Disney Villains Leggings and the statement Ursula GF Bomber jacket. We defy you not to give an evil cackle when your order arrives!
Evil music
Everyone knows that Disney villains get the best lyrics in Disney films.
"It's the ends of the earth - whoopee!" – Jafar, "Prince Ali (Reprise)"
"Yes I've had the odd complaint, but on the whole I've been a saint" – Ursula, "Poor Unfortunate Souls"
"I know that your powers of retention, Are as wet as a warthog's backside" – Scar, "Be Prepared"
And that is just a taste. So what happens when you get them all together to do a take on OneRepublic's Counting Stars? Just watch the below video. Who knew that sharpened teeth and a lot of red lipstick could add so much to great voices?
We got in touch with actor and singer Matt Drago, who plays the part of Scar in the above video, and here's what he had to say about the performance.
"I've been a huge Disney fan all of my life, so getting to play Scar was a dream come true. I love that they are turning so many of the Disney animated classics into live action films, and getting to be even a small part of that in the music video for "Counting Scars" was very exciting. We had such a great response to the video, and it has been very cool to connect with so many Disney fans from around the world because of it!"
You can check out all of Matt's latest projects on his website. Most recently he finished filming on a new pilot in another singing role. He also just had a role in the feature film What Would Jesus Do: The Journey Continues.
Other cast members include Gilli Messer, who had the powerful part of the Evil Queen herself, and Michael D'Elia, who had the part of Captain Hook. Check their websites to find out more about their latest evil plots creative projects!
Evil cake
We've often been told that a slice of cake can be a bit naughty, but how about this wicked creation by Italian cake designers Le Torte di Renato? With a few Disney creations under their belt, the Disney villain cake surely has to be their masterpiece.
These are just a few of the ways you can embrace the Disney villains epidemic if you have bought Orlando family tickets to see the villains in the flesh. Who knows, they might sign your Evil Queen Bomber jacket if you ask nicely. But then again probably not; they are evil after all!
Image Credit: Paul Wilkinson (flickr.com) Adapted from the original. Kobi Levi Footwear - Art Photographer: Shay Ben-Efraim, Maison Mouse, www.blackmilkclothing.com, Matt Drago, Renato Ardovino - Le Torte di Renato