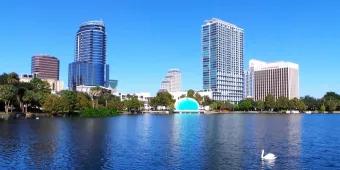 By ATD's Florida Experts, Susan and Simon Veness
Walt Disney World is like a second home to you. Finding your way through Diagon Alley's nooks and crannies? Childs-play. Think you really know Orlando? If you haven't done these nine things, think again.
Grab a Sandwich at Yellow Dog Eats: This restaurant is a serious locals' favourite, especially when a live band is playing in the outdoor garden. They're known for their sandwiches, but we're not talking about a couple of pieces of bread with a little bit of meat and some tired lettuce between them. We're talking about towering assemblages the likes of which you've never seen before, and in combinations no mere mortal could dream up (witness the freakish Kitty Kat, made with marinated Albacore tuna, sun dried cranberries, smoked gouda, caramelised onions, leaf lettuce, sunflower sprouts, and orange Cointreau mayo on multigrain bread). They've got other choices beyond sandwiches, of course, but why mess with perfection?
Celebrate a Holiday in Celebration: Everyone knows it as "the Disney town of Celebration," but there is very little "Disney" about it and a whole lot of "hometown," and that's never more true than during a holiday, such as Fourth of July, Halloween, or Christmas.  Events include free live music, paid-for carriage rides, food, and drinks. Fourth of July features a parade and fireworks; Halloween brings Trick-or-Treating; and Christmas adds the Now Snowing celebration, with a skating rink and "snow" on Main Street. Always wanted to dine outside in December? It's likely you'll be able to do that here.
"Swim" with the Lake Eola Swans: Lake Eola is an icon of downtown Orlando, and its special enough that Disney chose to put an outdoor bandstand along the 1.7km walkway that encircles the lake. This is indulgent strolling territory, with a lovely play area for children. But the must-do activity is to hire a 5-person, covered Swan Boat and get out on the water with the lake's famous swans. Nearly anyone can maneouver these cute paddle boats, and wheelchair-accessible boats are available.  An enormous Farmer's Market sets up on Sundays, with a vast array of fresh foods and crafts.
Brunch al Fresco in Winter Park: If you've been to Winter Park before, you already know about the great boutique shopping and the fab Scenic Boat Ride. But the iconic Winter Park experience is dining al Fresco along Park Avenue, and the meal the locals come out for is brunch, especially on Sunday mornings.  It's a social time, usually tourist-free, with lots of dogs out for their stroll and plenty of creative cuisine to start your day off right. Visiting on a Saturday? Don't miss the Farmer's Market, with the chance to stock up on fresh fruits, home-made baked goods and interesting cheeses.
Bump Noses with Manatees:Okay, so it's not strictly IN Orlando, but it's such a big part of Central Florida's identity it simply has to be included. Cold winter waters bring manatees into the rivers, and that's your chance to get in the water with them, or view them from land or by kayak. You have to be part of a tour to swim with manatees, and interactions are strictly regulated for the safety of the animals, but don't worry; manatees are curious creatures, and it's likely you'll have one or two come right up to you and check you out! Already swum with manatees? Take it to the next level by going scalloping, from June through September.
Be a Wilderness Explorer:  Why come to Florida if you're not going to see the REAL Florida? Take a break from the make-believe and get out into Orlando's wilderness, where pristine lakes, scrub pine and the sounds of nature replace castles and staged shows. Thrill-seekers should make a bee-line for a Mucky Duck, ATV or open-top Jeep, while those of a more sedate mindset can explore field and forest on horseback. Whether you ride the vehicle of your choice or you just take a hike in the woods, there are numerous opportunities to experience the natural side of the Sunshine State.
Golf, the Easy Way: Florida is renowned for its fantastic golf courses, and those with any level of skill should take advantage of 85 courses in Central Florida alone, 30 of them within 20 miles of Walt Disney World. But let's face it: golf is hard and kicking a ball is not, so why not combine the two and play a round of Footgolf? All ages and skill levels can participate, and if you don't feel like straying too far from Theme Park Central, there's a footgolf course at Walt Disney World's Oak Trail golf course.
Get Close-Up with Florida Natives: Gatorland, the long-standing gator park, was among Orlando's first tourist attractions, opened in 1949 and now a local institution. But you're not visiting just for the history; you're going for the chance to see hundreds of gators, from newly-hatched to the granddaddy of them all, Chester "the dog eater," who weighs in at a whopping 1,000 pounds (more than 71 stone). Gatorland also has four rare leucistic gators (which means they're white, but not albino), an albino gator, crocodiles, other reptiles, rescued bobcats and Florida panthers, and other rescued wildlife deemed un-releasable.  Zipline over the Gator Marsh, take a train ride, watch a show or bounce along Florida's "wilderness" on the Stompin' Gator Off-road Adventure. It's Orlando's "theme park" before Orlando had theme parks.
Search for Glowing Red Eyes: Imagine flying over a still, dark lake with a searchlight scanning the water when suddenly, you see them: glowing red eyes, like tiny headlights, and they're looking right at you. That's the thrill you'll get with a night-time airboat ride, and it's a true Florida speciality. You don't have to make the 4–hour drive down to the Everglades to see it, though. Wild Florida will get you out on the water where the gators are, whether at night or in the light of day. Make a full day of it with lunch from the Chomp House Grill and a stroll through the Gator and Wildlife Park. You can even take a selfie with a sloth!
We always say "Orlando is more than just theme parks," and often, it's the more low-key, less-obvious experiences that make you feel you know this fabulous city that much better.
How many of Orlando's must-do alternate experiences have you done? Which ones will you add to your list? Join us on Attraction Tickets Direct's discussion forums and share your experiences!
Liked this post? You may also like...