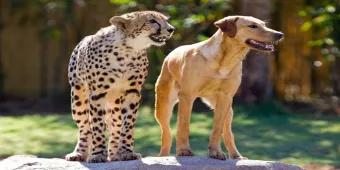 Pup and Cub celebrate a year of friendship and residency at Busch Gardens...
Busch Gardens reveals an unlikely friendship between Kasi the Cheetah and Mtani the golden Labrador could last a lifetime!
We love an animal story, but very often the stories we bring to you are about endangered animals being rescued. Today we are extremely happy to tell you an animal story that is uplifting from start to finish!
On the 16th April 2011 Busch Gardens Tampa revealed to those with their
Busch Gardens tickets
an unlikely friendship form between an eight week old male Cheetah cub named Kasi and 16 week old female golden Labrador named Mtani. To the delight of park guests, the pup and cub enjoyed playing together and shared an undeniable warmth. However, Busch Gardens' animal experts were sure to supervise the blossoming friendship.
A year later, Busch Gardens has unveiled that Kasi the cheetah and Mtani the Labrador have been living together, sharing the Cheetah Run habitat. The friends not only live together, they play together, train together, exercise together and even travel together for educational events.
Although the friendship between cheetahs and Labradors might not be common to most of us, it is not unheard of for an individual cheetah to be nurtured with a canine friend.
Kasi and Mtani not only celebrate a year's residency at Busch Gardens, but the first year of their cute companionship! A friendship that Busch Gardens experts say is likely to last a lifetime...Awww!
Get your Busch Gardens' tickets and head to the Cheetah Run habitat to see the cute couple cohabit!