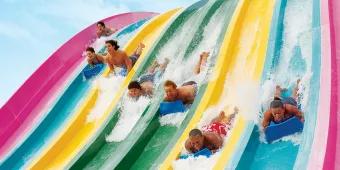 Get ready to make a splash!
Our top pick of the 5 Water Slides you have to try at Aquatica...
If you're looking for a way to cool down from the Floridian heat, a visit to Aquatica water park is one of the best ways to do it! As well as family-friendly attractions, there are some mammoth water slides to conquer, so if you're up for the challenge, check out our top pick of the water slides you simply have to try at Aquatica...
1. Ihu's Breakaway Falls
Aquatica's most daring water slide is without a doubt the mighty Ihu's Breakaway Falls. Get ready to take the plunge on the tallest, steepest and only multi-drop tower slide of its kind in Orlando. Feel the fear build inside you as you climb 126 steps to the top of the tower (which is almost 80-feet high!) and take in spectacular views of the entire park.
As the seconds count down, brace yourself for an epic drop as you plummet down the slide. The heartbeat sound effects will get your heart racing (even more than it was before) as you scream all the way to the bottom. Named after Ihu- the park's colourful gecko, this exhilarating attraction is definitely not one to miss, especially if you consider yourself a bit of a thrill seeker.
2. Dolphin Plunge
This is one of the park's most popular rides and once you see it, you'll know why! Made up of two side-by-side enclosed tube slides, you'll be sent racing into an "underwater world" that's home to a playful pod of dolphins! The clear tubes mean you'll get a perfect view of the beautiful creatures (if you can keep your eyes open that is) as you zoom past. Known for their super-fast speed, the black and white Commerson's dolphins might just be going as fast as you. If you're looking for something a bit different, this is the ride for you.
3. Taumata Racer
If you're visiting with the family or a big group, things could get pretty competitive on this water slide! The multi-coloured attraction lets up to 8 people compete against one another in an exciting battle to reach the bottom first. Choose a colour, get into position, and get ready to race down the incredibly steep hill on foam mats. This fun water slide is one you'll want to ride over and over again.
4. HooRoo Run
HooRoo Run is definitely not for the faint-hearted. The exciting attraction lets you experience an incredible feeling of weightlessness as you soar down the slide at top speed. The 7-foot-wide flume can take 3 riders at a time, so you won't have to face your fears alone. Prepare for the ultimate adrenaline rush on this 6-storey, 250-foot, triple- drop water slide!
5. Walhalla Wave
For something a bit tamer, but still packed with plenty of thrills, try Walhalla Wave. This raft attraction is great fun for the whole family, as up to four people can ride at the same time. Your adventure takes you through a 6-storey maze of twists and turns, before sending you into a tunnel where you're plunged into total darkness!
Think you've got what it takes to brave these incredible water slides? Click here, to view our Aquatica tickets.
For more blog posts like this try…