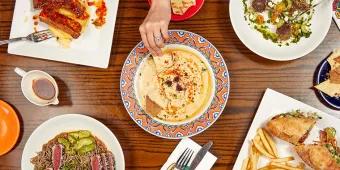 Loosen your belt and dig into these new dishes!
One of our favourite restaurants at Universal Orlando Resort has got some tasty new additions. Check out the new menu at Confisco Grill.
Escape the crowds and head for lunch or dinner at Confisco Grille, with dishes inspired from across the globe. With brand new options, there's never been a better time to tuck into a meal at one of Universal's best-loved dining spots. 
Pork Belly Banh-Mi Sandwich 
A hearty sandwich inspired by the classic Vietnamese snack, this Banh-Mi sandwich comes with cooked pork belly and a blend of fresh vegetables (pickled carrots, daikon radish, cucumber), topped with a tasty chili aioli sauce. 
Chilled Tuna Noodle Bowl 
A light and refreshing dish, this is perfect if you want something a little different from fried food and ice cream. It's also one of Chef Gus's favourites! "The Chilled Tuna Noodle Bowl is a good one, with the fresh ingredients yellowfin tuna and buckwheat soba noodles," says Chef Gus. "You can't find anything else like this park-wide except for a Confisco."  Tuck into sesame seared yellowfin tuna, soba noodles, green onion, avocado, edamame, cucumber and a wasabi-ponzu dressing. 
Hearthstone Baked Chicken Sandwich
A far cry from your typical chicken sandwich, this delight is baked in a wood oven with melted mozzarella cheese too. What's more, Universal also bakes its bread on property! Enjoy mozzarella cheese, Roma tomatoes, leaf lettuce, basil aioli, aged balsamic and focaccia, with your chicken.

Hummus
Great as a snack or side with your main meal, you can't go wrong with hummus. Confisco regulars will be pleased to know that it's still the classic hummus recipe, only with a brand new look. "It's that same flavourful hummus you could get before but with an elevated presentation," says Chef Gus. "It makes it more shareable and a more immersive experience for the guest."  Tuck into Middle Eastern flavoured hummus, kalamata olives, olive oil and charred pita and lavosh for dipping. 
Grilled Lamb Meatballs
There is such a thing as a good lamb meal in a theme park, as this dish from Confisco Grille proves. Ideal for sharing, enjoy grilled spiced lamb meatballs with tzatziki sauce, tomato-cucumber relish, feta cheese and mint chimichurri. 
Sweet and Sour Sticky Ribs 
Another diner favourite, the ribs are thankfully staying - they've just been changed up a little bit, to sticky pork ribs with sweet and sour sauce. There's perfectly cooked Philippine-inspired smoked pork ribs which fall off the bone, smothered in a sweet and sour sauce. This is all nestled on a bed of creamy goats cheese polenta, topped with toasted sesame seeds.
Don't worry, other classic dishes still remain on the menu too. Traditional diners can still find the juicy Confisco Burger, the sizzling Port of Entry Fajitas, and iconic Trader Wings.  
For those with specific dietary needs, there's also a range of dishes for you to pick from. At Confisco, you'll find plant-based dishes, gluten-free options, and much more. Your waiters will be on hand to answer any questions and advise which dishes can be altered to cater for your needs - e.g. the tuna in the Chilled Tuna Noodle Bowl can be swapped for tofu instead! 
More about Confisco 
This fantastic restaurant has been welcoming diners since Islands of Adventure first opened in 1999, serving as a great resting spot for all explorers coming through Port of Entry. 
"The story behind Confisco connects to Port of Entry, which is exciting because it gives us a mixture of global cuisine to work with," says Chef Gus. "There's Asian influence, Turkish, Mediterranean, Greek, Russian, Polish and more." 
What's perhaps most interesting is how much time and research went into bringing the dishes to life:
"It took us months of researching all these different flavours and spices," Chef Gus explains. "Even looking back to the 17th and 18th centuries and seeing how dishes were cooked then - in wood ovens and cazuela posts, which we use to cook here in the restaurant."  
There's also a sense of 'elevating' the dining experience at Universal, which Confisco Grille is leading the way in: "Our guests are asking for this. They want more than just pretzels and fried food. We're bringing different dishes and ingredients to the parks that you can't find anywhere else throughout Universal," explains Chef Gus. 
The kids menu is also planned a revamp, so that there are more diverse and healthy options. As Chef Gus rightly points out, "nowadays we see kids eating what their parents are eating, so why not throw sushi on the kids menu?" 

Ready to take a visit to Confisco Grille at Universal's Island of Adventure? Browse our Orlando attraction tickets now.