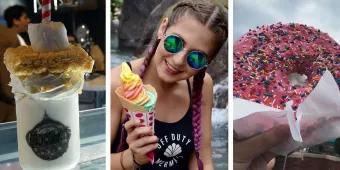 Must-try snacks!
From Butterbeer treats to rainbow ice cream, here's the top 6 Snacks you need to try at the Universal Orlando Resort...
1. Waturi Fusion Ice Cream
The Waturi Fusion ice cream is an eye-catching snack that definitely deserves a place on your Instagram! The vibrant dessert is made up of four tasty flavours, including banana, orange, strawberry and blue raspberry, all served in a crispy waffle cone. Volcano Bay's food menu has a tropical theme, and the colourful swirls of this mouth-watering dessert fit the theme perfectly. You can also add extra toppings, including rainbow sprinkles.
Where can I get it? Koka Poroka Ice Cream Stand (Volcano Bay)
2. Brookie
This is one of Universal's signature snacks and also one of the cheapest on our list, costing less than $3. Never heard of a Brookie? Well, Universal have put two great snacks together to make something even better. Like the name suggests a Brookie is a delicious combination of a chocolate chip cookie and a gooey chocolate brownie! This is the kind of snack that will keep you coming back for more.
Where can I get it? Beverly Hills Boulangerie (Universal Studios Florida)
3. The Big Pink
If you're feeling hungry, this is a snack that's definitely going to fill you up. The Big Pink doughnuts aren't just big, they're HUGE. When we say huge, we mean the size of your head huge! Covered in bright pink, creamy frosting and hundreds of rainbow sprinkles, these delicious treats really are hard to resist. You can also get smaller versions too, but if you feel like going all out treat yourself to the Big Pink and share it with a friend. You are on holiday after all!
Where can I get it? Lard Lad Donuts (Universal Studios Florida)
4. Marshmallow Crisp Milkshake
The Toothsome Chocolate Emporium and Savoury Feast Kitchen is famous for its mega milkshakes, and a visit to the Universal Orlando Resort wouldn't be complete until you've tried one. The Marshmallow Crisp shake is made up of vanilla ice cream, rice crispies, marshmallow fluff and fresh whipped cream with a Rice Crispies treat on top! You can also get Cinnamon Fantasy, Chocolate Banana Brain Freeze, Heavenly Hazelnut and even Bacon Brittle flavoured shakes!
Where can I get it? Toothsome Chocolate Emporium and Savoury Feast Kitchen (Universal CityWalk)
5. Florean Fortescue's Ice Cream
Another great ice cream choice has made it onto our list, because when you're spending the day in the Floridian heat, an ice cream (or two!) is essential. Head to Diagon Alley to get your ice cream fix, with a whole range of tasty flavours to choose from including Banana, Chocolate, Granny Smith, Mint, Pistachio, Vanilla, Orange Marmalade, Toffee, Toffee Apple, and Strawberries & Cream.
If you're feeling a bit adventurous, you could try one of the more unique flavours, like Chocolate Chilli, Earl Grey & Lavender or Strawberry Peanut Butter, but our favourite has to be the Butterbeer flavour!
Where can I get it? Florean Fortescue's Ice Cream Parlour (Universal Studios Florida) 
6. Butterbeer Fudge
Those of you with a serious sweet tooth are sure to love this amazing Butterbeer-flavoured fudge. The soft fudge melts in the mouth and tastes like a mixture of butterscotch and creamy caramel. This is a great snack to grab on the go and is easy to take home if you want to bring the Wizarding magic back with you (who doesn't?). This is just one of many Butterbeer treats at the Wizarding World of Harry Potter. You can also indulge in Butterbeer ice cream, Butterbeer potted cream, hot Butterbeer and frozen Butterbeer!
Where can I get it? Honeydukes (Hogsmeade) and Sugarplum's (Diagon Alley)
Already thinking about your next holiday? Click here, to view our Universal Orlando Resort tickets.
For more blog posts like this try…
Find out all the latest news from Orlando in our BLOG