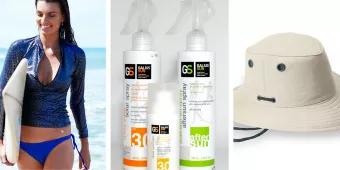 The items you need to bring to a water park
Planning a visit to one of Orlando's amazing water parks? We've created a guide about everything you need to bring to a water park...
If you love water parks, then Orlando is definitely the place to be! There are so many incredible water parks to choose from, like Disney's Typhoon Lagoon, Aquatica and Discovery Cove, as well as Orlando's newest 'water theme park' Universal's Volcano Bay. From fun water slides to relaxing beaches, the Orlando water parks have something for everyone. 
Whilst visiting a water park is certainly a fun experience and will be a day you will never forget, to make the most of your day you will need to pack for the park.
So if you are looking to buy Universal Orlando tickets and want to head to Universal's Volcano Bay Water Park or one of Orlando's other amazing water parks, then read our guide about what you need to bring and save yourself the pre-stress.
Backpack

Sun Cream

A hat

Rash guards

Wallet

Mobile phone charger

Go Pro

Swimwear

Beach towels

Extra clothes

Plastic bag

Sunglasses

Water goggles
Sun cream
Orlando can get really hot, especially in summer, and with exposed skin being part and parcel of a trip to a water park you will need to bring sun cream.
Ideally it should be water resistant or waterproof and have a high SPF. If it's lightweight, non-greasy and long-lasting, even better! If you have been sun burnt or have spent too much time in the sun, you should also use some After Sun Lotion to help moisturise and revitalise the skin.
A hat
Another vital item to take to a waterpark is a hat. It is really important to protect your head from the sun, especially if you want to avoid the painful red raw sunburn that you sometimes see on people's scalps.
If you are someone who always somehow burns your neck, then another hat to consider before your trip to a waterpark is a hat with a neck cover. This not only keeps the sun off your face but your neck as well- perfect for a day in the sun. 
If you're visiting with little ones, make sure you pack a children's hat for them too.
Rash guards
If you are worried about going down slides with your bare back and want something slightly more stable that still looks incredibly stylish, a rash vest is for you.
These will keep you protected from the sun all day long!
Rash vests are available for men, women and children, so make sure you buy them before your visit to the water parks. If you are concerned about getting sun burnt or getting a friction burn, then this will put your mind at rest.
Go Pro
After getting your tickets for a Florida waterpark you should consider buying a Go Pro to record your experience.
Whenever you come back from a holiday you want to tell friends and family about your experience and how quick or terrifying the water slides were, but why not go a step further and actually show them?
With the Go Pro Hero4 Silver you can as it is waterproof (up to 40 metres deep) and features Protune for photos and video, meaning that you could take it on a slide with you!
The Hero4 Silver even has built-in Wi-Fi and Bluetooth, so you can instantly post videos or photos of you and your family at a Florida waterpark to all your social media profiles.
Swimwear
Obviously taking your swimwear to the water park is essential and if you want to look the part then you could even get a new swimsuit for the occasion. We'd definitely recommend a swimsuit over a bikini, as these are much more likely to stay in place when you're zooming down the water slides. You don't want to have any embarrassing moments after all!
Beach towels
Another item you should bring to a water park is a beach towel. Although most water parks do provide towels, it is best to take one just in case - you can use one for drying and one for lying on as well. Plus, you won't have to pay a rental fee. 
Image Credit: Galius Sun, Hats and Caps, Mi Ola.
Click here, to view our great value theme park tickets, including some of Orlando's best water parks!
For more blog posts like this try...