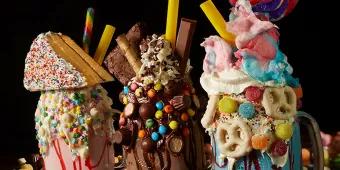 Disney's must-try drinks!
From mammoth milkshakes to Disney classics. Here's our pick of the 6 drinks you must try at Walt Disney World…
1. Night Blossom
You can't visit Disney's Animal Kingdom without stopping to explore the wonders of the new 12-acre land- Pandora The World of Avatar. While you're there, make sure you stop at Pongu Pongu for a drink. This quirky drink stand is run by an expat who fell in love with Pandora and never left.
For something to quench your thirst, we'd recommend the 'Night Blossom'. This delicious drink is made up of layers of apple and pear limeade topped with passion fruit Boba balls that burst in the mouth! Not only does it taste great, but it will certainly brighten up your Instagram page.
Where to get it? Pongu Pongu at Disney's Animal Kingdom
2. Strawberry Big Bang Milkshake
After a long day exploring the parks, Disney Springs is the perfect place to go for a bit of dinner. The Planet Hollywood Observatory will keep the whole family entertained thanks to its live entertainment, 4,500-square-foot video wall and incredible displays of Hollywood memorabilia. Although, one of our favourite things here has to be the milkshakes!
It's hard to choose between them as they're all amazing, but we'd recommend the Strawberry Big Bang. This epic hand-dipped strawberry milkshake is covered with rainbow sprinkles and topped with a huge slab of birthday cake!
Where to get it? Planet Hollywood Observatory at Disney Springs
3. LeFou's Brew
Fans of Beauty and the Beast will be familiar with Gaston's sidekick LeFou. At Gaston's Tavern, you can try the specialty drink named after him. This fruity concoction is a mixture of frozen apple juice, with a hint of toasted marshmallow, topped with all-natural passionfruit-mango foam. You should definitely put this on your must-try list, and if you want something special to take home, choose the souvenir cup. While you're there, see if you can find Gaston outside.
Where to get it? Gaston's Tavern at Magic Kingdom
4. Raspberry Lemonade Frozen Slushy
Florida is famous for its beautiful sunshine, but after hours exploring the parks in the heat, you'll need something to cool down. Take a break and enjoy a refreshing raspberry lemonade frozen slushy. These fruity treats are delicious and just what you need to refuel for more theme park fun. You'll even get a souvenir Mickey straw to keep.
Where to get it? Multiple locations at the Magic Kingdom (including Cheshire Cat Café)
5. Dole Whip
This could be classed as more of a dessert than a drink, but it's a close call (plus we love it!), so we just had to include it on our list! Dole Whip's are one of the most famous Disney snacks and once you taste one for yourself, you'll realise why.
The mouth-watering treats are made of sweet pineapple-flavoured soft serve and you can also get Dole Whip floats which are drizzled with pineapple juice. Millions are sold at the Disney theme parks each year, so if you want to see what all the fuss is about, make sure you give it a try.
Where to get it? Various locations- you can even get a rum-infused Dole Whip at Tamu Tamu Refreshments at Disney's Animal Kingdom
6. Coca-Cola- with a twist!
Disney's Epcot lets you experience the culture, traditions and food from all over the world and at Club Cool, you can try different varieties of Coca-Cola from around the world too. You can help yourself to complimentary samples of the refreshing drink from the self-serve soda dispensers and try as many flavours as you like!
Sparberry- a raspberry cream-flavoured soda, is one of our favourites, and we also love the Fanta Melon Frosty, which is hugely popular in Thailand. There's plenty more to try too, with Coca-Cola varieties from Brazil, Peru, Zimbabwe and many more. Spend some time sampling the flavours to see which is your favourite.
Where to get it? Epcot
Want to experience the Disney magic for yourself? Take a look at our great value Walt Disney World Resort tickets.
For more blog posts like this try…
Find out all the latest news from Orlando in our BLOG