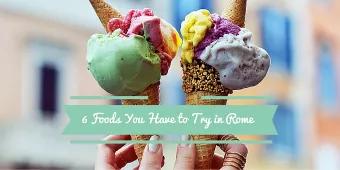 Check out these amazing culinary feats you have to try in Rome...
One of the best things to do in Rome is to spend a day (or a whole weekend, we're not judging) sampling the foodie delights, so, what are you waiting for...get stuck in!
1. Authentic Roman Pizza
Pizza in Rome is served super thin with no crust and just the right amount of 'char' from the wood-fired oven so make sure you try at least one of these tasty pizzas while you're in Rome! On the Rome Food Tasting by Bike tour you'll get to learn how this traditional pizza is made in an artisan bakery as well as getting to taste the goods after! If you want to try something a little different, make sure you stop one lunch time for a pizza 'bianca' – a white focaccia pizza bread served in bakeries all over the city.
2. All-Natural Gelato
Possibly THE thing you go to Rome to try, Gelato is everywhere in the city. But GOOD gelato is a whole other matter. If you want to learn about the difference between traditional gelato made with natural ingredients and the artificial stuff, check out the 'Rome Culinary Tour – Eat as the Romans Do', where you'll sample some of the best gourmet gelato in town and take a great Instagram photo too.
3. Tripe
Although tripe might not sound like the most appealing dish next to all the pasta and pizza options in Rome, it's a very traditional dish that it well worth a taste! The history of creating dishes from offal and tripe comes from the workers' wives making cheap and tasty dishes from the leftover meat from the butchers, particularly in the neighbourhood of Testaccio, which is now famous for its signature tripe dish. Try it cooked in a rich tomato sauce with pecorino cheese – you won't regret it!
4. Ultra Cheesey Pasta
Prepare yourself for some of the best pasta dishes of your life on your Rome holiday. Some of the most famous and popular pasta dishes in Rome include Carbonara, made with eggs, parmesan cheese, bacon and lashing of black pepper,and Cacio e Pepe, which is served up with black pepper and pecorino romano cheese. Yum! You can try two famous pasta dishes on the 'Rome Culinary Tour – Eat as the Romans Do', which come paired with complementing delicious local wines.
5. Fried Artichoke
If you're visiting between February and May, make the most of artichoke season in Rome. Roman artichokes are so famous, they're even protected by the European Union, so treat them with the reverence they deserve and head to the Jewish Quarter to taste them sautéed in lemon and wine by expert chefs. You'll visit the Jewish Quarter if you take the Rome Food Tasting by Bike, so keep your eye out for a spot to try out some of the tasty greenery.
6. Suppli
If you're looking for a small snack to enjoy with a beer or a glass of wine, you should try the Roman classic suppli. Suppli are made from a ball of risotto rice mixed with tomato sauce and raw egg before being deep fried. They are similar to the arancini you'll find in Siciliy but the Suppli recipe is native to Rome. They're very more-ish though, so watch out! 
Excited to eat your way around Rome? Check out our amazing range of Rome food and wine tours to start off your holiday in the right way.
Liked this post? You may also like...