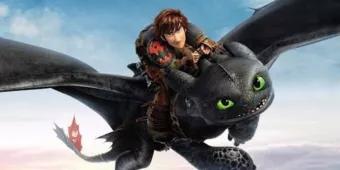 A new beast has arrived!
A new themed land has opened at Dubai's Motiongate park based on one of DreamWork's most popular films…
If you love the animated film 'How to Train Your Dragon', you'll love the brand-new land which opened at Dubai's Motiongate park this week. Located in the DreamWork's zone of the park, the new land will eventually contain 3 brand new rides suitable for a variety of different ages.
The soon-to-be-opened Dragon Gliders will be the big-ticket attraction of the land, and will give park guests the opportunity to experience what it's like to fly with dragons Hiccup and Toothless. During the ride, guests will fly over the Great Hall and the village of Berk and take in the beautiful scenery as the ride operators stop, speed up and slow down the ride to give you the best flying experience possible!
Watch the video below for a behind the scenes look at the creation of this ride and where the creators found their inspiration…
For younger ones, the Swinging Vikings ride is perfect. The attraction takes you on an adventure with Ruffnut and Tuffnut as they hijack a Viking ship. The attraction is full of crawl nets, water guns and, of course, dragons so it's perfect for little ones.
This new land joins the 3 existing lands based on popular animated films in the DreamWorks zone in the park: Shrek, Kung Fu Panda and Madagascar. The zone is an all-indoor environment which brings to life these animated films in this Hollywood-inspired theme park, which you don't want to miss if you're heading to Dubai. 
Booking a trip to Dubai? Don't miss out on the incredible Motiongate theme park! Buy your tickets here...
Liked this post? You may also like...