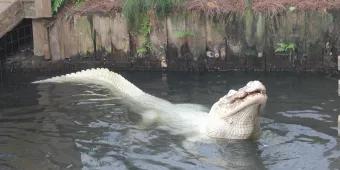 By ATD's Florida Experts, Susan and Simon Veness
Our Florida experts got an exclusive first glimpse at the new White Gator swamp in Gatorland!
As three of Gatorland's white gators lumbered toward their new habitat, their handlers shouted encouragement, saying, "Show off, buddy, show off!" and "I'm so proud of you, man!" Gators aren't puppies, and they're never treated as such, but it's clear the people who work with them consider them part of the family.
We attended the grand opening of Gatorland's White Gator Swamp, a big step forward in the park's dedication to saving albino and leucistic alligators, whose chances of survival in the wild are, according to the sign at their exhibit, "basically zero."
Mark McHugh, President and CEO of Gatorland, is as much a character as the stars of the new swamp, chatted with us about Gatorland's exciting new development, and how it came about.
Mark McHugh, President and CEO of Gatorland 
Tell us about the three male gators you've just released into the White Gator Swamp
"Feros Zombi—his name is 'fierce zombie' in Cajun—is the bigger one, and he jumped in the water and started eating right away. He's pretty crazy. Trezo Je, which is 'blue eye' in Cajun, he's kind of shy. He moved off into the plants for a little bit. Pearl is a big showman. You've probably seen him in our social media. He jumped right in the water. Even though they're alligators, they have very distinct and individual personalities."
Can you spot Trezo the gator? 
The area is themed as a little town. What is the story behind the theme?
"We have three different exhibits and each one is named after one of the children of Owen and Pearl Godwin, who started Gatorland back in 1949. They had four children—Owen Jr, Sue, Mary-Lou and Frank. Frank's wife was Joanne, so we have Joanne's Country Fixins', Owen Jr's Everything Emporium, and Sue's Comfort Motel, as a tribute to the founder's second generation, who have been working in this park since 1949 and are the reason Gatorland is here today."
The White Gator swamp habitat
Pearl is an albino gator, with white skin and pink eyes, but with only 12 known leucistic gators in the world, Feros and Trezo, with their patchy white skin and blue eyes, must be pretty special.
"They're priceless. There are only a few of them in the world. Hopefully we can fix that, and have a whole lot more born here in the next few years."
How did Gatorland get its white gators?

"I started running the park in 1996, and just a month or two after I started the Audubon Zoo called me up and said, 'Can we get a natural-colour gator—a big, pretty one—from you?' I said, 'I got a whole lake-full!' So we grabbed one, put him in a U-Haul, and my boys drove him to New Orleans. We gave Audubon that alligator and forgot all about it.
"Then we had the 2006 fire that burned down the front of our building, and we were really struggling. In late 2007 the Audubon Zoo called me and said, 'Hey, Mark, that alligator you gave us got a spot on his foot. We had to move him to a farm outside of New Orleans, so if you want him you need to come get him because that farm is going out of business. By the way, we've got some white alligators there with him, if you want those, too.' I was like, Yes! I said, 'Oh yeah, man, I'll take those off your hands, too.' It started with a trade that we had done in good faith—we didn't charge them anything for that natural gator—and when we were struggling, trying to keep our doors open, good karma circled back around."
Pearl the White Gator
What effect did having the white gators have on attendance?
"We got these guys and we opened our new gift shop, our new building, and everything else in June, 2008, going right into the recession, and man, we were dying. We were going under. That Christmas we started a Florida Resident special, and the residents came piling in. We opened the white alligator exhibit in February 2009 and had a record spring and summer, when everyone else was gasping for air. It saved our rear ends. A good deed that we did ten years earlier came back and saved us when we needed it most."
Entry to the White Gator swamp
Is the White Gator Swamp the gators' reward for saving the park?
"Yeah! We put 'em in there with some females, and some turtles and fish and birds. It's awesome for them, and that's what's most important. Back in 1949 you had small exhibits, so we're really proud that all of our gators have big, beautiful, natural exhibits. It stimulates them to do what gators do best—eat, lay around in the sun, and make babies!"
Feros, diving into the swamp
Part of the reason for the move is to encourage a white gator breeding programme. Will that involve candlelit dinners and soft music? 
"Nah! Gators breed once a year, in the spring-time. All the alligators lay their eggs in June and all the babies hatch out in August, all over the state. That's the time frame next year that we're going to be really excited about."
A family-owned, roadside exhibit is now working world-wide toward global conservation. That must feel pretty good.
"We're very humble in what we've been blessed and able to do here. We were a family business that really scratched for money back in the '50s and '60s, before Disney came here; just a little roadside hole-in-the-wall. They had dug dirt out of the ground to make Highway 441, and the resulting pit collected water. Owen Godwin purchased that pit and that was our first alligator pond. Summer was the slow period here, before Disney came, and Owen would put an alligator in the back of a van, drive up the east coast during the summer, and charge people five cents or ten cents to look at a live alligator. That's how they got money to get them through the summers. It was really tough times.
"We're still family owned and operated, and this exhibit is in honour of some of those who have passed from that second generation. They were kids when this park opened in 1949, and they're still heavily involved in our Board of Directors. We wouldn't be anywhere without that generation, so it's our tribute to the family. Family means so much to us. For the park to be doing so well that we can now venture out and start providing resources and funding for saving crocodiles and alligators outside of Gatorland and around the world is just a blessing for us. And it's something we're proud to do."
Pearl, in the water
What would you say to British visitors who haven't been to Gatorland yet?
"Oh, man, if you haven't been to Gatorland you're missing alligator paradise! And it's not just alligators. We've got a zipline, a Swamp Buggy ride, all kinds of adventures and activities, plus three shows. Gatorland is far more than you expect. We hear that all the time when people are leaving. It's not just about alligators—although we love 'em, that's who we are. There's so much more here, you've really gotta come out and see us!"
We agree, and with the new White Gator Swamp and the chance to get right up close to these gorgeous reptiles, out in the open in their natural habitat, there's even more reason to visit than ever! Book your Gatorland tickets here. 
Have you signed up to our email newsletter? Add your details here and keep up to date with all the latest news and special ticket offers 
Read next...