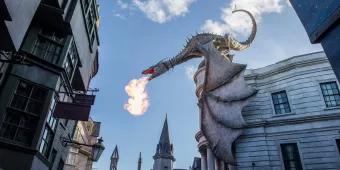 The best shops on Diagon Alley!
Diagon Alley is the place where all witches and wizards go to get their supplies. If you want to pick up some magical souvenirs for yourself, these are the shops you must visit…
If you're a Harry Potter fan, you'll be in your element strolling along the cobbled streets of Diagon Alley at Universal Studios Florida. This famous area is filled with fellow muggles and the streets are lined with fascinating shops where you'll find hundreds of unique and mysterious magical objects. Once you've changed up your money into Gringotts bank notes (you can actually do this!) these are the shops you must visit…
1. Weasleys Wizard Wheezes
This one has to be at the top of our list because it's one of our favourites! It's also one of the first shops you'll come across when you enter Diagon Alley. Run by the mischievous Weasley brothers Fred and George, this shop has everything you'll ever need for carrying out epic pranks just like them.
Filled with the weird and wonderful, this is the place to pick up Sneakoscopes, Skiving Snackboxes, Peruvian Instant Darkness Powder, Love Potions and much more. You can even find a cycling Dolores Umbridge and Extendable Ears, which you might remember from the movie. This handy device lets you eavesdrop on your friends! Pay a visit while you're here and see what amazing objects you can find.
2. Ollivanders
Another shop that really can't be missed! Ollivanders is the place to go if you want to pick up your very own wand. As we all know, in the Wizarding world the wand chooses the wizard, so step inside and see what awaits. If you want to choose for yourself, you can select a replica character wand, or choose an interactive wand. These will provide hours of fun as you explore the wizarding world, casting your own spells.
3. Sugarplum's Sweet Shop
If you've got a serious sweet tooth a visit to Sugarplum's is a must. This is the place where you'll be able to purchase tasty snacks as well as souvenirs that your friends and family will love. When you walk inside, you'll be amazed with the amount of sweets and colourful confections that fill every inch of the shop.
You'll be able to get all the snacks you've seen on screen, like Bertie Bott's Every Flavour Beans, Pumpkin Pasties and the famous Chocolate Frogs. We also love the Cauldron Cakes which are made up of a rich chocolate cake (served in a cauldron of course!) topped with vibrant orange and yellow buttercream flames.
4. Borgin and Burkes
This shop is notoriously popular with dark wizards, so if you think you belong in Slytherin house, this is the shop for you. When you walk inside the dark and dingy store, you'll find all kinds of mysterious objects, from Death Eater masks to skulls. Some of the items are even known to conceal powerful dark magic, so be careful what you buy!
Look out for the Vanishing Cabinet in the corner- this was famously used by Draco Malfoy to sneak Death Eaters into Hogwarts Castle. If you listen closely, you might even hear something inside.
5. Magical Menagerie
If you're visiting with little ones, stop by Magical Menagerie to pick up a 'pet' that they can take home and keep forever. Universal explain; "If it croaks, creeps, leaps, slithers, or flies, it can be found in this colourful shop". From weird and wonderful magical creatures to the characters own beloved pets, the choice is yours. Look out for cuddly versions of Fawkes the phoenix, Fluffy the three-headed dog, Crookshanks the cat, Fang and Hedwig.
You can also buy an adorable Pygmy Puff. These fluffy creatures are either pink or purple and are hard to resist. If you choose to take one home be prepared for an official naming ceremony in front of the entire store.
Want to experience the magic for yourself? Click here, to view our great value Universal Orlando Resort tickets.
For more blog posts like this try…
Find out all the latest news from Orlando in our BLOG