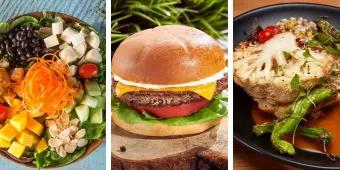 Think vegan eating has to be boring? Think again…
Eating out with dietary requirements has never been easier, and at Universal Orlando Resort, these vegan dishes are proving that it can be tasty too!
Visiting somewhere like a theme park may be daunting for those who follow a particular diet. You don't want to let something like worrying about where to eat, dampen all your high-thrill fun! 
Luckily, many of the Florida theme parks now cater for people with dietary requirements, including those who eat vegan. Check out these delicious-sounding dishes available at Universal Orlando Resort, all of them vegan friendly!
Cauliflower Steak
Served at the Universal CityWalk's newest addition, Bigfire, this hearty cauliflower steak fits perfectly with the 'campfire' theme of the restaurant. Enjoy it with Shishito peppers, roasted vine tomatoes, warm farro salad, charred tomato sauce. Divine!
Impossible Burger
If you've been plant-based for a while, you've probably enjoyed an Impossible Burger at least once already. Well, you can also find them at Universal Orlando Resort, at Richer's Burger Co. (Universal Studios Florida), Captain America Diner (Universal's Islands of Adventure), and Kohola Reef (Universal's Volcano Bay). It apparently tastes just like real meat, so you may even tempt your carnivorous diners to have a bite too! It's topped with Follow Your Heart cheese and Veganaise with a side of fries, and you can add toppings from the toppings bar too. 
Chick'n & Avocado Sandwich
Sticking with meat substitutes, we're indulging in some mock chick'n for this next dish - a twist on a classic, much-loved sandwich. This refreshing burger is made with vegan chicken and vegan cheese, topped with a healthy portion of smashed avocado. Is there a better combination? You can get this at Mel's Drive-In (Universal Studios Florida), The Burger Digs (Universal's Islands of Adventure), and Bambu (Universal's Volcano Bay). 
Tomato Pesto Cresto de Gallo
Can't get enough of that vegan chicken, we hear you say? Well, this mouth-watering pasta meal is made with vegan chicken, sun dried tomatoes, roasted mushrooms, Kalamata olives and fresh basil. You won't even know that you're not dining in Italy. Get it at Mythos Restaurant (Universal's Islands of Adventure). 
Penne Genovese
If Italian dining is what you crave, this next plate is for you. It's made with vegan sausage, roasted broccoli, cherry tomatoes and basil oil. Grab us a bowl now! Available to order at Lombard's Seafood Grille (Universal Studios Florida). 
Spaghetti Bolognese 
OK, OK, this is our final Italian-inspired dish (maybe). If you fancy a classic, head to Louie's Italian Restaurant (Universal Studios Florida) or Cafe 4 (Universal's Islands of Adventure) for this scrummy meal. Featuring a delicious Bolognese sauce made with Italian sausage crumbles too. 
Chipotle Sausage with Orzo
So, we lied. Kind of. But this meal showcases the perfect combination of vegan Italian sausage crumbles, roasted red peppers, chipotle, pesto and arugula, so we just HAD to include it! Order it at Confisco Grille (Universal's Islands of Adventure). 
Veggie Pad Thai
This Asian-inspired dish can easily be made vegan by substituting the chicken and shrimp for crispy tofu instead. This is served with rice noodles, mixed vegetables, all tossed in a sweet and sour peanut sauce. Get it at Confisco Grille or Mythos Restaurant (both Universal's Islands of Adventure).

Vegan Cheeseburger Platter
Did you even go to the USA if you didn't have a cheeseburger platter?! This one - available at The Burger Digs (Universal's Islands of Adventure) is a brown rice and mushroom patty, served with vegan cheese and fries. Yum! 
Tropical Baby Greens Salad
Want something quick and on-the-go? This healthy salad from Kohola Reef Restaurant and Whakawaiwai Eats (Universal's Volcano Bay) is perfect. Packed with veggie goodness, feast on shaved carrots, hearts of palm, diced mano, grape tomatoes, cucumbers, tofu, black beans and toasted almonds with soy garlic vinaigrette. Or, if dining at Kohola Reef, you can opt for the veggie sushi roll or the veggie wrap too.

Rice Bowl
This is another food item that can be veganized upon request - the servers get these requests often, so they will know exactly what not to include in your meal. The cilantro lime rice is topped with black beans and your choice of toppings. Simply remove the chicken, sour cream and cheese to enjoy a filling vegan meal. Order from Thunder Falls Terrace at Universal's Islands of Adventure.
Ready to have a taste of vegan eating at Universal Orlando Resort in Florida? Click here to browse our ticket options now. 

Have you signed up to our email newsletter? Click here to add  your details and stay up to date with our latest news and special ticket offers. 

Read next…