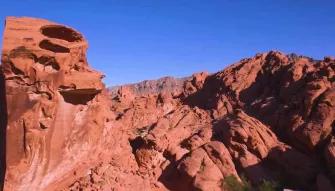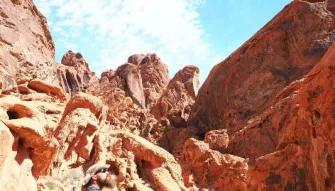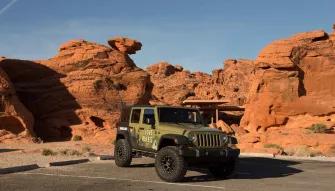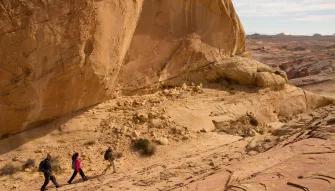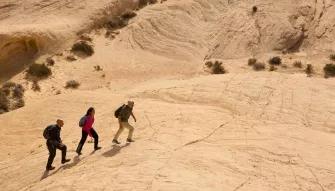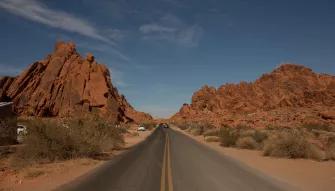 Valley of Fire Hiking Tours
Not Available
This ticket is currently not available
This could be because:
We have sold out
New seasonal tickets are not yet available
In the meantime:
Call us on 1800 927 467
Sign up to hear the latest news and offers:
Sign up for our newsletter
no ticket modal
Full details
Just an hour from the mayhem that is Vegas is a desert environment of bright red sandstone that stands picture perfect under a perenially azure blue sky - a must see for any one needing some fresh air in Vegas!
Our guide to Valley of Fire Hiking Tours
World-renowned for its 40,000 acres of bright red Aztec sandstone outcrops, nestled in gray and tan limestone , Valley of Fire State park contains ancient, petrified trees and petroglyphs dating back more than 2,000 years.
So why not get rid of a hangover, pull on your sneakers, and head out of Vegas for a few hours of natural therapy and one of our three types of hiking tours to see the very best of the Wild West. 
Friendly - These hikes are all about having fun and experiencing the greay outdoors. Petroglyphs and dramatic rock formations await you as we saunter through the wilderness. On this hike you will explore along scenic trailf of the Valley of Fire and get a taste of the untouched desert beyond. Photo opportunities are everywhere and advertures of every level are invoted to smile and enjoy. Duration 4 hours hotel to hotel 
Moderate - Go off the beaten path on this rousing adventure! Peaks and plateaus are where we are head on the customed designed scrambles and hikes. Our guides have created these trails for those looking for a challenge. Get fully immersed in the natural desert splendour and raise your heart rate as you hit the hills, use your hands and feet to reach new heioghts and gain a new perscpective on the world around you.  Duration 5-5.5 hours hotel to hotel 
Intense - On this hike and scarmble you will go above and beyond the experience of the average tourist. These journeys will take you on a trek to the most spectacular views and will give you the ultimate sense of self-fulfillment. Climb higher, hike further and soak in the exhilaration of the breaktaking landscape! Only and hour from Las Vegas you'll feel a whole world away. All you need for this experience is an adventuirous spirit and the will to keep going. Duration 5-6 hours hotel to hotel. 
All tours will get a chance to enjoy the Visitor Center which provides exhibits on the ecology, geology, prehistory and history of the park and nearby region. 
Departs
Daily except for Christmas Day and Thanksgiving
Start times
6am (or 12.30pm from 01 September- 31 May)
Duration
from 4 to 6 hours (hotel to hotel)
Terms and conditions
Terms and conditions for Valley of Fire Hiking Tours
Advanced registrations are required. Please select your date at time of booking
Itinerary is subject to change.
The tours vary from 4-6 hours depending on one chose
Please wear clothes suitable for walking and take into consideration that it can get windy even in the summer months. Don't forget your suncream, closed-toe shoes and camera.
We require a minimum of two passengers for each tour to operate. Single passengers can book and it's likely that others will book for your requested day. If this does not happen you will be informed beforehand. 
Free cancellation if cancelling outside 48 hours
FAQs
Frequently Asked Questions for Valley of Fire Hiking Tours
What should I bring with me?The main items we recommend are a hat, sunglasses, sunscreen, hiking shoes and lip balm. Bottled water is included in the tour package but we recommend bringing your own hydration pack/Camelback if planning in advance for moderate or intense hikes where you may wish to have your hands free. Love Hikes also provides healthy snacks but those with allergies may wish to bring their own. Additional snacks may be purchased by customers at the Moapa River Indian Reservation truck stop. Additional items to consider include: all personal medications (there are bees during the spring and summer months along the trail so allergies should be considered), a day pack (limited number provided by the company), hand sanitizer, a camera, a bandana, athletic clothing for the time of year in a desert, and layered clothing when weather demands.
What kind of shoes should I wear? Closed toed shoes are recommended for all hikes. Shoe choice is largely about personal preference. We recommend hiking shoes where possible but athletic shoes with gripping soles also work great for most customers. As you will be going over rocks of various sizes and sand, hiking sandals are not recommended. Most people just end up with rocks in their feet. Our Guides hike in trail runners, hiking boots, or athletic shoes depending on their preference
What do you mean by Friendly, Moderate and Intense? Friendly tours take you over beach-like sand, pebbled paths and low scrambles over boulders at a comfortable pace.This is ideal for families with younger children or lessexperienced hikers, Moderate tours are still at a comfortablepace but take visitors up rocky hills and require a decentamount of physical fitness. You will incorporate your handsin assisting you up some portions. Intense hikes are best forthe avid hiker or rock scrambler who is seeking the ultimate adventure. Use of both feet and hands will be required to getyou to amazing views!
Is Love Hikes suitable for kids? We have many families that go on our tours. Love Hikesminimum age requirement is 8 years old but if younger children would like to join then the hike must be private and an additional charge will be required. Full adult price is charged for all customers. Car seatsmust be provided by the customer if taking children that require them. Parents are solely responsible for their children on the tours but our guides love to show kids the joys of nature!
What time are tours available? Does this change throughout the year? Tours are typically scheduled for 6am and 12:30pm.Tours at other times will be honored where possiblebut are not guaranteed unless privately booked. Duringthe summer months (June-August) hikes are only availablein the morning due to extreme heat. Sunrise and sunset maybe seen from the hike depending on the time of year.
Will I typically only hike manintained trails? Will I have to climb things? Our hikes do require a degree of mobility. Friendly hikescan be tailored to those with joint problems or other physical concerns when needed. Moderate hikes require customers to lift their knee to at least a ninety degree angle to climb"nature's built-in steps". Intense hikes will include climbing challenging hills of rock.
Will I be back in time for my show in the evening on the Strip?Customers with evening shows generally prefer the morningtours. If attending a later show, afternoon hikes will still getyou back in time to freshen up and head out on the town!
People who purchased Valley of Fire Hiking Tours also viewed...