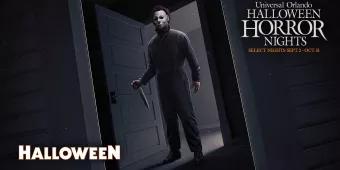 This year's second haunted house has now been announced!
The 1978 horror classic is returning to Universal Orlando's Halloween Horror Nights
His beginning is your end. Step into the original Halloween. 
There's no one like Michael Myers and this year he's back for Halloween Horror Nights at Universal Orlando Resort with a house inspired by Halloween (1978)! The embodiment of pure evil, he's ready to put on his mask and embark on a brutal killing spree through Haddonfield, Illinois. Silent. Merciless. Relentless. He'll be lurking around every corner as guests make their way through his dilapidated home. 
Take a look at what can be expected in this teaser video: 
This isn't the first time Michael Myers has been terrorising guests of Universal Orlando Resort. First appearing in 2014, this is the fourth haunted house to be inspired by the Halloween franchise, the most recent, Halloween 4: The Return of Michael Myers, being in 2018. 
Halloween joins Universal Monsters: Legends Collide in the current Halloween Horror Nights 2022 line-up, but there are plenty more exciting announcements to come in the next few months. Who knows what other spine-chilling houses could be making a comeback!
Don't miss out on the frightening fun! Book your Halloween Horror Nights tickets before they sell out!