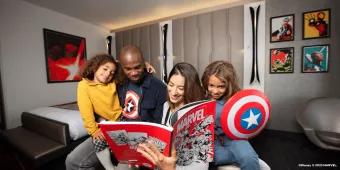 Get ready for an action-packed stay!
This is the world's first MARVEL-themed hotel, combining the fun of your favourite Super Heroes with the style of contemporary New York.
Whether you're team Captain America or team Iron Man, if you're a MARVEL fan then a stay at Disney Hotel New York - The Art of Marvel is a must when visiting Disneyland® Paris. With more than 350 original MARVEL works of art, and impressive themed facilities including a pool, fitness centre and lounges, you'll want to explore every inch of this hotel when you're not busy in the parks. 
So to get ready for your stay, here are 5 things you need to know about Disney Hotel New York - The Art of Marvel! 
1. The hotel has received the TripAdvisor Travelers' Choice Award for 2023
The TripAdvisor Travelers' Choice Award is given to hotels that consistently earn excellent reviews from guests, and Disney Hotel New York - The Art of Marvel is one of them! That means that the hotel is ranked within the top 10% of all the hotels on TripAdvisor worldwide. Other hotels that have been designated as the 'best of the best' include London's Shangri-La The Shard and Hong Kong's Ritz-Carlton, so it's definitely in good company! 
2. You can put yourself in the action at the MARVEL Super Hero Station 
Guests staying at Disney Hotel New York - The Art of Marvel can use the Disneyland Paris app to book a slot at the Super Hero Photo Station. This is an immersive photography experience that puts you in the shoes of Spider-Man, Doctor Strange, Captain Marvel and more! 
Plus, you'll also get a chance to meet a real MARVEL Super Hero, although you won't know who it is until you get there. Will it be Black Widow or maybe Thor? Whoever it is, a Disney Photopass photographer will be there to capture the whole thing.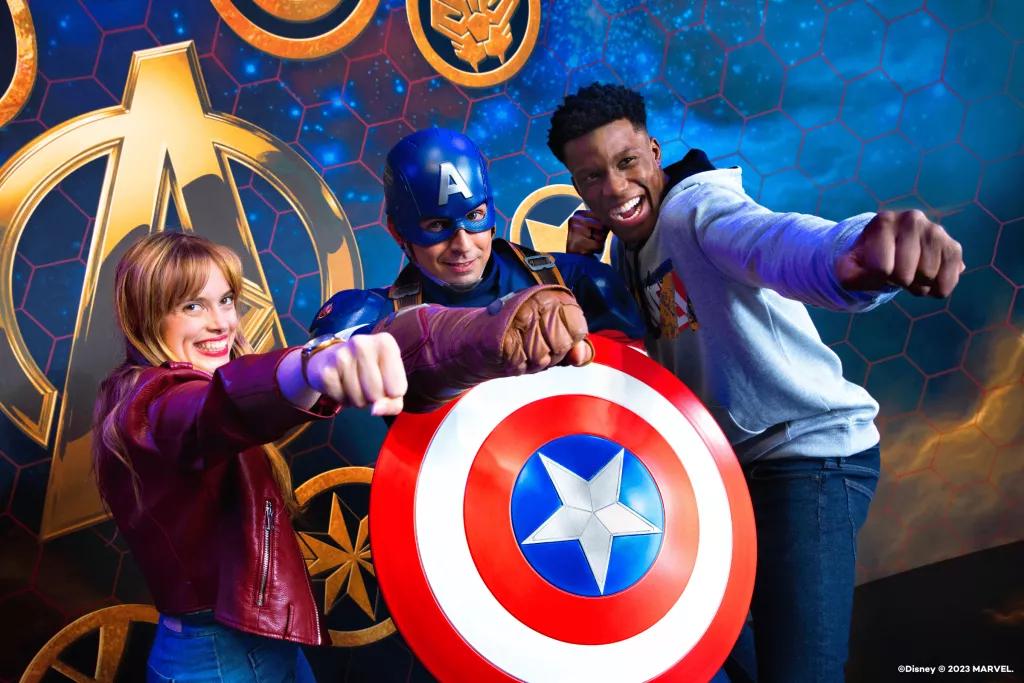 3. The hotel has two restaurants and two bars  
When it comes to dining, Disney Hotel New York - The Art of Marvel has got you covered! The hotel's Downtown Restaurant is an all-you-can-eat buffet with dishes from American, Italian, and Chinese cuisines, as well as some delicious MARVEL-themed desserts. There is also the Manhattan Restaurant, serving up exquisite Italian dishes underneath a chandelier of Asgard. 
There's then no better way to end the night than a visit to one of the hotel's two bars; the casual Bleecker Street Lounge or the classy Skyline Bar. You can even get cocktails themed after the six Infinity Stones! 
DID YOU KNOW? Both the Downtown Restaurant and Manhattan Restaurant are included in the Standard, Plus, and Extra Plus meal plans, which you can add to your booking at checkout! 
4. Little ones can learn how to draw their own MARVEL comic
At the Marvel Design Studio, kids can get first-hand experience of what goes into creating a MARVEL comic book. Whether they just want to get creative by themselves or take part in tutorials, this space has everything they need, including comics for them to flick through for a bit of inspiration.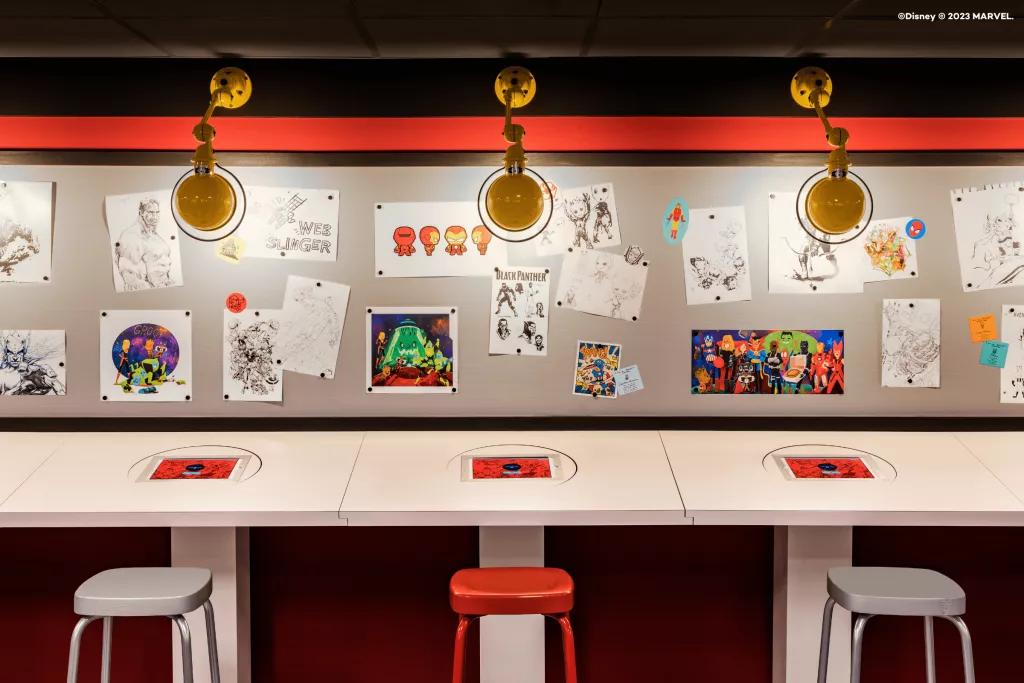 5. You'll be just a 10-minute walk from the Disneyland Parks 
If you can pull yourself away from all the incredible things to see and do at Disney Hotel New York - The Art of Marvel, your next stop will of course be Disneyland® Park and Walt Disney Studios® Park. These parks and all their attractions, including Marvel Avengers Campus, are just a 10-minute walk away from the hotel through Disney Village®, making this the closest hotel to all the action. There is also a free shuttle service available regularly throughout the day that will get you to the parks in no time. 
 
So now you're ready for an unforgettable stay at Disneyland Paris in Disney Hotel New York - The Art of Marvel. If you haven't already, book your trip today to receive up to €50 Disney Gift Card and 10 souvenir prints as part of your hotel and ticket package; book online or give our team of Disneyland Paris experts a call on 0800 223 0324.