Some Despicable Me Minion Mayhem is about to hit the block!
On the 12th April 2014, the much loved Despicable Me Minion Mayhem attraction, that has been entertaining Universal Studios Florida guests since 2012, will arrive at Universal Studios Hollywood. Based on the adored Despicable Me movie franchise, we have no doubt the minions will win over the hearts of Hollywood just like they have in Orlando!
Are you ready for yet another Despicable Me instalment? We know we most certainly are! A year after Despicable Me characters Gru, Margo, Edith, Agnes and the Minions arrived at Universal Studios Florida, giving theme park guests the chance to take part in a little Despicable Me Minion Mayhem,  Illuminations Entertainment and Universal Studios added a second Despicable Me movie to the foray, meanwhile announcing that the Despcicable Me Minion Mayhem attraction would soon arrive at Universal Studios Hollywood.  
As Despicable Me fans and massive Universal enthusiasts, we are happy to say that Universal Studios Florida's Despicable Me Minion Mayhem attraction is seamless. However, the Minion Mayhem arriving at Universal Studios Hollywood is on a much bigger scale, bringing Gru's home to Hollywood and his entire Despicable Me neighborhood. The Despicable Me block will form the facade for the Despicable Me Minion Mayhem 3D simulator ride, which will be housed in Gru's lair - as it is in Orlando.  
Otherwsie, the attraction remains pretty much the same; In Gru's lair you'll learn that you are being recruited to take part in one of his crazy schemes, that requires you to become one of his entrusted minions. You'll undergo 'Minion Training' and when things don't go to plan, you'll slip on your Minion goggles (3D glasses) and embark on a crazy journey through a super-villain's labarotary! 
In addition to Universal Studios Hollywood's Despicable Me Minion Mayhem comes  the outdoor play zone Super Silly Fun Land, inspired by and taking the same name as the amusement park Super Silly Fun Land Gru takes Margo, Edith and Agnes to in the first Despicable Me film.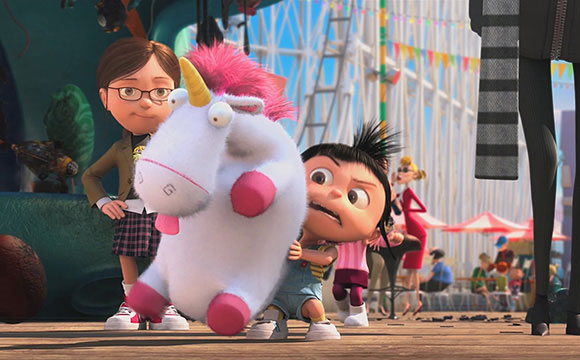 Despicable Me Minion Mayhem opens the 12th April at Universal Studios Hollywood. If you're California bound, be sure to check out the Attraction Tickets Direct range of California theme parks and attractions and get your Universal Studios tickets to join the Despicable Me Minion Mayhem!